Assisting children at risk for reading difficulty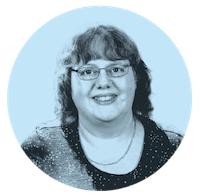 Alexandra Gottardo (Psychology) was named Laurier's University Research Professor for her work examining the development of reading in children. A world-class scholar, Gottardo has made significant impacts both within the academic community and among practitioners. She created assessment tools and programs to prevent reading difficulties in children who are at risk for reading problems due to low socioeconomic status or because they speak English as a second language.
Actively improving the learning outcomes for youth, Gottardo's programs have been successfully implemented in schools and community centres across Ontario and abroad.
Using health data in powerful ways
Health care systems in low- and middle-income countries collect a lot of health-related data, and while collecting this information in the first place is a significant step, its accuracy remains unknown. Karen Grépin (Health Sciences), who was appointed as the Canada Research Chair in Global Health Policy and Evaluation (Tier II), would like to see health care data from low- and middle-income countries used with purpose.
Grépin is hoping to find a way to properly validate existing data, which will transform how these countries evaluate health care programs and policies, and in turn, improve health systems.