Christian Awad is a fourth-year Health Sciences undergraduate student at Wilfrid Laurier University. Christian has been passionate about autism-related research since his second year at Laurier, in which he started the Laurier Autism Awareness Society (LAAS) club, which aims to give students at Laurier a better understanding of autism. He started volunteering with LARC as a chance to learn more and use his skills and experience to help out with projects.
Maya Canham is a fourth-year Health Sciences Student minoring in Biology and Chemistry at Wilfrid Laurier University. She was introduced to the LARC during Dr. McLaughlin's course on Individual and Social issues related to Autism and immediately wanted to get involved with the project. In particular, Maya wanted to learn more about the importance of physical activity for individuals on the autism spectrum and the effects the COVID-19 pandemic has had on autistic individuals. Maya aims to pursue a career in rehabilitation therapy, as either a physiotherapist or occupational therapist. In her free time, Maya enjoys the outdoors, spending quality time with friends and family, and baking.
Mikayla Girdler is a fourth year Health Sciences student at Wilfrid Laurier University. Mikayla became involved with LARC through a course taught by Janet McLaughlin exploring various aspects of autism. Through this course, she developed a great interest in learning about autism and wished to merge this with her interest in research. In particular, she is interested in the mental health of caregivers during COVID. In Mikayla's free time, she is a cheerleader on the Laurier Varsity Cheerleading team, but she can also be found running and playing with her dogs.
Christian Hecimovic is a fourth-year Health Sciences student at Wilfrid Laurier University looking to pursue a career in medicine. He wanted to get involved in a research project that was relevant in the world and interesting. He enjoys learning new skills while advancing his knowledge in topics that he is not familiar with. Sharing his ideas and suggestions while working with everyone at LARC has been the highlight of the experience so far. Christian is often at the gym, playing sports and watching movies in his personal life.  
Talia Kendal is a fourth year undergraduate student majoring in Kinesiology and minoring in Biology at Wilfrid Laurier University. She was introduced to LARC by Dr. Schneider and immediately wanted to become involved. Talia's older sister has autism and this has fostered Talia's interest in the area. She is specifically interested in learning more about barriers to service access for people with autism and their families. Talia plans to hone her research skills in the lab, which she will then use in her future career in healthcare. In her free time, Talia enjoys spending time volunteering, spending time with family and friends, as well as going to the gym and being active.
Philip Lerner was diagnosed with autism before he was 2 years old. He has now completed his third year of the BMath Honours Statistics Co-op program at the University of Waterloo. Philip is currently on his fourth work term at Statistics Canada as a Junior Statistician-Mathematician. Philip has been serving on the Ontario Autism Coalition Board of Directors for the last 2 years, and has co-founded the OAC Autistic Advisory Group. He has been interviewed by major news sources, most recently Sirius XM radio, regarding issues that face autistic individuals and their families. Philip works as an RA with LARC, assisting with statistical analyses of survey responses. Outside of the world of autism, Philip is a huge Toronto sports fan and a massive foodie!
Mary Makhlouf has recently graduated from her studies in Kinesiology and Physical Education at Wilfrid Laurier University. She has always had an interest in advocacy and research, and this prompted her to complete an undergraduate thesis under the supervision of Dr. Schneider. In partnership with Adults in Motion (AIM), a local disability service organization, her thesis explored differing societal perceptions surrounding culture and disability and how these may be used to inform the design of welcoming, inclusive service environments. She has recently been awarded a USRA from the Faculty of Science to work under the supervision of Dr. Schneider as a summer research assistant for LARC. Mary is also excited to use all of this newfound knowledge in her pursuit of a physiotherapy degree at McMaster University this coming fall. In Mary's spare time, she loves spending time with her family & friends and spending time in nature with her dog.
Courtney Massey is a fourth-year Psychology student at Wilfrid Laurier University. She has always had a huge passion for helping others, specifically children and adults with special needs. Courtney worked at a camp for individuals with developmental disabilities for four years, where she gained an in-depth understanding of how individuals with disabilities conduct their daily lives. She is looking forward to completing her masters in Applied Disability Studies and becoming an autism therapist. In Courtney's spare time she loves to travel, volunteer, spend time with her dog Milo, as well as visiting her friends and family.
Liliana Scatozza is a fourth-year Health Sciences student at Wilfrid Laurier University. Before her involvement with LARC, she grew increasingly interested in furthering her knowledge on autism and began conducting a thesis project encompassing children with ASD. This project influenced her to take the autism course taught by Dr. Janet McLaughlin. Her interest in research and her advocacy for the autistic community has led her to the LARC, which she is enthusiastic to be able to contribute to while furthering her own skills. Liliana is the captain of Laurier's Competitive Dance Team and is often found practicing with her team.
Farah Wahib is a fourth-year Health Sciences student at Wilfrid Laurier University. Prior to working on the LARC project, Farah was a researcher and advocate for the language, literacy, and well-being of Syrian refugees. Following the ASD diagnosis of two family members, she was motivated to understand and advocate for the autistic community. Since January 2020, she has co-founded the Laurier Autism Awareness Society, completed volunteer research for Autism Canada, and most recently started to work on the LARC project, to further develop her skills and understanding. One day, Farah hopes to utilize these skills in the community and implement them into the healthcare system as a physician.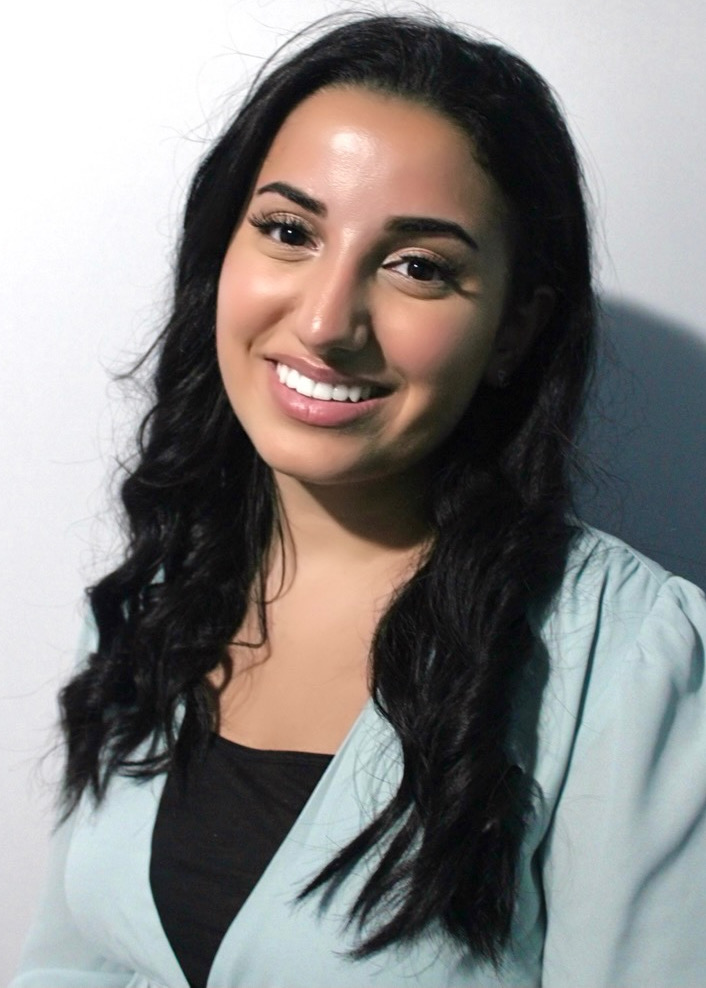 Marina Youssef is a third year Health Sciences student at Wilfrid Laurier University. She has previously volunteered with Dr. McLaughlin, and took interest in her work with migrant workers. Since then, she has continued to be interested in volunteering with Dr. McLaughlin, including at LARC. Marina has been interested in exploring and volunteering in regards to helping groups of people who are often vulnerable. She loves animals, friends and dessert. 
Zack Zaidener is a second-year Psychology student at Wilfrid Laurier University. While he is new to the team, he is eager to work with everyone. What piqued his interest was when he noticed Dr. McLaughlin's involvement with children with autism in relation to the COVID-19 pandemic. He found it fascinating how she was exploring the school closure's impacts on those with autism. He believes this is a very underserved topic of discussion, and he too wanted to explore this subject with Dr. McLaughlin and her team!