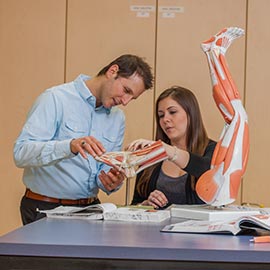 Kinesiology (MSc)

 waterloo
Print | PDF
Faculty of Science  |  Faculty of Graduate and Postdoctoral Studies
Our Master of Science (MSc) in Kinesiology is designed with the objective of providing you with a highly integrated and multidisciplinary approach to the examination of the relationships among physical activity, health and disease in various populations. Explore your research interest and become specialized in a kinesiology sub-discipline including biomechanics, health, exercise physiology, motor control, sport psychology, ethics, sport governance, and sport history. The emphasis of the thesis will be based on your own interests and your adviser's research interests within this broad framework.
Program Options
This program is normally completed in two years (six consecutive terms). You will complete three and a half credits, including a master's thesis.
To graduate, you must obtain a grade of B- in all graduate courses, with an overall average of B.
In your first year of the program, you'll take KP601: Seminar in Kinesiology I; and KP622: Research Design in Kinesiology. In your second year, you'll take KP611: Seminar in Kinesiology II.
You'll also choose one elective course, and an approved half credit course with a methodological/analytical focus depending on your interests and the focus of your research.
Are You an International Student?
More information can be found on the International Applicants page.