The Edna Staebler Award for Creative Non-Fiction is a unique award — the only one offered in Canada for the genre. Established in 1991 by writer and literary journalist Edna Staebler, it recognizes a Canadian writer of a first or second published book with a Canadian locale and/or significance.
About Creative Non-Fiction
Creative nonfiction is literary not journalistic. The writer does not merely give information but intimately shares an experience with the reader by telling a factual story using the devices of fiction, including:
original research;
well-crafted interpretive writing;
personal discovery or experience;
the creative use of language or approach to the subject matter;
dialogue; and
a narrative about people who come alive.
Rather than emphasizing objectivity, the book should have feeling, and should be a compelling, engaging read.
From the earliest days, Canadian nonfiction writers have been recording their experiences in imaginative ways. The genre has firm roots in the work of Susannah Moody, Farley Mowat, Pierre Berton, Marion Fowler, Harold Horwood, and Edna Staebler herself.
As we continue to catch up from pandemic-related delays, the 2023 award winner will be announced in early 2024.
The Award Seal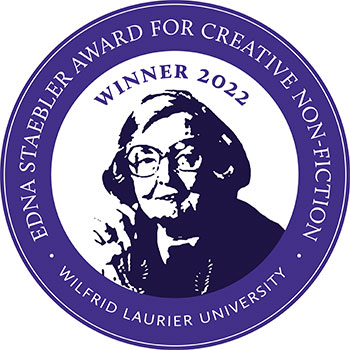 A seal for the Edna Staebler Award for Creative Non-Fiction was commissioned in 2023 to help promote the award and the high quality of its winning books to readers, book-buyers, and librarians. The seal was designed by Romana Biederman.