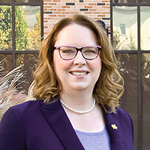 Deborah MacLatchy was appointed president and vice-chancellor of Wilfrid Laurier University on July 1, 2017. As president of Laurier, she has spearheaded the development of a five-year institutional strategic plan. Laurier Strategy: 2019-2024 focuses the university's direction into two interconnected themes: thriving community and future readiness.
During her tenure at Laurier as president and previously as provost, she has championed equity, diversity, and inclusion (EDI) initiatives, including the growth of supports for Indigenous students, an enhanced focus on women in science, and the creation of a community of practice model to advance and distribute EDI initiatives throughout the university.
A distinguished biologist with extensive experience in research, teaching and administration, MacLatchy served as dean of Laurier's Faculty of Science from 2007 to 2009 and as provost and vice-president: academic from 2009 until 2017. Previously, MacLatchy spent 13 years at the University of New Brunswick where she was dean of Science, Applied Science and Engineering, and director of the university's International Office.
MacLatchy holds an honours BSc from Acadia University and a PhD in zoology from the University of Manitoba. She is a founding fellow and past chair of the science directors of the Canadian Rivers Institute, and is a past-president and council member of the Canadian Society of Zoologists.
She has been recognized for her many achievements with a number of significant awards, including an honorary doctorate from Acadia University in 2016 and the 2015 Recognition Award from the Senior Women Academic Administrators of Canada. As well, she was named one of Canada's Most Powerful Women for 2012 in a Top 100 list compiled by the Women's Executive Network.
More information about MacLatchy's research and academic career can be found on her faculty profile page.