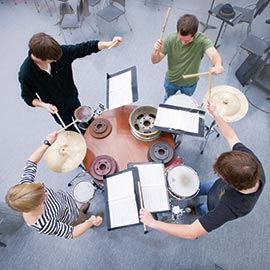 Community Music (MA)

 waterloo
Print | PDF
Faculty of Music  |  Faculty of Graduate and Postdoctoral Studies
Our Master of Arts (MA) in Community Music is an interdisciplinary program that balances theory and practice for the development of leadership skills in community music. During this program you'll complete an applied community service placement and a research project. The final requirement is a presentation of your research in a public community setting where your leadership is demonstrated in context.
The MA in Community Music is offered full-time and part-time.
Our program is designed for community leaders who are, or plan to be, engaged in creating or making music with diverse populations in schools, places of worship, private studios, seniors' homes, community centres or other venues where music making occurs. Those who are currently in music careers will find this program tailored to the deepening of their skills and interests through scholarship and applied experience. Those completing undergraduate programs will find this to be a natural progression that builds on the foundational experiences and developing musicianship acquired in their undergraduate years of study.
ARE YOU AN INTERNATIONAL STUDENT? 
More information can be found on the International Applicants page.