Wilfrid Laurier University alumni Sean Campbell (BBA '11) and Jeff MacIntyre (BA '91) are at the helm of two organizations supporting Build Now: Waterloo Region, an innovative, community-led housing initiative that will see the development of 10,000 affordable and attainable homes in Waterloo Region by 2030.
Housing created through Build Now: Waterloo Region will consist of 7,000 homes for ownership and 3,000 rental apartments that are affordable for low-income and middle-income earners living in the region. All four levels of government, local developers, non-profits and charitable organizations are also involved in the initiative.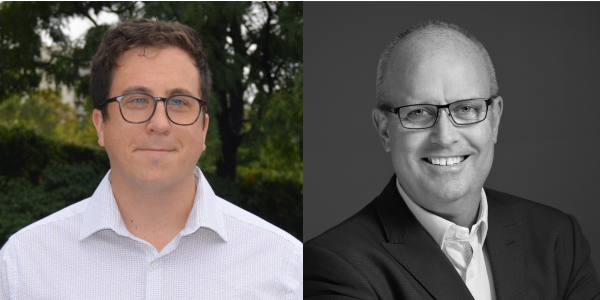 Photo: Sean Campbell and Jeff MacIntyre
Campbell is the executive director of Union: Sustainable Development Co-operative (Union Co-operative), a local co-operative that buys residential and commercial properties in Waterloo Region to create permanent affordable housing through community ownership. Some of the 3,000 rental properties developed through Build Now: Waterloo Region will be managed by Union Co-operative.
MacIntyre is the president of the Grand Valley Construction Association (GVCA), a non-profit organization representing the industrial, commercial and institutional construction industry. Under MacIntyre's leadership, Build Now: Waterloo Region will leverage the Grand Valley Construction Association's construction procurement process to ensure equitable and transparent selection of contractors and other industry professionals. The GVCA is also working with local government, education partners and business leaders on strategies to address the current housing crisis.
"Build Now: Waterloo Region brings a variety of local expertise together in a meaningful way to overcome barriers to building new affordable and attainable housing," says Campbell. "Supporting our neighbours is at the forefront of this project and that feels very Laurier to me. We're all a part of this community and have a responsibility to make it successful and accessible for all residents."
Without affordable and attainable housing, Waterloo Region faces challenges retaining and attracting talent to the area.
"A thriving community needs a range of talent, including skilled trades, baristas and health care workers," says MacIntyre. "But we lack affordable and attainable housing options to bring and keep workers in the community. The current housing system is broken, so we need a new and equitable approach."
Housing developed through the project cannot be purchased as investment property. Project partner Habitat for Humanity Waterloo Region will screen applicants seeking to buy a home, control the resale value of the housing to ensure homes remain permanently affordable, and ensure the homes are owner-occupied. Union Co-operative and other rental housing agencies will manage the affordable apartments. The buildings will be up to six-storeys and offer units ranging from one to three bedrooms.
Campbell, who teaches social entrepreneurship courses in Laurier's Global Studies program, sees the Build Now: Waterloo Region initiative as a strategy to retain recent university graduates looking to start their careers in the area.
"There is a significant risk to our community when young people cannot afford to build their careers here," says Campbell. "How do you stay here when rent is so far beyond what you can afford on a starter salary?"
The average cost to rent a one-bedroom unit in Waterloo Region is $2,000 per month.
Build Now: Waterloo Region will benefit from the removal of cost drivers, including builder profits, as well as development charges, which Ontario is waiving to aid in the construction of 1.5 million new homes in the province by 2031. The homes will be built on land that is donated or sold at a nominal rate. This means "half-price homes" created through Build Now: Waterloo Region will soon be a reality, allowing many to access the local housing market who previously could not.
Read more about Build Now: Waterloo Region online.
Related Stories