The Office of Student Affairs, Students' Union and Graduate Students' Association at Wilfrid Laurier University have signed a new agreement to advance the student experience at Laurier.
Spearheaded by the Students' Union and Graduate Students' Association, the Student Affairs Administrative Agreement (SAAA) reflects a new, highly collaborative approach to how student organizations and university administrators work together to deliver an exceptional student experience outside the classroom.
"The new SAAA agreement demonstrates the positive alignment between undergraduate and graduate students at Laurier and the Office of Student Affairs," says Jeremy Wagner, outgoing president of the Graduate Students' Association. "We've fostered a culture of communication and transparency and it's allowing us to develop a set of shared goals that we can deliver on."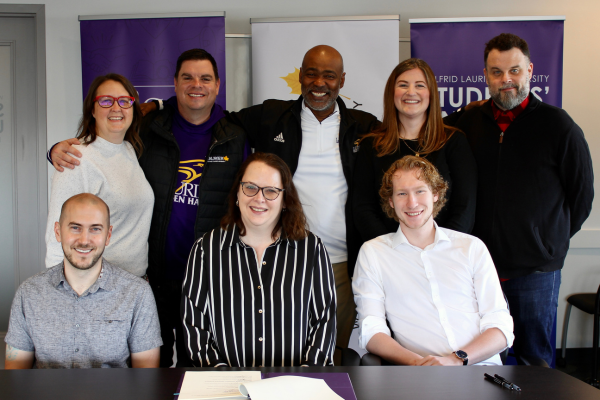 Photo: Representatives from Laurier's Student Affairs team and student unions joined President and Vice-Chancellor Deborah MacLatchy to sign the new agreement.
The agreement took effect on May 1, 2023. Shane Symington, outgoing president of the Students' Union, says the effects of the agreement will be apparent as early as Orientation Week 2023.
"The agreement will contribute to an exceptional student experience and ensures students have a say in the decisions that impact them," says Symington. "It's an intentional collaboration that will hopefully set the stage for how student groups and universities can work better together."
Student Affairs staff, elected student representatives and their executive directors have worked closely on the details of the agreement since August 2022.
"We are incredibly grateful for the bold and creative approach that our student leaders presented through the agreement to enhance the student experience at Laurier," says Ivan Joseph, vice-president of Student Affairs. "Together, we are reimagining how student groups and universities can work together on a shared goal to ensure student experiences at Laurier continue to flourish. We welcome perspectives and opinions of our students and value the working relationship we share with them."