Wilfrid Laurier University is honouring three of its faculty members with Early Career Researcher Awards. The internal awards recognize professors who are early in their careers and have made exceptional contributions to research and student training.
The 2023 awardees are Christian Danve Castroverde, assistant professor of Biology; Tarah Hodgkinson, assistant professor of Criminology; and Homa Kheyrollah Pour, assistant professor of Geography and Environmental Studies.
Each award winner was nominated by their faculty's dean and will receive a $2,500 grant to support their research program. 
"I am tremendously impressed by these three researchers," says Jonathan Newman, vice-president: research. "Each of them has already made significant impacts through their research and I am excited to support them in what is to come."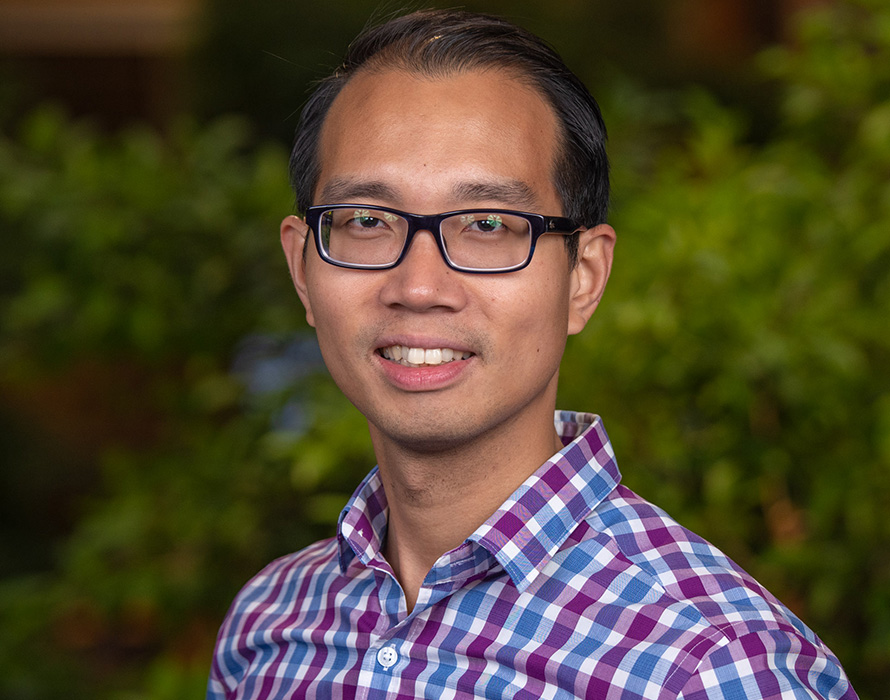 Christian Danve Castroverde
Castroverde's research program seeks to understand how plant immunity and disease are affected by a changing environment.
"Our lab investigates at the molecular level what makes plants more susceptible to diseases when temperatures increase," says Castroverde. "This will help us pinpoint what plant genes we can repair and engineer in order to enhance plant resilience to global climate change."
In 2022, Castroverde published a study in Nature, one of the world's most prestigious life sciences journals, which identified a specific protein in plant cells that explains why immunity falters as temperatures rise. He and his co-authors figured out a way to reverse immunity loss and bolster plant defenses against the heat. They plan to test the same strategy on crops.
"Our grand vision is to ensure global food security for current and future generations," says Castroverde. "I hope that our lab's contributions to fundamental, basic research will lead to translational roadmaps that we can use to safeguard plant immune systems and overall plant health in a changing world."
In addition to writing more than 20 peer-reviewed publications, Castroverde maintains a database of significant plant proteins that is freely available on the web, contributing to the work of his peers around the world. He is an enthusiastic mentor to graduate researchers at Laurier. 
"The Early Career Researcher Award is a testament to the fantastic students and members of our lab who have been great ambassadors of our research program," says Castroverde. "It would not have been possible without the support and inspiration of my outstanding colleagues in the Department of Biology and the sustained research excellence in the department."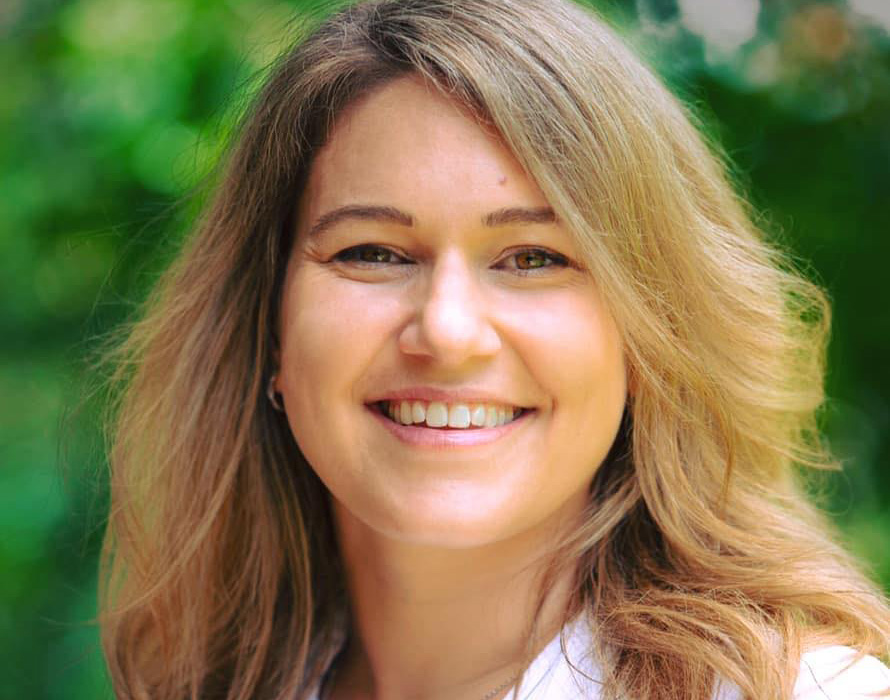 Tarah Hodgkinson
Hodgkinson's research focuses on community safety, addressing tangible issues related to policing, crime prevention and public governance.
In collaboration with community safety and policing organizations such as the Canadian Association of Police Governance and the Canadian Police College, where she teaches, Hodgkinson is studying police structure, use of force, accountability and violence during protests. She is exploring how public policing can be more equitable, democratic and accountable.
"I predominantly conduct action research, which means the researcher facilitates transformative change in partnership with their participants," says Hodgkinson. "I work with stakeholders to improve community livability, engagement and safety."
Hodgkinson has authored or co-authored more than 30 journal articles, eight book chapters and 11 reports for community partners. She is regularly sought as an expert by the media, providing commentary for 21 articles and news segments in 2022 alone.
Hodgkinson also investigates strategies for crime prevention and her research has had notable impacts across Canada and globally.
"My research has contributed to reducing pharmacy robberies in British Columbia and repeat domestic violence incidents in Alberta, as well as served to improve police-citizen interactions and shift crime prevention policy to be more inclusive of homeless and Indigenous populations in Saskatchewan," says Hodgkinson. "Internationally, I have been addressing violence in high-crime neighbourhoods across the United States and supporting Indigenous youth in rural Australia."
Locally, Hodgkinson is currently working to address perceptions and realities of crime in downtown Brantford, surrounding the Laurier campus. Together with graduate students and undergraduate interns, she will share insights and build an integrated, inclusive and co-created approach to community safety with key stakeholders from across Brantford. 
"This will have significant impacts for the safety of Brantford residents and faculty, staff and students at Laurier," says Hodgkinson.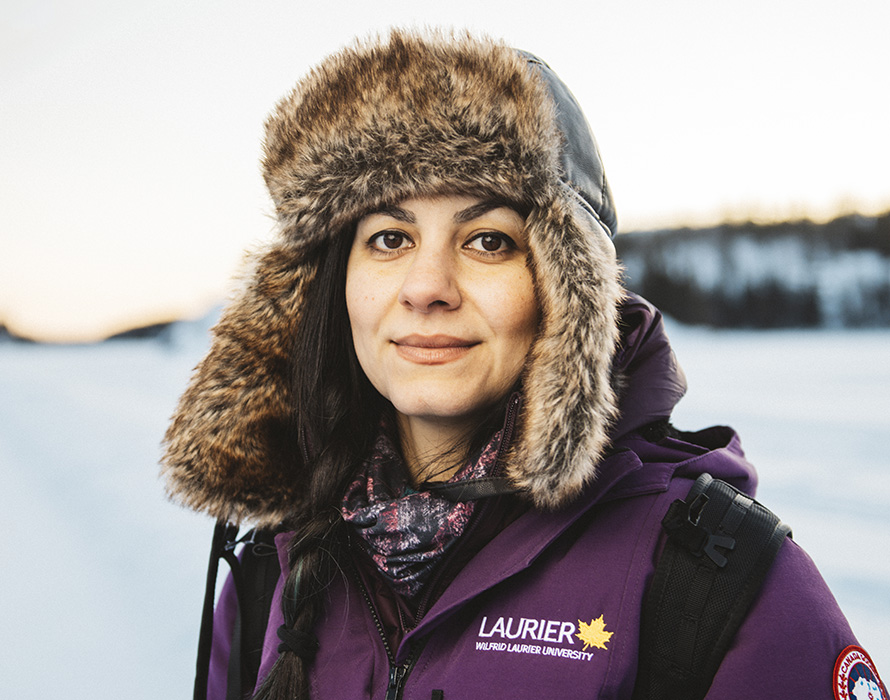 Homa Kheyrollah Pour
Kheyrollah Pour is the Canada Research Chair in Remote Sensing of Environmental Change. Her research integrates remote sensing observations, mathematical modeling and field data to understand the impacts of climate change on lakes and northern environments.
Much of Kheyrollah Pour's work takes place in the Northwest Territories, where Laurier has a longstanding research partnership with the territorial government. As the impacts of climate change intensify, lake ice has been forming later, becoming thinner and melting earlier, resulting in a host of environmental and safety concerns for northerners.
Using a range of technologies, from satellites to underwater drones, Kheyrollah Pour and her graduate students spend long stretches of the winter in the Northwest Territories collecting data and collaborating with local communities. By monitoring current snow and ice conditions, she can predict future changes, offer guidance to policymakers and keep people safe.
"Frozen lakes are essential infrastructure in the north," says Kheyrollah Pour, who leads the Remote Sensing of Environmental Change Research Group. "More than 4,000 people throughout the Northwest Territories live in isolated communities that are only accessible by plane or, for a very short period of time, ice roads. As ice conditions become increasingly unpredictable, I want to help ensure that these roads are safe for people to travel, transport goods and reach their hunting grounds."
For the past two winters, Kheyrollah Pour has partnered with Délı̨nę First Nation to enhance the construction of their ice roads. She and her students are training local community members to use ground-penetrating radar to measure lake ice thickness in real time, ensuring their route is safe to proceed. Previously, community members had to do this manually, drilling into the ice every two metres. It would take them three days to complete. Now it takes half a day.
Kheyrollah Pour maintains a similar partnership with the community of Łutsël K'é, home to approximately 300 residents. She and her team collaborated with a group of Indigenous environmental Guardians to install ice-monitoring sensors in well-travelled locations on local lakes. These sensors provide real-time measurements of ice thickness so hunters and community members know when it's safe – and not safe – to travel. The Laurier team is empowering Guardians to complete the monitoring themselves. 
"We are there to listen to our Indigenous partners and learn from each other to build capacity in their community and address their needs," says Kheyrollah Pour, who has authored or co-authored 20 peer-reviewed publications, contributed to three government climate change reports and been featured in the news media.