World Bee Day is May 20 and Wilfrid Laurier University is spreading its wings to do its part to care for these important pollinators.
Two small beehives were installed on the university's Waterloo campus in 2017. The success of the initiative earned Laurier an official "Bee Campus" designation from Bee City Canada in 2019.
Laurier's Brantford campus followed suit in 2022 by introducing an apiary with two hives on the roof of One Market.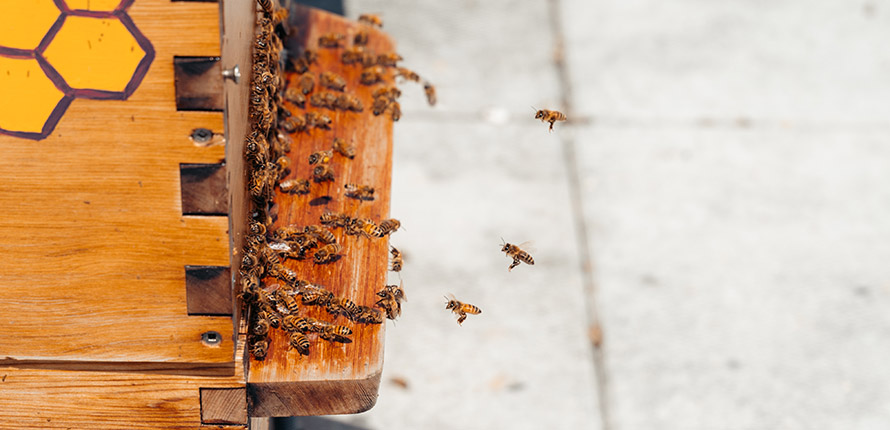 "The two bee hives atop One Market represent a thriving population of 160,000 honeybees," says Eric Meliton, manager of Laurier's Sustainability Office. "Our intent to designate Brantford as a Bee Campus includes pursuing more pollinator habitats across campus to support not only honeybees, but other native and non-native pollinator species."
The Brantford apiary is led by Christine McKinlay, associate director of development at Laurier. With support from students, she is helping the bees thrive in the urban campus environment. This spring, two more hives have been added to the rooftop apiary. Within a few months, the four established hives will have 320,000 bees who call Laurier home.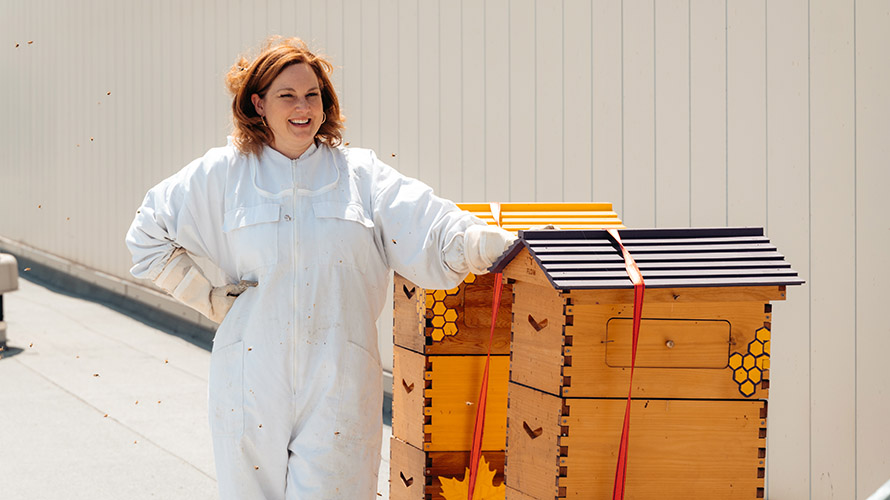 McKinlay started beekeeping as a hobby during the pandemic but has now taken responsibility for nurturing the bee colonies at Laurier's Brantford campus. Getting involved with sustainability practices such as these is a valuable way for students to connect with the Laurier community, while also trying to make the world a better place.
"It's a great way for students to learn about bee keeping and contribute to Laurier's sustainability practices," says McKinlay. "It's important to take care of bees because they pollinate 75% of the fruits and vegetables we eat. Without bees, we wouldn't have a lot of the food we enjoy."
Students will have opportunities to volunteer with the Bee Campus committee, including taking part in the committee's governance and helping to establish suitable pollinator habitats on campus.
With the summer quickly approaching, nurturing of the bees will start to ramp up. McKinlay encourages students to get involved and help the bees who give so much to the community.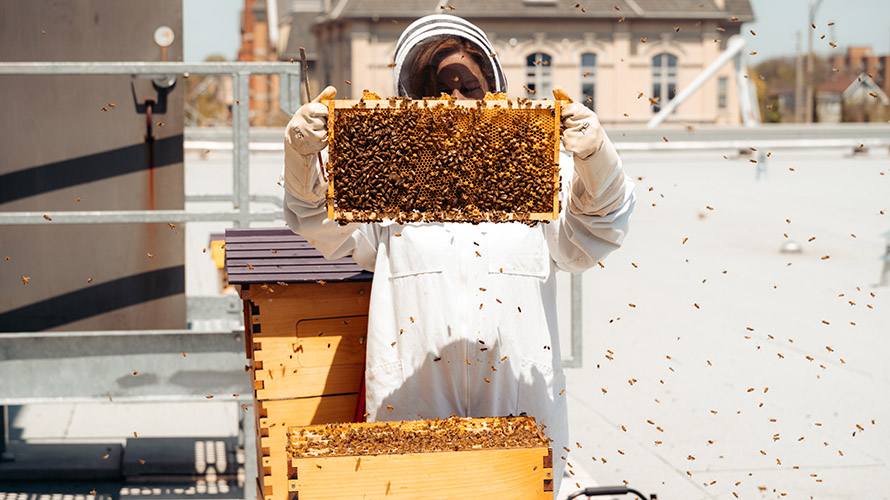 "Within the next few months, I'm inviting students to come up to the rooftop and do hive inspections with me. I'm very excited that we're planning on harvesting honey for the first time," says McKinlay. "It's going to be called 'Golden Hawk Honey' designed with a purple and gold label. We will give it away to partners, alumni, donors, and the Laurier food bank, and we also plan to make it available for purchase to the public."
An average bee colony can produce about 40 pounds of honey per season.
Those interested in volunteering to help with the campus bee apiaries or in attending any upcoming events can reach out to the Laurier Apiary on Instagram (@laurier_apiary) or by email to sustainability@wlu.ca.