A world of opportunity awaits students enrolled in Wilfrid Laurier University's Archaeology and Heritage Studies program. Field schools in Jordan and Greece, in addition to international work-study opportunities, mean students gain hands-on experience in archaeology while immersing themselves in new countries, communities and cultures.  
"Our field schools present valuable opportunities for students to gain experience doing the work of archaeology at significant sites," says Bonnie Glencross, associate professor and chair of Laurier's Department of Archaeology and Heritage Studies. "There's the opportunity for a lot of hands-on learning and work here at Laurier." 
Laurier runs field schools as part of the Western Argolid Regional Project in Greece, the Town of Nebo Archaeological Project in Jordan and offers a work-study opportunity at the Canadian Institute in Greece. These opportunities complement field school sites closer to home, which have included a 17th-century Wendat (Huron) village in Penetanguishene and a War of 1812 site at Old Fort Erie in Niagara.  
As part of the Archaeology and Heritage Studies program, students learn how to study past ways of life through the investigation of material remains. They receive training in excavation and other field techniques, along with methods of laboratory analysis. Importantly, Glencross says, students also gain an understanding of how to consult and work in partnership with Indigenous, descendant and local communities to help preserve their cultural heritage.  
Excavating an ancient town in Jordan 
Working with the local community is the approach at Laurier's field school in Jordan, which is run by Assistant Professor Debra Foran. Foran completed her undergraduate degree at Laurier, when she first visited Jordan as a field school participant. Today, Foran directs the Town of Nebo Archaeological Project and works closely with the local museum and Jordanian Department of Antiquities. This summer she will be taking 20 Laurier students to the site. They will investigate material remains of the ancient town, unearthing the remnants of structures and artifacts to learn more about its history. 
"I've been working in this region of Jordan for quite some time and have developed close ties with the local community, so that is something I strongly encourage with my students," says Foran. "We live in the community, so there are plenty of opportunities for students to interact with our neighbours while we are there."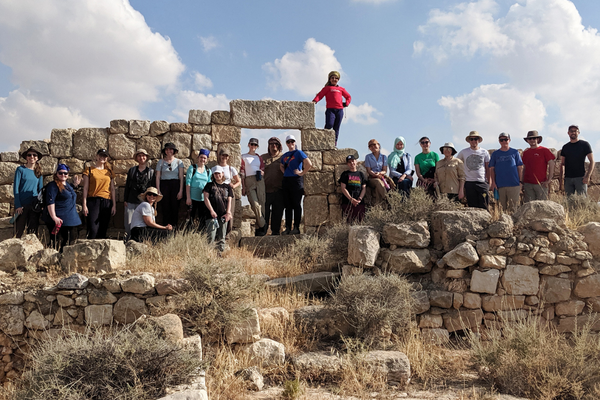 Photo: Laurier students gather for a photo at the Town of Nebo Archaeological Project in Jordan.
After four seasons of excavations, students and staff at the Town of Nebo Archaeological Project have uncovered artifacts from periods of history dating back more than 3,000 years. Because Jordan allows the export of some excavated materials, select artifacts from the site are returned to Foran's lab on Laurier's Waterloo campus, where students work to analyze and catalogue them. 
Third-year Archaeology and Heritage Studies student Arrenish Qasim works in Foran's lab, digitizing drawings of artifacts from the Town of Nebo Archaeological Project for use in publications and research purposes. Qasim will head to Jordan for the first time as a field-school participant this summer.  
"It's an incredible opportunity to be able to practice archaeology internationally and understand the scope of the work," says Qasim. "I'm very excited. I knew about the field school before I joined the program and that was one of the big reasons that I chose Laurier." 
Archaeological opportunity in Greece 
Associate Professor Scott Gallimore leads Laurier's involvement in the Western Argolid Regional Project, which seeks to understand the nature of past human activity in the western Argolid in southern Greece. After a pause due to COVID-19, Gallimore plans to run a field school as part of the project in 2024. He says students gain valuable experience as part of the field school, including excavating and washing artifacts.  
"The work is intense and involves physical labour," says Gallimore. "The students get up early to start their day." 
Photo: Excavations at a Roman-period industrial complex in Sikyon, Greece.
In addition to his work on the Western Argolid Regional Project, Gallimore serves as a Roman pottery specialist with the Sikyon Excavation Project, a multidisciplinary research program studying past human presence and activity on the plateau of ancient Sikyon in Greece. Gallimore says there are other opportunities for Laurier students in Greece, including an internship opportunity at the Canadian Institute. 
"We also open up the possibility that students can work on other projects run by other universities," says Gallimore. "In that sense, they can work in almost any country they want if they seek out the opportunity." 
International student experiences 
Christine Sylvester, who graduated with BA in Archaeology and Heritage Studies and History in 2022, completed an internship at the Canadian Institute in Greece during her undergraduate studies, helping organize library databases and books as part of the institute's move to a new location in Athens.  
"The whole experience – the trip, the culture, the people I met, and the work at the institute itself – was absolutely mind-blowing," says Sylvester. "It was the first time I was able to do archival work, which I enjoyed. I also got to work at the British Institute archives in Athens, which was fantastic."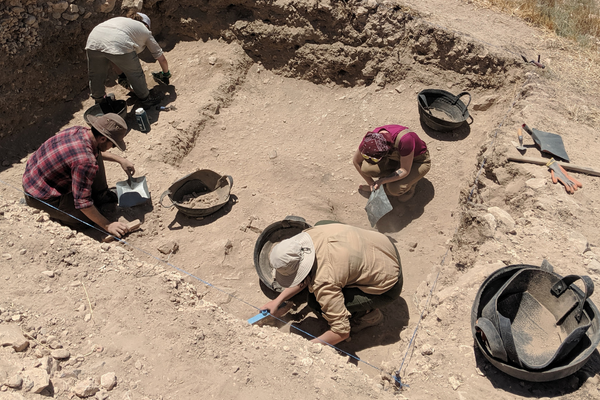 Photo: Digging in at the Town of Nebo Archaeological Project.
Sylvester had the opportunity to participate in a Jordan field school in 2019, received a fellowship to assist Foran in her Waterloo lab during the summer of 2021, and will be returning to the Town of Nebo Archaeological Project as a supervisor this summer. Following that, she will pursue a master's degree in bioarchaeology at the University of Aberdeen in Scotland.  
"The Jordan field school gave me a real introduction to what fieldwork outside of Canada is like," says Sylvester. "That really sparked my interest in looking for opportunities that would take me to different countries to experience different cultures, the different artifacts they find, and the different archaeological techniques that they use. It was a great starting point to get to where I wanted to go." 
Qasim notes that, while archaeology involves the study of the past, the work being undertaken at Laurier's field sites – as well as archaeological sites around the world – has important present-day implications. 
"When you tell people you are studying archaeology, they often think it may not be relevant to today," says Qasim. "But it is very much important on a global scale in understanding our history and understanding how past civilizations lived – and what we can learn from them to better our world." 
Learn more about Laurier's Archaeology and Heritage Studies program.