Supporting student mental health through creative expression was the goal of an art therapy program piloted in March at Wilfrid Laurier University's Brantford campus.
An alternative healing practice, art therapy encourages participants to release emotions and trauma in non-verbal and artistic ways. Led by Jodie Lockey-Duesling, manager of the Student Wellness Centre at Laurier's Brantford campus, the four-week program led eight participants through topics such as personal identity, mental narratives, authenticity and maintaining a growth mindset.
The 90-minute sessions included crafting masks from paper mache, creating affirmation cards, painting and potting small plants, along with breathwork, stretching, meditation and group discussions.
"Art therapy provides a barrier-free, whole-person approach to healing and mental wellness," says Lockey-Duesling. "It's not about the end goal; it's about what happens during the process. That's when the authentic self comes out."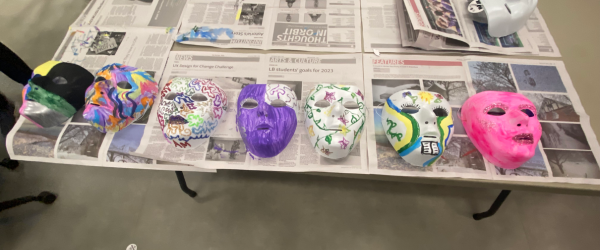 Photo: Painted masks reflect the duality of participants' internal and external personas.
As a registered social worker, Lockey-Duesling sees art therapy as a safe introduction to mental health care that reduces barriers to accessing support, especially for students who may not explore traditional forms of therapy, such as individual counselling.
"Alternative approaches to care and healing are gaining traction and not many other post-secondary institutions offer them, so it's an opportunity for us to offer an innovative and intentional form of care to Laurier students," says Lockey-Duesling, who recently completed a doctoral degree in counselling and psychotherapy at Yorkville University.
Laurier graduate student Angelina Monette (BA '22) participated in the four-week program to learn new strategies to help her manage times of heightened anxiety.
Monette had experimented with painting outdoors to relax and ground herself, but the small-group atmosphere provided as part of the art therapy pilot program made the experience special.
"I could relate to what other group members shared and they could relate to what I shared," says Monette. "There was no judgement, and it was nice to connect with others and learn about myself in ways I hadn't experienced before. I felt safe and relaxed during the process."
Laurier's Student Wellness Centres offer a range of free educational programs to support student mental health and well-being, including online and in-person workshops, breakfast bars, online resources and counselling appointments.
Lockey-Duesling hopes to run the art therapy program again during the fall 2023 term as part of the Student Wellness Centre's wellness education programming at Laurier's Brantford campus.