Academic writing can seem like a mystery wrapped in an enigma. How do you structure an essay? How do you navigate citations? Why are the rules of English grammar so confusing?
Fortunately, Wilfrid Laurier University offers Writing Services in Waterloo and Brantford that can help with these questions and more. Students can book an in-person or online writing appointment to get one-on-one support.
At the heart of Writing Services are paid student writing tutors who have one goal: to help you become a better writer so you can achieve your academic aspirations.
Below, now-graduated writing tutors Scott Lu (BA '23) and Alexa Dupuis-Bissonnette (MA '23) discuss what Writing Services has to offer.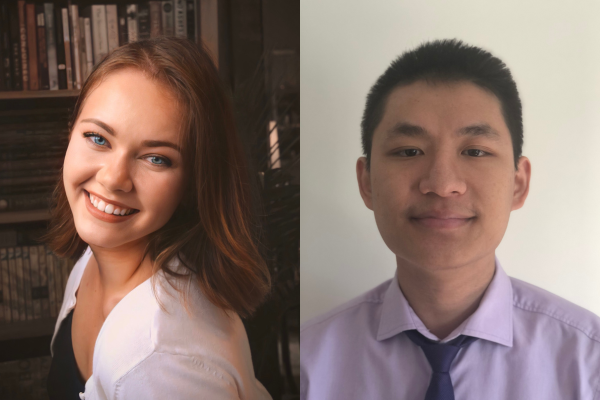 What advice do you have for students who want to improve their academic writing?
Alexa Dupuis-Bissonnette (ADP): My biggest advice is that writing at the academic level is very formulaic. If you are feeling lost, or feeling unable to be a "good writer," there are formulas to follow. It's not just something you're inherently good at, but it is something that anybody can become practiced at. If you're feeling discouraged, just know that it is learnable, and it's actually not that inaccessible.
Sometimes we just need to break it down: here's how to write an essay; here's how you navigate citations. Students often don't know they can ask questions about writing. Not knowing how to improve, it can be really demoralizing and stressful. Writing Services can help with that.
Scott Lu (SL): My best advice is to read for enjoyment. I know that can be hard, especially if you're in a program where you have to read a lot, it becomes like a job. But try to create some kind of space where it doesn't matter what it is. It doesn't have to be classic literature, it just has to be something you enjoy.
I have another piece of advice that applies not just to writing, but to school in general. Often students would come to the writing centre and say, "I'm not sure what to do about this." And I'd say, "Did you ask your professor or TA about this?" And you'd be surprised how many said they didn't. Students can really benefit from the fact that Laurier has a very collegial atmosphere. Professors are there to help, whether after class or during their office hours. Writing tutors can give you advice about writing, but when it comes to the subject matter itself the best person to ask is your professor or TA.
What did you learn in your time as a writing tutor?
ADP: For me, being a writing tutor is about student interactions and making sure I understand what a student's needs are. I've had people coming to me every single year because they value the connection and the learning. It's less about the pedagogy or the technical aspects of writing and more about just asking students what they need.
SL: I learned a lot of communication skills. You can't just tell students, "Write it like this!" That goes against the job description – and it's also not very realistic or effective. They won't understand why you do something a certain way or the principle behind it. I needed to be able to get them to be open to some of that critique and support.
What was your favourite part about being a writing tutor?
ADP: For me, the best moments as a tutor came when a student would say, "Wow, you just changed everything." Not because I needed the pat on the back, but because they realized this was not an issue of them not being able to do it. They just needed it explained. Maybe they will be more confident or ask more questions next time. Maybe there was one key piece missing and now they feel more empowered.
SL: My favourite part was seeing students develop and grow over time. You'd see students at the beginning and then again three months or a year down the line and you would see how much they improved. And, more than that, you would see them developing their own style as a writer.
In Waterloo, Writing Services is located in the Teaching and Learning Commons, second floor Peters Building, in the Writing and Learning Lab, Room P226. In Brantford, Writing Services is located at One Market, Room OM207. For more information or to book an appointment, visit the Writing Services page.