Wilfrid Laurier University football head coach Michael Faulds looked for ways to give back to the community amid a time of uncertainty as the COVID-19 pandemic unfolded in spring 2020.  
Inspired by his colleague and Laurier football coach Zach Scotto, giving blood became a way Faulds could make a positive contribution in the community. Faulds recently marked his 10th blood donation. 
Laurier is a proud member of Canadian Blood Services' Partners for Life program. Each year, Laurier makes a pledge of blood donations to help keep our communities healthy and strong.  
Below, Faulds shares why he continues to give blood and how he hopes to inspire others in the Laurier community to give.  
Why is giving blood important to you? 
There are people in our local community who rely on blood and blood products to survive, so giving blood is a small contribution to those in need. I often think of those who will need blood due to tragic situations like a car accident. I take comfort in knowing that if someone I loved needed blood, the kindness of blood donors could save their life.  
Laurier's football team participated in a blood drive during the winter 2023 reading week. Why is it important to involve student-athletes in giving blood?  
We want members of the team to have that great feeling you get after giving blood. While we don't know the recipient of our donation – who they are or what they're going through – it's amazing that we can help them in this way and know they are grateful.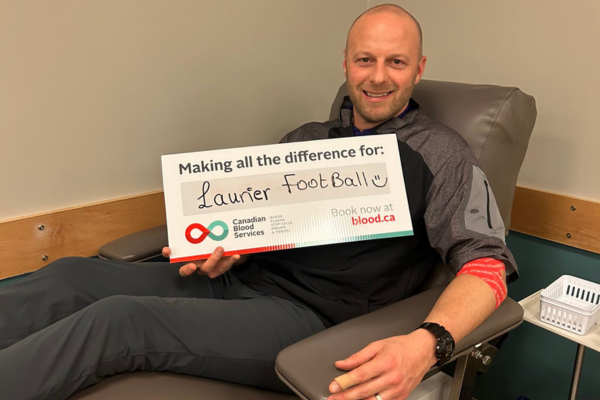 At Laurier, we teach our players that part of being a student-athlete is knowing how lucky and fortunate they are. They are all fit, healthy, strong and athletic. Many people in life aren't as fortunate, but we have an opportunity to help them as blood donors.  
Winter reading week worked well for us to hold a blood drive as a team and we would like to make it an annual event. Coach Scotto has made over 50 donations. It doesn't matter how busy he is, he finds time to donate consistently every eight weeks. His commitment is very inspiring.  
What would you say to a Laurier community member considering giving blood?  
Whether you are a student, faculty or staff member at Laurier, we are all extremely busy, but it is important to realize that we are also all very fortunate to be able to live a busy life. Many other people aren't as lucky. Giving blood can be a small act of kindness that you can add to your life. The whole process takes about an hour, but that one hour can change someone's life.  
What is your post-donation snack of choice?
I love the sesame snaps! I usually grab those and a Diet Coke for a boost of energy. For dinner on donation days, I often have steak, as iron-rich foods are advised to help replenish the minerals in your body.  
Donate at a clinic location near you 
Members of Laurier's Partners for Life team can book online to donate at any Canadian Blood Services location or mobile clinic.   
In Waterloo, the Canadian Blood Services clinic is located at 94 Bridgeport Rd. E., a short distance from Laurier's Waterloo campus. Book an appointment online to give during the following times:  
In Brantford, Canadian Blood Services will hold mobile clinics on June 24, July 4, July 22, Aug. 1 and Aug. 26. Book online to reserve your appointment. 
OTHER WAYS TO SUPPORT CANADIAN BLOOD SERVICES   
Not everyone can give blood. There are other ways to support Laurier's partnership with Canadian Blood Services:   
Raise awareness about the ongoing need for blood by sharing Canadian Blood Services' content on your Facebook, Instagram and Twitter accounts.  
Volunteer at your local Canadian Blood Services clinic location. 
Join the stem cell registry if you are between the ages of 17 and 35.    
If you are unsure if you are eligible to donate, please visit the Canadian Blood Services eligibility page or call 1-888-2-DONATE to speak with a nurse.