Following four successful years in Wilfrid Laurier University's International Education Studies (IES) program, Haley Girard is embracing a world of opportunity.
A member of Laurier's first IES graduating class, Girard crossed the stage as part of spring convocation ceremonies at the university's Waterloo campus on June 14. She will continue her studies at Oxford University in the fall, pursuing a master's degree in applied linguistics and second language acquisition.
"Education is so important around the world and just how much it impacts other areas of society is quite astounding," says Girard. "I have definitely learned to challenge the way I look at things at Laurier. Whether it's an unconscious perspective on something or a situation, I've learned to always look at things from a different angle, or how other people might perceive something when compared to me."
The first of its kind in Canada, Laurier's Bachelor of Arts in International Education Studies offers students a pathway to teach in international schools, pursue education-related work in international development, or become more globally competent teaching in Ontario schools. Based on Laurier's Waterloo campus, the program integrates education with global studies to foster global awareness and intercultural understanding among students, who study teaching philosophies and approaches specifically for international settings.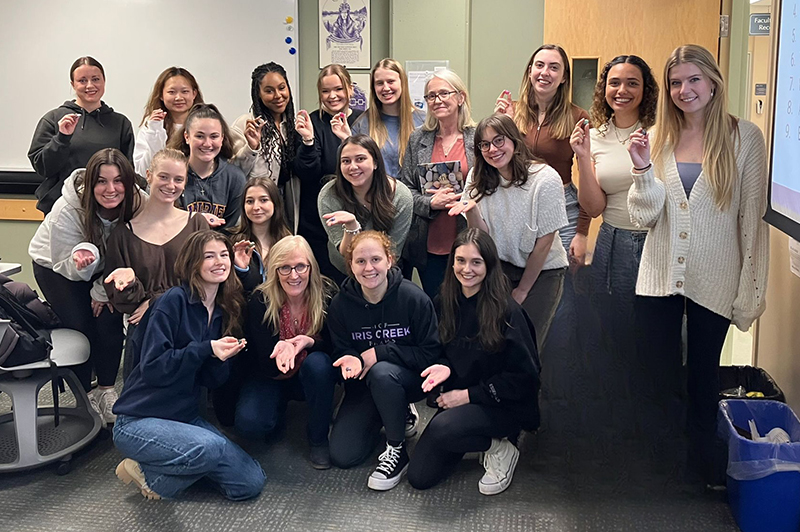 A partnership between Laurier's Faculty of Arts and Faculty of Education, International Education Studies launched in 2019. The carefully crafted program features small class sizes and experienced faculty members who are well prepared to help students become leaders in international education.
"Our graduates have a better understanding of schooling across the world in various models of public and private education," says Maria Cantalini-Williams, dean of Laurier's Faculty of Education. "They also acquire a familiarity with not-for-profits and organizations, such as UNESCO and OECD, which have a focus on international education."
Globally focused learning
International Education Studies students take courses within the Faculty of Education and Department of Global Studies in the Faculty of Arts. IES students who choose to become teachers are well prepared to apply to Bachelor of Education programs, with Laurier's Faculty of Education providing a pathway for admission to graduates of the IES program who meet specified criteria.
The program also includes mandatory placements where students gain valuable first-hand experience. A local placement in second year, involving two hours a week in a school or community organization, provides students a connection between the classroom and hands-on learning. At the end of third year, students undertake an intensive four to eight-week experiential learning placement with an international focus. Students have the option to complete placements with schools or organizations located internationally, in Canada, or remotely.
"There are IES students in placements around the world – in Malaysia, Ghana, Korea, Japan and Italy – and in local internationally focused placements," says Cantalini-Williams. "Our students are our best ambassadors. They are independent thinkers, resourceful and resilient."
In addition to placements, IES students can pursue a Teaching English as a Foreign Language (TEFL) certificate from Conestoga College that provides the training and first credential required to teach English as a second or foreign language in Canada or abroad.
Experience in the field
As part of her IES experience, Girard completed a second-year online placement with Ghana International School; a third-year local placement with St. John's-Kilmarnock School, a private international baccalaureate school in Breslau, Ont.; and an online placement with Kitchener's English at First as part of the TEFL certificate. While many students do, Girard says one doesn't have to travel far to find opportunities in the field of international education.
"I learned a lot during my placement at St. John's-Kilmarnock School and it really helped me develop and tested my abilities," says Girard. "You can travel abroad as part of the IES program, but you can also work in the international context while working with students locally."
Professor Steve Sider, inaugural director of Laurier's IES program and an instructor in the program, says opportunities provided to IES students will serve to make them stronger advocates in their classrooms and communities.
"The communities they teach in will benefit long term because our students have a much better sense of diversity, equity and inclusion," says Sider. "They also have a much better sense of linguistic and cultural nuances. They will be better teachers because of their experience whether they teach in Ontario, work for an international organization, or teach internationally."
Sider and Cantalini-Williams give much credit to Associate Professor Alex Latta, current coordinator of the IES program; Assistant Professor Avis Beek; IES program administrator Taylor Marks; and Sofie Lachapelle, dean of Faculty of Arts, for their work to foster a strong IES program.
While Girard is currently serving as coordinator for the academic and research programs department at the Perimeter Institute for Theoretical Physics in Waterloo, she is looking forward to her Oxford University experience with anticipation. She says her time in Laurier's IES program prepared her well for the next stage of her studies – and the work she will pursue in the field of international education. 
"I'm definitely looking forward to the next chapter, but I know I am going to miss all of the people I spent the last four years with as part of the IES program," says Girard. "I'm very excited and a bit nervous if I'm honest. It's bittersweet."
Learn more about Laurier's International Education Studies program and view the International Education Studies Experience Guide.