After 16 years of dedicated service to Wilfrid Laurier University, Antonio Araujo, interim senior executive officer of the Brantford campus, will retire in late June.
During his time at Laurier, Araujo built strong connections with campus partners while supporting academic and administrative leaders. He has held several positions at Laurier, including as assistant vice-president of campus operations and risk management, interim vice-president of finance and administration, and most recently as interim senior executive officer of Laurier's Brantford campus.
"Tony has been a wonderful colleague, regardless of the hat he is wearing for Laurier on any given day," says Deborah MacLatchy, president and vice-chancellor. "He always thinks of students, faculty and staff, and what's in Laurier's best interest, first and foremost. I will certainly miss his balanced approach to every challenge and his full engagement on every opportunity. I wish him all the best as he enjoys his retirement spending more time with family, camping and sailing, all the things that he loves the most."
Araujo has seen Laurier's Brantford campus grow from just a few buildings and students to 16 buildings and about 2,500 students today. He's participated in key projects including the planning of the Laurier Brantford YMCA and adaptive reuse projects for several buildings on the Brantford campus, and the creation of multi-campus governance.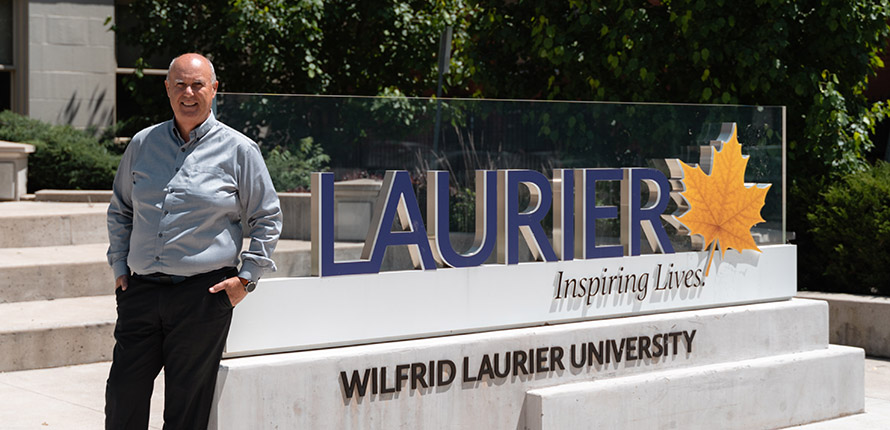 Araujo joined Laurier's Brantford campus just shy of its 10th anniversary.
"It was like joining a startup organization because of the environment, brainstorming and flexibility," recalls Araujo. "We were always looking for ways to make this campus successful."
Over the years, Araujo has been a behind-the-scenes player in building the Brantford campus to what it is today, from the opening of the Research and Academic Centre in 2011 to the current renovation of One Market. Adaptive reuse – retaining historic character while renovating spaces for university purposes – has been the guiding principle for its development.
"Adaptive reuse is something this campus has strived for because we value the history and heritage of these buildings," says Araujo. "Where we could, we preserved historic character while also creating innovative spaces for our students. Where we could not, we created buildings that fit with the character of the community."
One of Araujo's last duties before his retirement is sending off graduates at spring convocation, something he looks forward to every year.
"Convocation shows you the result of the hard work of the students, faculty and staff that contributed to them walking across the stage," says Araujo. "Seeing the difference Laurier is making every day and seeing families all come together to celebrate their achievements makes me excited every year, and it never gets old."
Araujo was the first in his extended family to attend university. His understanding and ability to relate to students who face challenges was integral to creating the Araujo Family Award, a scholarship for students from rural areas who have faced challenges on their path to post-secondary education.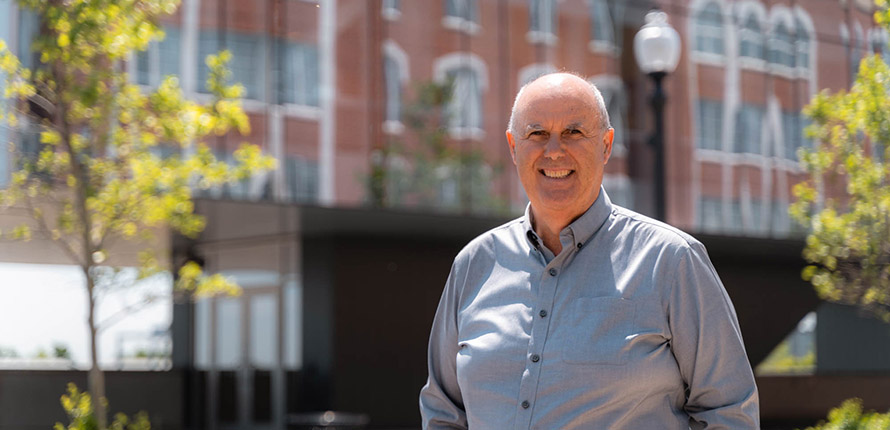 "Education is very important," says Araujo. "It changes lives, it creates opportunities and can ultimately change someone's entire path. We set up the fund to help a student who has faced a challenge in their life, whether that challenge is mental, physical or financial."
Though Araujo's upcoming retirement will leave a void in Brantford, he is confident Laurier and its team of hardworking staff and faculty will continue to build on a campus that has made so much progress since opening in 1999. One project he's excited to see develop is the transformation of One Market, a former shopping mall, into a hub of student and community activity. Plans for the space include a performance theatre, street food market and general store.
"I can't wait to see the plans we made come to fruition and see One Market come to life," says Araujo. "It will be exciting to come onto campus, visit One Market, pop into the campus store, go to the food market or see a performance at the Cultural Hub."
Celebrate the contributions of Antonio Araujo during a gathering in the SC Johnson Building lobby on the Brantford campus June 19 from 4 to 5:30 p.m. or donate to the Araujo Family Award.