More than 60 Grade 10 and 11 students from across Canada are leaving Wilfrid Laurier University inspired to pursue studies in science, technology, engineering, arts and mathematics (STEAM) following a month-long intensive program at the university's Waterloo and Brantford campuses.
As part of the Shad Canada program, which kicked off July 3 and wrapped up on July 28, the students participated in university-level workshops, lectures and hands-on exercises facilitated by Laurier faculty, students and leaders in STEAM fields.
Maitreyee Gangal, a Grade 10 student, aspires to pursue computer engineering at university. Her favourite part of this year's Shad program was a quantum computing presentation by Shohini Ghose, a Laurier Physics and Computer Science professor and NSERC Chair for Women in Science and Engineering.
"Seeing a woman of colour excel in STEAM is really nice as someone who wishes to pursue a similar field of study," says Gangal.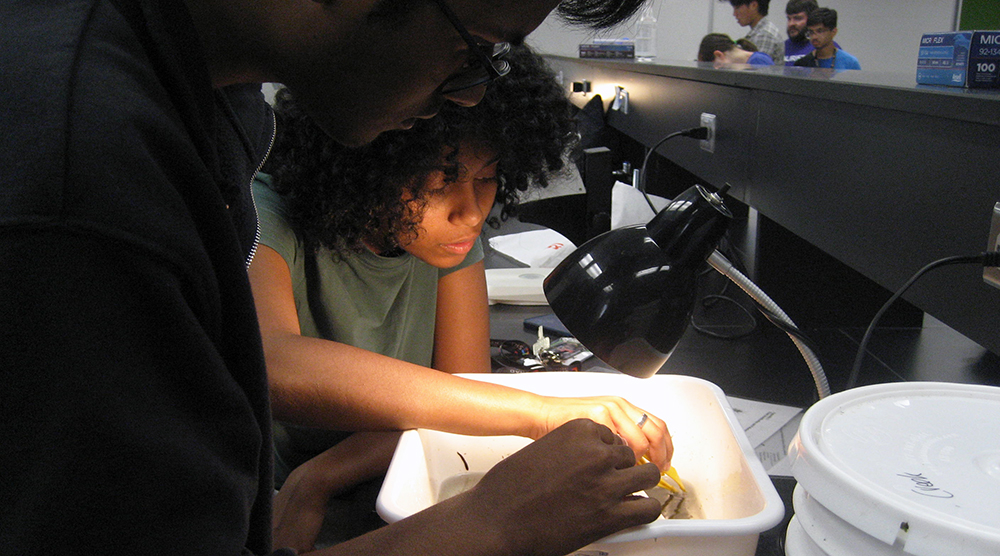 Students participated in hands-on learning as part of the Shad Canada program at Laurier, which welcomed high school students from across the country.
Kashish Asudani and Armaan Khosla, also Grade 10 students, had an equally enjoyable time participating in the Shad Canada program at Laurier. Asudani is interested in a career in medicine and most enjoyed the time she spent in Laurier's synthetic cadaver anatomy lab.
Khosla initially thought STEAM only focused on coding, robotics and engineering. However, Shad activities, challenges and lectures introduced him to new topics including biology, psychology and the arts.
Laurier staff members and program assistants played an integral role in the success of this year's Shad program at Laurier. Brooke Warren and Brenda Kurorwaho, two first-time program assistants, served as mentors who guided students through the STEAM challenges they faced.
Warren was a Shad participant in 2017 and helped run Shad engineering challenges this year in her role as a program assistant. She enjoyed her time as a program assistant, noting it helped her gain hands-on experience teaching, a career path she is considering pursuing.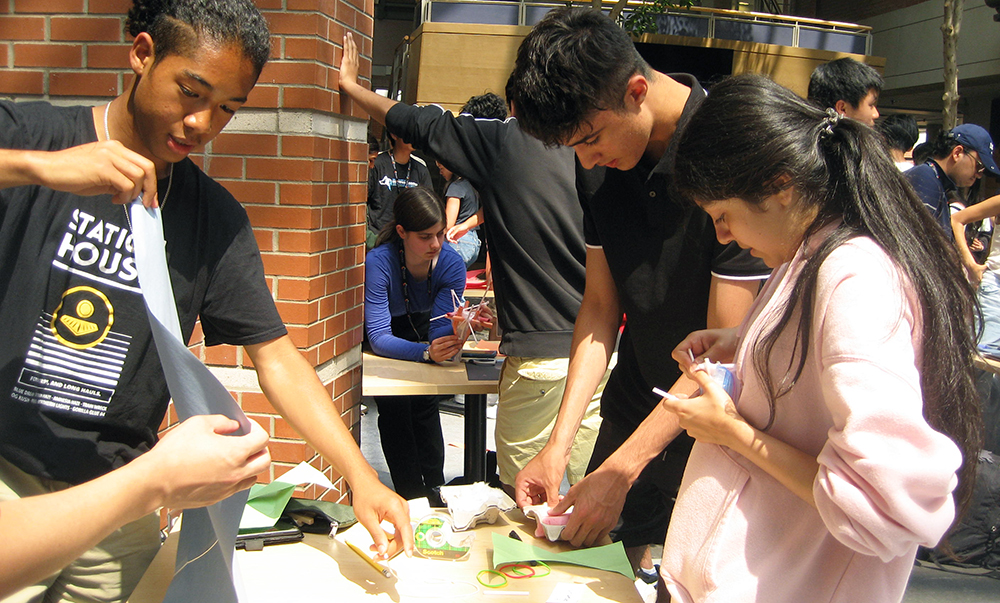 Students worked together to solve STEM challenges during the month-long Shad Canada program at Laurier.
Kurorwaho says her experience as a program assistant helped her build professional skills including better leadership, communication and organization skills. She found it rewarding to see students excel in their tasks, as "seeing the students work hard inspires you to also push your boundaries to achieve your goals." 
Laurier celebrated the accomplishments of its Shad Canada program attendees on July 27 with an "Open Day," where students participated in challenges and shared what they learned over the month with their families, friends and members of the Laurier community. The program wrapped up the same evening with a celebratory banquet.