This fall, Wilfrid Laurier University welcomed two postdoctoral fellows to begin a public history initiative exploring the legacy of the university's namesake and institutional history.
Over the next two years, Tedla Desta and Katelyn Arac will take a deep dive into primary and secondary historical sources, including books, newspapers, policy papers, legal documents, and speeches, and engage with the Laurier community on their findings.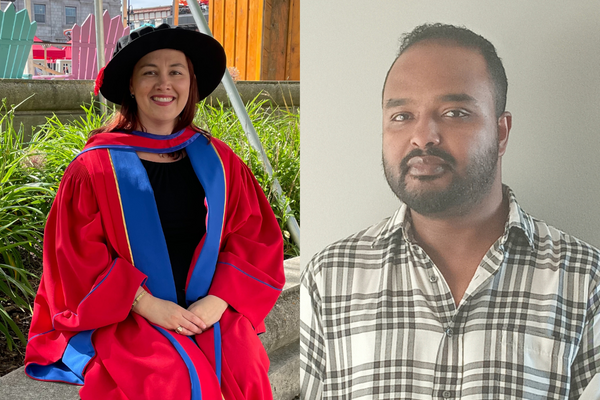 Photo: Katelyn Arac and Tedla Desta.
Desta, who holds a PhD in Conflict Resolution and Reconciliation from Trinity College Dublin, is researching the university's institutional history, while Arac, who holds a PhD in History from Queen's University, is studying the legacy of former Canadian Prime Minister Sir Wilfrid Laurier.
Both are being supervised by Barrington Walker, Laurier's associate vice-president of Equity, Diversity and Inclusion and a historian of modern Canada.
"This is a time when many are asking difficult questions about our founding colonial institutions, including universities," says Walker. "Our ultimate goal is to reflect upon our current-day values and our future."
A visiting Indigenous scholar, currently being recruited, will also be part of the project, focusing on Indigeneity or decolonization in a historical context.
What is a public history project?
Public history projects are a scholarly tool for connecting past ideas and lived experiences to the lens of the present day. Unlike historians who work solely within academic settings, scholars working on public history projects engage collaboratively with the community and colleagues from multiple disciplines.
Recently, public history projects have become one way for institutions such as universities to bring to light under-recognized elements of their histories and the possible ways they supported systems of colonialism, racism and discrimination. A number of universities have recently engaged in this work, including Dalhousie, Cambridge, Harvard, and Edinburgh.
"Critical university legacy research is a fairly new development, and being involved in this new field of research is challenging and fascinating," says Desta.
In Arac's view, public history projects are gaining prominence because people are willing to engage with the past in a way they may not have before.
"I think people are generally more aware of what has been excluded from national narratives about the past and are curious about those voids," she says.
Projects like the Laurier Legacy project are an opportunity to revisit national and institutional narratives, consider how and why they were created, and incorporate new voices.
A collaborative endeavour
Early in 2023, Laurier's Office of Equity, Diversity and Inclusion will host public forums and conversations where Arac and Desta will share their findings and engage in conversations with community members.
"These conversations can be some of the most fruitful in a research project because you get feedback on what you have done," says Arac. "I find that it is in sharing our work where the meaningful connections between past and present occur."
Arac and Desta will also collaborate with colleagues in the Laurier Centre for the Study of Canada, an interdisciplinary research centre that brings together faculty and students studying different aspects of Canada.
Desta likens the Laurier Legacy project to making New Year's resolutions, an opportunity for critical self-examination with a view toward building a better future.
"As Cornel West puts it, 'you can't really move forward until you look back,'" says Desta. "We might have elements of our past that we are proud of and that we are not proud of. This is not about naming and shaming; it's about learning from the past and doing better in the future."
At the end of their fellowships, Arac and Desta will have built a foundation of research that adds to the collective understanding of the university's history and Sir Wilfrid Laurier's legacy. It's a foundation that future scholars, and the entire Laurier community, will be able to build on in the years to come.