Across Canada, people are feeling the impacts of higher food prices and the rising cost of living. Wilfrid Laurier University's campus communities are no exception.
Laurier students who are experiencing food insecurity can access a range of supports and resources, all at little or no cost.
The Mini Market
Small in size, The Mini Market inside Veritas Café on Laurier's Waterloo campus is taking a big, bold approach to addressing food insecurity.
Run by the Graduate Students' Association (GSA), The Mini Market allows student shoppers to pay what they can for their items. Students can privately choose from four price points displayed on the payment device: pay full price, receive a 25% discount, receive a 50% discount, or receive their items at no charge.
The market offers fresh produce, canned goods, dried goods like cereal and oatmeal, and hygiene products. It also has a grab-and-go section with fresh items including ready-made soups, wraps and pasta dishes.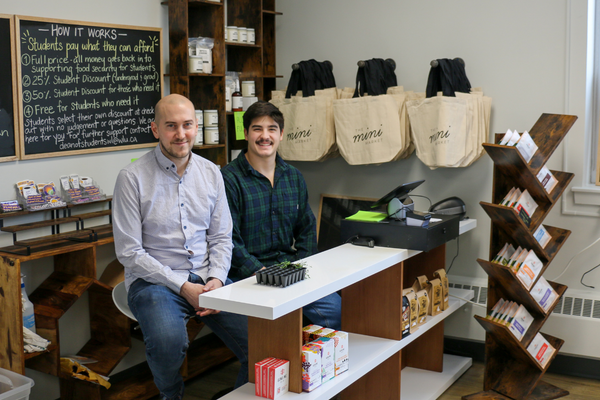 Photo: The Mini Market founder Jeremy Wagner (left) and student-staff member Ricky.
"There is no limit to how many times a student can shop at the market," says Jeremy Wagner, GSA president and Mini Market founder.
Adds Ellen Menage, GSA executive director and chief operating officer, "When you're in a tough spot or not feeling well, you don't always feel like eating, let alone cooking. The grab-and-go cooler offers students healthy options that simply need to be eaten or reheated at most."
Wagner believes the market's pay-what-you-can model is the first of its kind at a university in Canada.
"Some schools offer at-cost grocery services for students, but as far as we know, the Mini Market is the first pay-what-you-can grocery store for students," says Wagner. "We have a community of care mindset at Laurier, so this just feels like an obvious thing to do."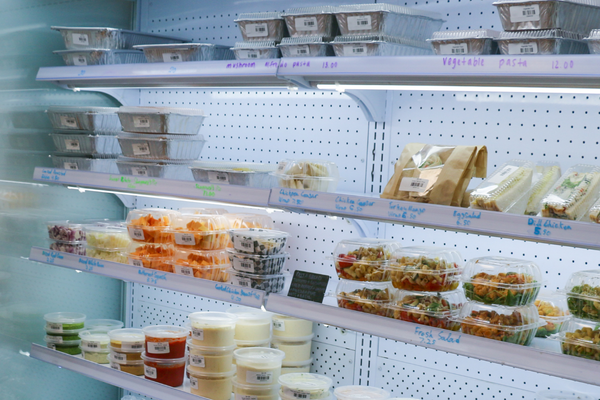 Photo: Some of the grab-and-go items available in the cooler.
To avoid food waste, items approaching expiry are donated to the Weekly Food Distro organized by Martin Luther University College and the Laurier Students' Public Interest Research Group, which operates Thursday afternoons from 1:30 to 5:30 p.m.
Faculty and staff are invited to shop at the market for items at full price. Food donations are welcomed. Charitable donations can be made online and will receive a tax receipt.
The market is open during Veritas Café's operating hours – Monday to Friday, from 8 a.m. to 5 p.m. For more information on the Mini Market, visit its website or follow @theminimarketlaurier on Instagram.
Free Weekly Distro
The Free Weekly Distro is a small grocery store that welcomes Laurier and Luther students to pick up the items they need at no charge.
Operating at Laurier's Brantford campus and Martin Luther University College's Waterloo campus, the Distro is stocked with fresh produce, dairy, eggs, canned and dry goods, and hygiene items. Pre-packaged hot meals are also available in Waterloo during the fall and winter terms, thanks to the generosity of Mount Zion Lutheran Church. A retired chef cooks between 80 and 100 meals each week for Distro patrons in the church's commercial kitchen.
Distro runs every Thursday from 1:30 to 5:30 p.m. in Luther's multi-faith room and from noon to 4 p.m. at the Wellness Hub inside One Market at Laurier's Brantford campus.
Photo: Canned and packaged goods available from the Weekly Food Distro.
"Students are dealing with so much already; wondering where your next meal is coming from shouldn't be one of them," says Rev. Anne Anderson, community pastor at Luther and Distro co-organizer.
Student and staff volunteers from Luther and Laurier, along with community volunteers, keep the Distro operational for the nearly 200 students who visit it each week.
"The feedback we've received about the Distro is really uplifting," says Karly Rath, volunteer and community engagement director at the Laurier Students' Public Interest Research Group and Distro co-founder. "Students have told us that supports like the Distro have allowed them to complete their studies or help them make ends meet. Food insecurity is about so much more than being hungry."
Food for the Distro is obtained through donations, grants, financial gifts and community partners. Distro organizers sought food and financial donations through the Food and Funds Drive, which ran through Jan. 27.
Donation boxes with educational resources about food insecurity have been distributed across Laurier and Luther campuses. Donations are welcome at any time and can be received in the main lobby of Luther's campus, located at the corner of Albert Street and Bricker Avenue. Charitable donations can be made online and will receive a tax receipt.
The Free Weekly Distro is operated by Martin Luther University College and the Laurier Students' Public Interest Research Group.
Student Food Bank
Operated by Wilfrid Laurier University's Students' Union, the Student Food Bank provides students with up to five free food parcels each term as needed. Each parcel contains enough food to last one week and includes canned fruit and vegetables, beans, pasta and sauce, and rice dishes. Food parcels can be adapted to meet dietary needs. When in stock, the Student Food Bank also provides hygiene and menstrual care products.
An emergency hot meal service is also administered at Laurier's Waterloo campus. Through the service, credits are added to student OneCards for use in the Dining Hall. The hot meal service is offered in partnership with Laurier Food Services and the OneCard Office.
Students can complete an online request form to obtain a food parcel or access the emergency hot meal program. Requests are filled by student volunteers and are ready within two to three business days. Students are notified by email when their parcel is ready for pick up.
The Student Food Bank is funded by the Students' Union. Donations of food and hygiene products are welcome and can be dropped off at the SU-Desk in the 2-4 Lounge at Laurier's Waterloo campus and at the SU-Desk in the Student Services Building at Laurier's Brantford campus. Charitable donations can be made online and will receive a tax receipt.
Additional information about the Student Food Bank at Laurier is available online and on Instagram:
Brantford Breakfast Bar
Beginning Jan. 25, students can stop by the Wellness Hub in One Market every Tuesday and Wednesday from 9 to 11 a.m. for free coffee, tea, fruit, bagels and baked goods. Vegan and gluten-free options are available. The Breakfast Bar will operate through April 5 and is funded by the Student Life Levy.
Brantford Student Wellness Centre Food Pantry
The Food Pantry at the Brantford Student Wellness Centre offers non-perishable food items to students who express the need for emergency food support. Visit the Student Wellness Centre or email Claire Howarth, wellness education coordinator at the Brantford campus, for assistance.
Fresh Fruit Fridays
Fresh fruit is available every Friday from 10 a.m. to noon in the Wellness Education Centre, located in room 111 of the Peters Building at Laurier's Waterloo campus, and the Student Wellness Centre at the Brantford campus. Fresh Fruit Fridays run until March 31, 2023.
Indigenous Student Centres
Indigenous students experiencing food insecurity have access to additional resources provided through the Indigenous Student Centres at Laurier. Students are welcome to cook in the centres' kitchens, eat food from the fridges, and attend regular programming and other events centered around sharing a meal. Grocery gift cards are also available by contacting the Indigenous student coordinators:
Educational Resources
Student Wellness Centre
Students can access educational resources to address the impacts of food insecurity including counseling appointments, workshops, peer support groups, cookbooks and events. Visit the Student Wellness Centre website or follow LaurierWellness on Instagram.
Dean of Students Office
Students who are facing financial stress can connect with the Dean of Students Office to access emergency support and education-based resources.
"There are many factors that contribute to food insecurity among students," says Andrea Dalimonte, manager of student care at Laurier's Brantford campus. "We provide wraparound supports to help students with emergency needs and assist them in developing a plan for future success and stability."
Laurier's Financial Literacy Specialist Cherish Hwang is here to help students address their financial situation, often the leading cause of food insecurity. Hwang can offer advice on immediate financial concerns, budgeting, and applying for awards, bursaries and scholarships.
"Students don't always receive financial literacy education in high school, and that is exacerbated in their transition to university life," says Allison Dietz, student care manager at Laurier's Waterloo campus. "As a student, having a financial plan and awareness of readily available resources and supports can help alleviate a lot of stress."
Dalimonte and Dietz can also assist students falling short on funds by connecting them with emergency funding and campus employment opportunities, working with academic advisors, or adding food credits to their OneCards.
Contact the Dean of Students Office by email at deanofstudentswl@wlu.ca or deanofstudentsbr@wlu.ca.
Community Resources
Laurier students can also access community-based resources in Waterloo Region and Brant County.
Related Stories