During a time of growing humanitarian crises and displacement due to conflict, students involved in Wilfrid Laurier University's International Students Overcoming War (ISOW) welcomed more than 100 delegates from 20 countries to work toward solutions.
ISOW, a student-run and student-funded initiative, welcomed the delegates as part of the Students as Partners conference at Laurier's Waterloo campus from March 30 to April 1. Hosted in partnership between ISOW and the United Nations High Commissioner for Refugees (UNHCR), the conference explored how students can lead in developing sustainable solutions to humanitarian crises in partnership with institutions of higher education.
"The unprecedented crisis of global displacement around the world requires that higher education institutions become involved," says Oshish Ungras, lead Students as Partners conference coordinator. "The most valuable resource universities and colleges have at their disposal is students. The innovation, creativity, leadership and inspiration that students bring to the table are what is needed for these complexities to be addressed."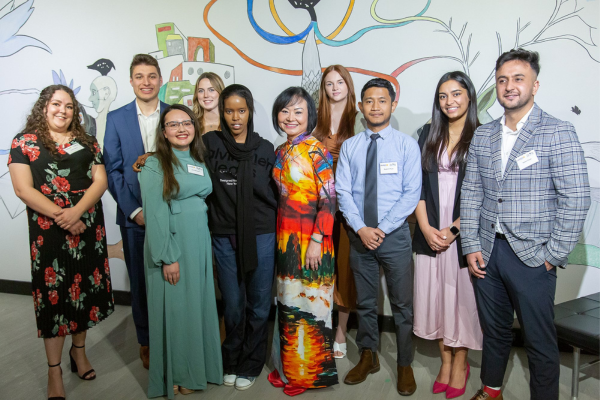 Photo: Kim Phuc with members of International Students Overcoming War.
The three-day conference featured workshops and plenary sessions to foster research-based discussions and action plans. Topics included The Global Context of Forced Displacement and Higher Education; Afghanistan and the Imperative for Women's Education; and What Next? Planning for Campus-Based Social Action, among others. During the event, delegates worked together to complete action plans outlining how they will engage in sustainable humanitarian and social action when they return to their institutions.
"We shaped the entire conference around all of the delegates – staff, students, faculty and representatives from NGOs – working together and sharing their perspectives and lived experiences, as well as their ambitions and desires for leadership and resources," says Ungras, who earned a bachelor of arts in Global Studies at Laurier and recently completed a master's degree at the Balsillie School of International Affairs.
Sadiki Bamperineza, a graduate of Southern New Hampshire University currently pursuing his master's degree, participated as a speaker in a plenary session titled Students as Partners for Sustainable Humanitarian Action. Bamperineza works as a student leader with the Tertiary Refugee Student Network, an organization that connects refugee learners and alumni and advocates for greater access to higher education.
"When students are given this opportunity, they bring a different context and they work to solve root causes of the problems," says Bamperineza. "I think this event will make a difference. I believe that after this conference I will be connected to many more people – and we will build synergies in the world together."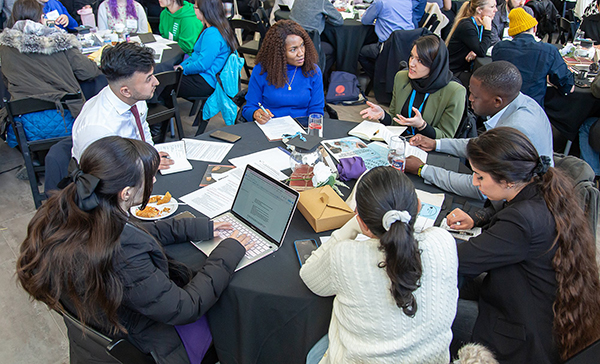 Photo: Roundtable sessions took place during the three-day Students as Partners conference at Laurier's Waterloo campus.
Fourth-year Laurier business student Justin Zekorn served as communications and social media lead for the Students as Partners conference. He says the action plans formulated during the event offer hope for change.
"A lot of the time with large conferences, people want to do great things, but the subjects are very broad," says Zekorn, who will be attending law school at the University of Toronto in September. "What was unique about this conference is that we dialed that in and came to the point where people would be able to go back to their universities and feel comfortable taking specific action. If each person can go back to their respective country and act on one small thing we talked about during the conference, it will have a ripple effect on students across the globe."
ISOW is a multi-faceted initiative unique to Laurier that brings students, staff and faculty together to enable students from war-torn countries to study in safety and security in Canada. The Students as Partners conference – designed to forge new partnerships between universities, students and NGOs – was the first of its kind to place an emphasis on student mobilization for the purpose of humanitarian action supported by academic institutions. Delegates came from a diverse array of countries and included youth who themselves are either refugees or impacted by humanitarian crises.
Peace activist Kim Phuc Phan Thi – known as "the girl in the picture" as the subject of one of the most haunting and iconic images of the Vietnam War – opened the conference, sharing a message of peace, forgiveness and hope during a public keynote titled "Lessons of Life."
"My dream is for all people to live in peace without fear, no fighting and no hostilities," Phuc told those gathered for the event. "To achieve this, we must recover the place in our heart that is open and loving. As you know, our world is troubled and full of conflict. But every single day we have the opportunity to be better people – better neighbours and better friends. I believe that peace and love will always be more powerful than any weapon."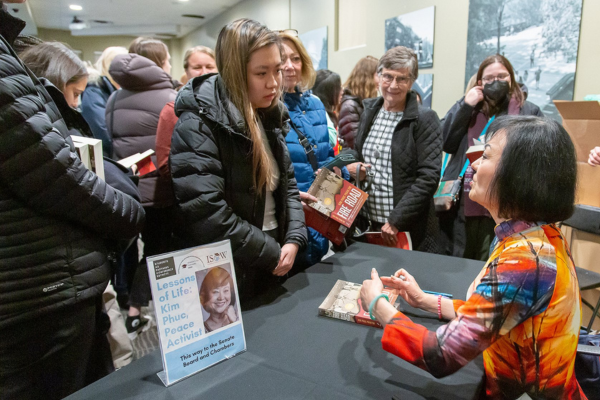 Photo: Phuc signs copies of her book, Fire Road.
Other speakers during the conference included Rema Jamous Imseis, UNHCR's representative in Canada; Duncan Ross, creator of the Times Higher Education ranking of universities, addressing the United Nations' Sustainable Development Goals; and Friba Rezayee, founder of Women Leaders of Tomorrow and Afghanistan's first female Olympic athlete.
About 20 students involved in the ISOW student leadership team planned the Students as Partners conference. Gavin Brockett, faculty advisor to ISOW and vice-dean of Laurier's Faculty of Arts, says the students undertook an enormous challenge in planning the event. He continues to be amazed by all that ISOW has accomplished.
"I'm actually at a loss for words in many respects," says Brockett. "I think of myself as the most fortunate professor on campus because I get to be a part of it. Year in and year out, as the students in ISOW take on these challenges, I see them learn. It's been an amazing journey."
ISOW originated in 2013 after students heard a presentation by Palestinian doctor Izzeldin Abuelaish in Brockett's first-year class on the history of Israel and Palestine. Abuelaish's three daughters were killed when their home was shelled by an Israeli tank in 2009. Following their deaths, he devoted his life to the pursuit of peace, chronicling his story in the book I Shall Not Hate.
"A lightbulb went off in my mind," Brockett says of the origins of ISOW. "I thought, 'Why am I getting them to write essays? They are engaging with each other on these issues every time they come into class, they are enjoying themselves and it's productive.' I realized I didn't have to get them to write an essay – they could do a project. For one of the projects, I asked if they could come up with a partnership with Dr. Abuelaish's foundation."
That partnership with Abuelaish's Daughters for Life Foundation – which supports and empowers girls and young women through education – laid the foundation for what ISOW would become. Since its formation, ISOW has supported 30 scholars to study at Laurier from countries including Syria, Gaza, Lebanon, Egypt, Myanmar, Türkiye, Somalia and Afghanistan. The initiative is funded through a student levy of $8 per term per student.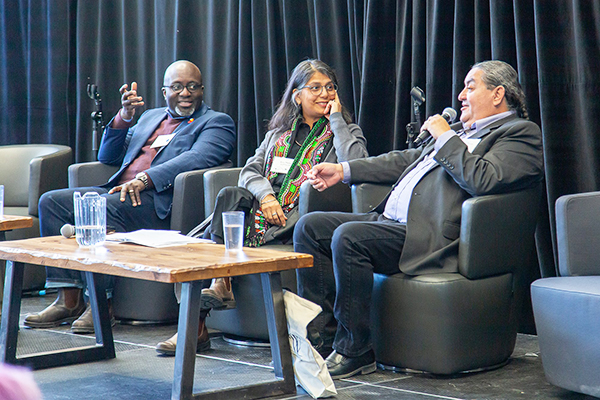 Photo: Laurier's Barrington Walker, Bina Mehta and Darren Thomas take part in a plenary session titled Universities and Social Action: A Contested Role?
Ungras, who first joined ISOW during her third year at Laurier and has served as secretary, president and a program assistant with the organization, says ISOW will continue to build momentum through the energy that student leadership and mobilization provides.
"Year after year it is growing and pushing the boundaries of what we think is possible in an institution," says Ungras. "And a lot of that has to do with the unique relationship we have with Wilfrid Laurier University – with staff and administrators who are so supportive of our work. Together, we represent something that doesn't exist anywhere else."
Zekorn, too, feels the work of ISOW would not be possible without Laurier's caring community of students, faculty and staff.
"It is really the Laurier community that allowed this conference to take place," says Zekorn. "It would be impossible to have ISOW without the Laurier community. This is a great example of how we can come together to create great change in the world."
Learn more about International Students Overcoming War.
Support Laurier's ISOW Scholarships Fund.
Related Stories