The 33rd annual United Way fundraiser at Wilfrid Laurier University is underway, and campaign organizers aim to build on the university's recent success. 
Laurier employees generously contributed over $175,000 to United Way Waterloo Region Communities and Brant United Way during the month-long campaigns in 2020 and 2021, despite local and global challenges presented by the COVID-19 pandemic. Both campaigns exceeded fundraising targets, a trend that organizers hope to repeat during the 2022 campaign, which runs through Nov. 4. 
This year, Laurier has set an ambitious goal of raising $95,000 for United Way Waterloo Region Communities and Brant United Way. 
"Laurier employees continue to give generously to the United Way campaign, which provides funding for programs and services for vulnerable members of our community, including children and youth, those who face food insecurity housing instability and mental health challenges," says Bridget McMahon, assistant vice-president: alumni and community engagement and co-chair of Laurier's United Way committee. "As Laurier's fundraising for United Way continues to gain momentum, we hope to exceed our 2021 campaign total this year to provide additional support to help United Way continue to fund critical services and collectively demonstrate Laurier employees' commitment to the community."
Laurier's United Way campaign committee will award Purple and Gold United Way Cup trophies to the employee teams who raise the most donation dollars and see the highest amount of employee participation in the campaign. In 2021, the Office of Research Services captured the inaugural Purple and Gold Cup by edging out the External Relations team on the final day of the campaign.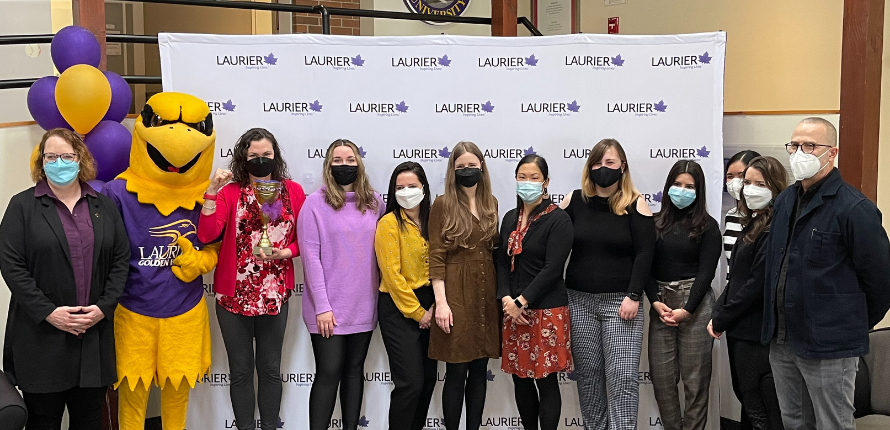 United Way funds a network of local agencies and programs to help people access food, housing, mental health services, crisis supports, companionship and other services. The Sexual Assault Centre of Waterloo Region, Compass Refugee Centre, the Family Counselling Centre of Brant and Brant Food for Thought are among the organizations that benefit when Laurier employees donate to the United Way.  
Laurier employees can support the 2022 fundraising campaign by making a financial gift online. All gifts are appreciated and add up to real change in Laurier's campus communities.  
Questions about Laurier's United Way campaign can be sent to unitedway@wlu.ca.