If you're hiking or biking along the Grand River in Brantford, make sure to pass by the TH&B Crossing Bridge and marvel at Wilfrid Laurier University's contribution to the City of Brantford's latest public art project.
Laurier, along with 39 other participating groups, came together to revitalize the former Toronto, Hamilton and Buffalo Railway crossing bridge, now a pedestrian bridge that is part of the city's extensive trail network. The bridge provides a connection point between downtown Brantford and West Brant.
The mural was designed and painted by Laurier staff members Beth Sanders and Olivia Rutt of the Office of the Senior Executive: Brantford campus over the course of several days in October.
The mural, which includes the message "May your path be golden," will greet the approximately 5,000 pedestrians who cross the bridge each month. The upbeat message plays on Laurier's "Stay Golden" adage.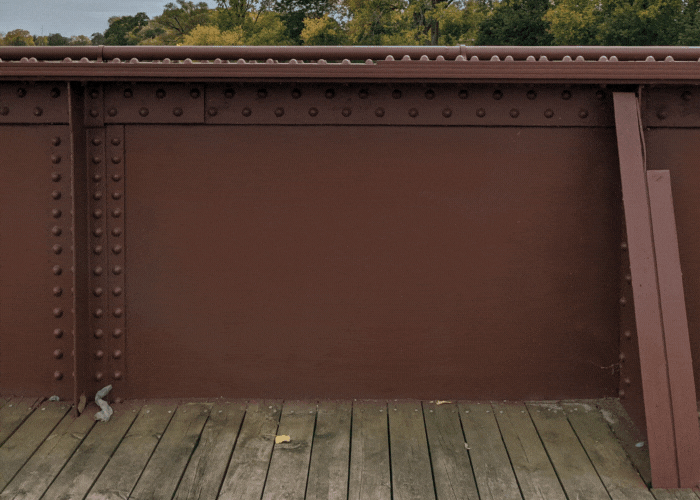 "I'm thrilled we were able to contribute and bring a Laurier touch to this bridge project," said Sanders, who serves as Laurier's Brantford campus experience coordinator. "It's wonderful to know that tens of thousands of trail users will see it each year, sharing Laurier's message of inspiring lives beyond the campus and into the community at large."
Also included in the mural are stylized botanicals in purple and gold to represent the natural beauty of the Grand River and adjacent trail system, while nodding to Laurier's official colours.
Since 1999, Laurier has been an important anchor institution in the Brantford community, contributing to education, arts, culture and economic development. The goal of the mural is to celebrate Laurier's presence in the community and provide a positive message to trail users.
The mural is one of many projects initiated by the campus experience coordinator, whose role is to connect the Laurier campus and Brantford community in meaningful ways that contribute to the overall vibrancy of the student experience. Other projects include the free Skate Library and Winter's a Drag.