Ivan Joseph isn't one to shy away from a challenge.
In addition to his roles as vice-president of student affairs at Wilfrid Laurier University, a motivational speaker, author and confidence coach, Joseph is the volunteer head coach of Guyana's senior national women's football team, the Lady Jags.
The Lady Jags are part of the Guyana Football Federation, which competes internationally as a member of Concacaf – the Confederation of North, Central America and Caribbean Association Football. Concacaf is one of six continental confederations of the Fédération Internationale de Football Association, or FIFA.
Joseph and the Lady Jags are among 30 senior women's national teams currently competing in the Concacaf Women's Qualifiers, which take place from Feb. 16 to 22 and April 6 to 12, 2022 in member countries around the world. Participating teams are divided into six groups of five, with each team playing two matches during the qualifying rounds in February and April.
Guyana currently leads Group F standings after defeating visiting Dominica 4-1 on Feb. 16 and Turks and Caicos 7-0 on Feb. 19 in Turks and Caicos. The team returns to Guyana in April, when it must defeat visiting Nicaragua to advance to a game against Trinidad and Tobago, which is seeded first in the Concacaf women's qualifiers. Winners from each of the six groups qualify for the 2022 Concacaf Women's Championship, which will take place throughout July and August 2023 in Australia.
"Coaching is in my blood," says Joseph. "Working with the Lady Jags is an opportunity for me to give back to the country of my birth as well as to advance my beliefs around equity, which I am deeply committed to."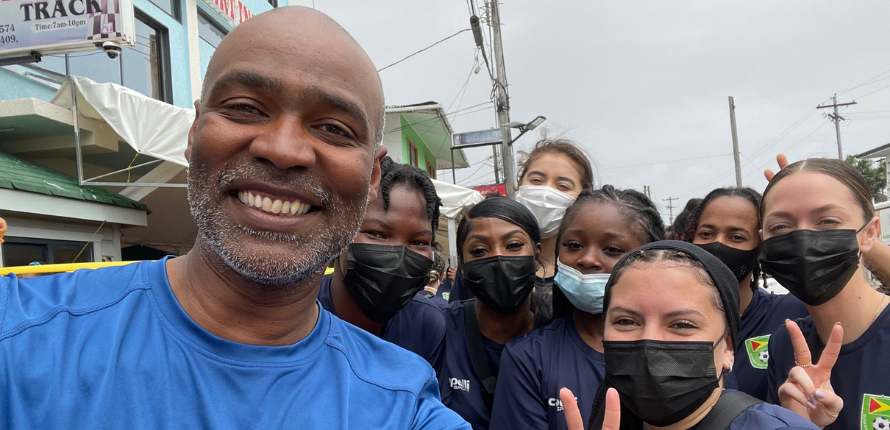 Joseph was born in Guyana but moved to Canada with his family when he was five. He has coached football – or soccer, as it is referred to in North America – extensively in previous roles at Graceland University in Iowa and Ryerson University in Toronto, leading his teams to national championships and earning prestigious coaching awards.
Joseph took on the role of head coach of Guyana's senior women's team in 2018 at the request of a Guyanese-born player on the women's varsity soccer team at Ryerson University, where Joseph coached in addition to serving as director of athletics.
"Guyana's women's team had lost its coach due to extenuating circumstances and was in a tough spot," says Joseph. "Women's sports, especially in the Caribbean, are often an after-thought. There isn't any budget or resources, so I took the team on as an act of service."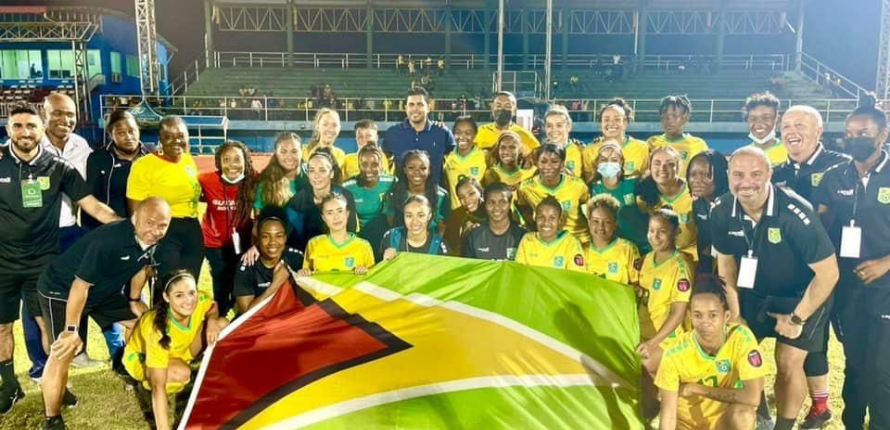 Joseph uses his vacation days to travel to team training camps and pays for his expenses out of pocket.
Guyana's women's football program formed in 2009 and made history the following year, qualifying for the 2010 Concacaf Gold Cup in Mexico. However, many of the players who made up Guyana's Gold Cup roster were foreign players and lived elsewhere, making it difficult to cultivate a successful women's football program with domestic players.
Members of Guyana's national football teams must be of Guyanese heritage but are not required to live in Guyana or be born there.
Most of the Lady Jags on Joseph's roster live outside of Guyana, have full-time careers, are in the military or attending university. They practice on their own using player development notes created by Joseph and the rest of the team's coaching staff – largely made up of his former coaching colleagues at Graceland and Ryerson universities.
While Joseph says he would love to see the team win its April matches and qualify for the World Cup, his efforts are focused on longer-term goals.
"What we are really trying to do is inspire a nation," says Joseph. "Female athletes in Guyana don't have the same opportunities as their male counterparts, so a lot of our work is around representation, role modelling and trying to inspire young women to believe in themselves and believe in opportunities beyond what society might see for them."