Despite studying notably different disciplines, Wilfrid Laurier University graduate students Esther Hayford and Deb Shelley found common ground while interviewing each other for the latest season of Laurier's Research Chat podcast. Hayford, a PhD candidate in the Lyle S. Hallman Faculty of Social Work, and Shelley, who is completing her Master of Arts in Community Music, discovered a mutual investment in helping others through their research.
Shelley is studying a group of vocalists who sing at the bedsides of people who are dying, providing them comfort and peace.
"I am reminded that what we're doing impacts everybody involved: the caregivers, the volunteers, the nursing staff. It touches everybody," she says.
Hayford is similarly focused on impact. Through her research, which focuses on the activism of African girls at Ontario high schools, she hopes to "demonstrate that African girls have agency and are pushing for change."
"I'm also hoping that the information gathered will be useful to guidance counsellors, administrators and all who are interested in school reform, in terms of learning more about how to support girls who are involved in activism at school," says Hayford.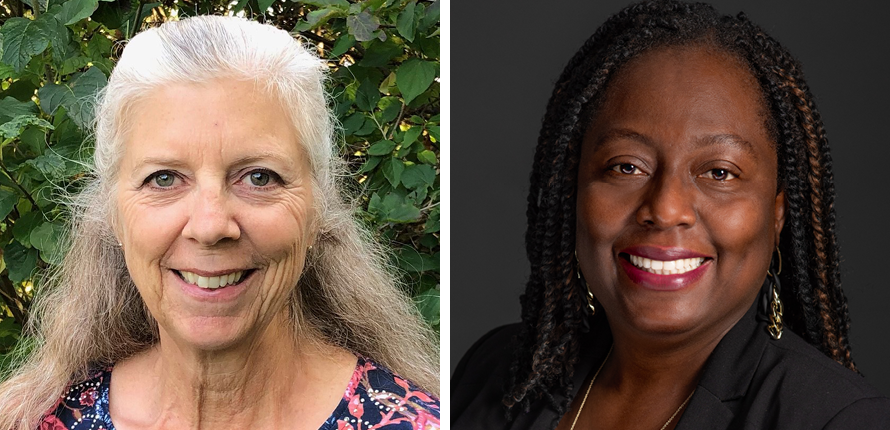 Deb Shelley and Esther Hayford 
Both researchers take centre stage in the first two episodes of Research Chat season two, available now for download. The podcast's new structure – student interviewing student – offers new depth to conversations about graduate student research at Laurier.
"When students share their research with each other, it brings the listener into the experience of Laurier's graduate student community," says Research Chat producer and host, Shawna Reibling. "Students are genuinely interested in supporting each other and sharing their struggles as they respond to COVID-19 affecting their research plans." 
As in season one, all participants were offered research communication training as part of their experience. Prior to recording Research Chat, the graduate students attended workshops about interviewing techniques, podcasting and writing layperson research summaries.
"Developing these tangible skills prepares students for the podcast and helps them craft an article to be posted on the Research Chat webpage," says executive producer Paula Fletcher, associate dean of Laurier's Faculty of Graduate and Postdoctoral Studies. "It is also an opportunity for graduate students to learn about research outside of their disciplines and faculties and to connect with other students."
New episodes of Research Chat will be posted every two weeks and can be found on major podcasting platforms, including Apple Podcasts and Spotify. For more information, visit the Research Chat webpage.