Wilfrid Laurier University will welcome a new chair of its Board of Governors on July 1, when incoming chair Paul Elliott will take over the position from outgoing chair Lynda Hawton Kitamura. Both are proud alumni of Laurier. 
Hawton Kitamura, who is concluding a three-year term as chair, first joined the Board of Governors in November 2014 as a provincial government appointee. She is currently serving her third term on the board. 
During her term as chair, Hawton Kitamura worked closely with President and Vice-Chancellor Deborah MacLatchy to guide the university through key strategic initiatives, including provincial approvals and initial planning for Laurier's Milton campus. Hawton Kitamura also helped Laurier navigate challenges presented by the COVID-19 pandemic, including leading the shift to a virtual format for Board meetings. She has also been instrumental in enhancing recruitment efforts to foster a diverse Board of Governors, strengthening succession planning, and elevating the Board's strategic focus. Her focus on elevating the equity, diversity, inclusion and Indigeneity priorities has supported the significant progress that Laurier has embraced over the last three years. The global focus on welcoming international students during her tenure included the implementation of the Navitas program.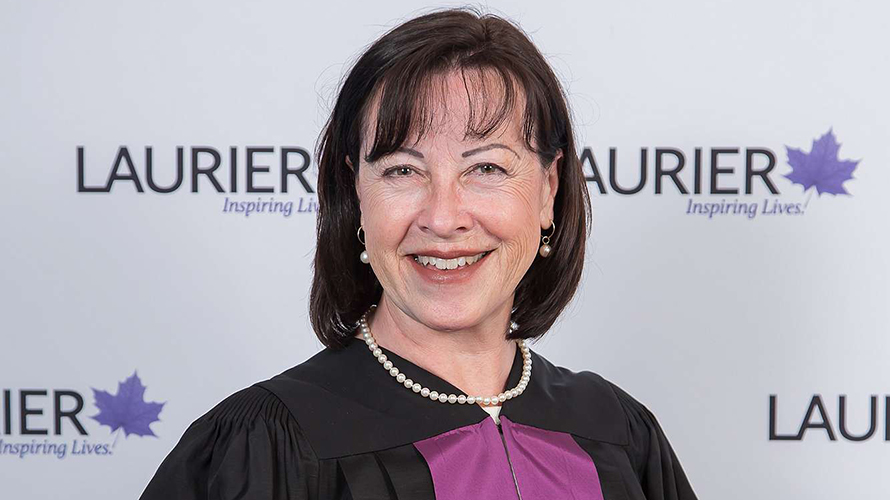 Lynda Hawton Kitamura
"Lynda possesses a tremendous understanding of the many complex issues facing the university," says MacLatchy. "Her respectful, fair and steady facilitation of meetings, her financial acumen and dedication to excellence have been of great value to the Board. We are grateful for her voluntary service, often above and beyond any expectation." 
During her time on the Board, Hawton Kitamura has served as vice-chair and chair of the Board's executive, finance and investments, and pension committees, and co-chaired the responsible investment working group. Hawton Kitamura also served on the president and vice-chancellor search committee in 2016, chaired the presidential review committee in 2021, and was a member of the steering committee for the creation of Laurier Strategy 2019-2024, the university's strategic plan. Previously, Hawton Kitamura served on the Dean's Advisory Council for the Lazaridis School of Business and Economics and has been a guest lecturer in the master's program on strategy. 
A highly esteemed corporate executive, Hawton Kitamura also serves on the board of Ontario Health and is Chair of the Ontario health finance, audit, risk and compliance committee. She recently retired from her role as chief financial officer and vice-president, operations with the Electronic Products Recycling Association. Previously, she served as vice-president, finance at Hewlett-Packard for the worldwide services division that had more than 40,000 staff; vice-president finance for Americas with revenues exceeding $25B; and prior to that she was chief financial officer of HP Canada. Kitamura holds a degree in Business Administration from Laurier, an MBA from McMaster University and is a CMA Chartered Professional Accountant. She was recognized among the Most Powerful Women: Top 100 in Canada by the Women's Executive Network in 2003 and 2009.  
Hawton Kitamura will continue on the Board as past chair for another year. She will also chair the Board's audit committee, risk and compliance committee, as well as its governance committee, in 2022-2023.  
Welcoming Paul Elliott 
Elliott, who will take on the role of Board chair on July 1, is passionate about giving back to the university. He will also serve as chair of the Board's executive committee. 
Elliott first joined Laurier's Board of Governors last year. He has served as chair of the audit, risk and compliance committee during his time on the Board, providing oversight to annual audited financial statements and monitoring risks to the institution's financial sustainability. Elliott also served on the audit, risk and compliance committee prior to joining the Board and for several years has served as a judge in annual Integrated Case Exercise (ICE) competitions for students at the Lazaridis School of Business and Economics, where he has also served as a lecturer. 
"We are very excited to have Paul taking on this role. His professional experience and personal approach will serve Laurier well," says MacLatchy. "Paul is an engaged alumnus and we are grateful for his commitment to the university and its governance."  
A retired global operations and finance executive, Elliott earned his CA and CPA designations while working with Ernst & Young following graduation from Laurier with a BBA in 1988. In the years that followed, Elliott became a finance leader and chief financial officer at several technology organizations. In 2019, he retired after serving 15 years in financial and executive roles at Ceridian HCM – a $1-billion cloud software company – including serving as president and chief operating officer when Ceridian listed on the New York Stock Exchange in 2018.  
About Laurier's Board of Governors
Laurier's Board of Governors oversees the strategic direction of the university in conjunction with academic direction set by the Senate. The Board of Governors provides oversight for the institution in the areas of financial sustainability, reputation, risk, and operations in support of strategic goals.