Wilfrid Laurier University Master of Environmental Studies student Tatyana Feiner is making the most of what could be a once-in-a-lifetime opportunity to attend a world-changing UN environmental conference on Canadian soil.
"My thesis looks into climate and biodiversity policy in a Canadian context, so for me attending COP15 is kind of like the greatest university course I could ever take in the span of five days," says Feiner. "The opportunity to attend COP15 and being a student from Laurier makes me feel like I am making a difference for the community, it makes me feel like I am contributing in a positive way."
Feiner is among more than 10,000 delegates from 196 countries gathered in Montreal for COP15, a gathering of parties to the UN Convention on Biological Diversity. From Dec. 7 to 19, attendees will work to negotiate and finalize a "Post-2020 Global Biodiversity Framework" to ensure a liveable planet for future generations, setting targets for resource management, habitat conservation and other critical environmental indicators related to biodiversity.
Feiner will spend five days at COP15, attending open events, presentations and committee meetings to learn all she can about how the conference functions. While she will advocate for the protection of biodiverse areas during her time at COP15, she is also very much looking forward to listening and learning.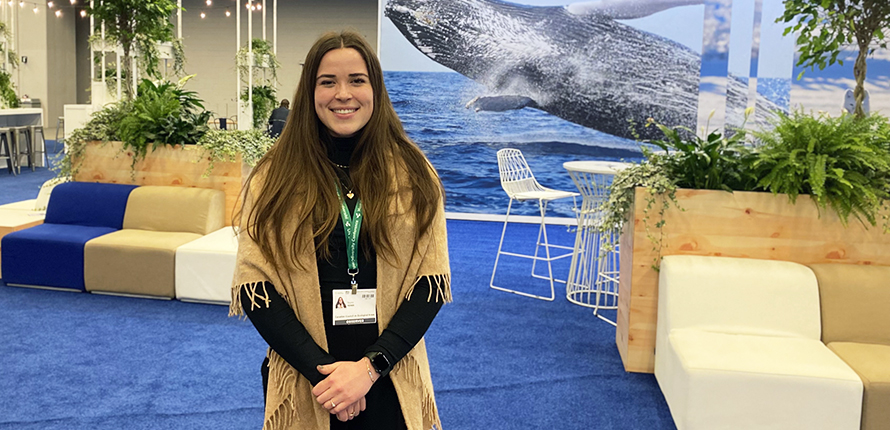 Photo: Tatyana Feiner at COP15 in Montreal
"I have done extensive readings on documents from these conventions and researched how they are created, but getting the first-hand experience to see how these negotiations happen and just how important dialogue is in these negotiations is an incredible opportunity," says Feiner. "I hope to get a better understanding of how national and international policy comes together and use this in my research."
Feiner, who holds a BA in Political Science and Environmental Studies from Laurier, is in the first year of her master's studies under the guidance of supervisors Associate Professor Debora VanNijnatten and Associate Professor Christopher Lemieux, who is also attending COP15. Feiner is attending as a representative of the Canadian Council on Ecological Areas, of which Lemieux is a member.
"Attending COP15 is an opportunity for Tatyana to potentially transform her career," says Lemieux. "To see how a multilateral environmental agreement is negotiated is an outstanding opportunity and really something to witness. I have advocacy work to do at COP15, but I am most excited about Tatyana having this experience."
Lemieux's research is focused on protected natural areas and climate change. He says he has three priorities during his time at COP15: ensuring the quality of protected areas that result out of any agreement struck; ensuring protected areas are designed in a way that allows species to move in response to climate change; and advocating for the biodiversity community to work more collaboratively with the health sector. Lemieux stresses that biodiversity and health are intertwined, and that biodiversity should be considered a foundational health resource.
"For 30 years, we have really been failing to abate biodiversity loss and we need more substantial transformative changes to start elevating the biodiversity agenda," says Lemieux. "This next decade is being regarded as the best and last chance to halt and reverse the decline of nature. With yesterday out of the picture, the time is definitely now. If we don't implement some of these required transformative changes and halt ongoing biodiversity loss, we are going to really undermine the web of life which we depend on for food, water and health."
Feiner says it was Lemieux's class ES297: Climate Change and Collective Action that first got her interested in climate change and biodiversity. Today, her research looks at how biodiversity and climate change are intertwined, with an emphasis on policy. She's putting that research to use at COP15, while gaining knowledge that will help build a better future.
"The construction of a strong Post-2020 Global Biodiversity Framework could provide for biodiversity what the Paris Agreement provided for climate change, which is the development of hard targets for preserving nature," says Feiner. "It's crucial for parties to come together and develop an international framework using a whole-of-society approach that consists of strong, measurable targets and effective monitoring mechanisms. COP15 is encouraging us to plot a path to live within planetary boundaries and live within our means."