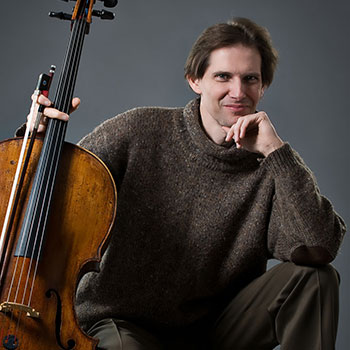 A cellist with a broad and eclectic repertoire that ranges from the Baroque period to the twenty-first century, Paul Marleyn tours regularly across Canada and frequently performs in the United States, Europe and Asia.
A regular participant in international summer music festivals, including those of Busan (Korea), Leicester (UK), Cape and Islands (U.S.), Casalmaggiore (Italy), Lviv Contrasts (Ukraine), International Musicians Seminar (UK), Chamber Music East (U.S.), Shen Yang and Beijing (China), Festival of the Sound, Domaine Forget and Ottawa Chamberfest (Canada), he has collaborated with artists such as Boris Berman, Miriam Fried, James Somerville, Paul Neubauer, James Campbell, Marc-André Hamelin, Steven Dann, Stéphane Lemelin, Scott St. John, Joshua Bell, and with the St. Lawrence, New Zealand, Penderecki and Lafayette string quartets. He has appeared as soloist the Belgrade Philharmonic, London Philharmonia, European Chamber, Winnipeg Symphony, Vancouver Symphony, Symphony Nova Scotia, Kitchener-Waterloo Symphony, Thunder Bay Symphony and Manitoba Chamber orchestras. Engagements have included London's Wigmore Hall, Boston's Jordan Hall, Chicago's Cultural Centre and Geneva's Victoria Saal. Since 2000, Paul has been president and artistic director of Canada's Agassiz Summer Chamber Music Festival in Winnipeg, and in 2011, as artistic director, he inaugurated the International Cello Festival of Canada, a triannual festival also taking place in Winnipeg. From 2005-2012, he was a member of the Trio Hochelaga, one of Canada's leading chamber ensembles, with which he recorded a series of five discs of French music on the ATMA Classique label.
Paul has made several compact disc recordings as soloist and chamber musician. His first CD, released by United Records, contains cello sonatas by Shostakovitch, Prokofief and Schnittke, and was described as "emotionally intense, physically big-boned" (Gramophone Magazine), and "over-flowing with health, the joy of playing, and flamboyant brilliance" (Répértoire, France.) His recording of the complete works of Ernest Bloch for Signum Classics has also received favorable reviews; "an excellent recording, this release deserves enthusiastic recommendation" (BBC Music Magazine) and "a fine cellist with astute command of style and formidable technique" (Strad magazine). Other releases include Swirl for solo cello by Jim Hiscott on the CBC Records label, as well as chamber music recordings for RCA Victor and CBC Records. His concerts and recordings are frequently heard on CBC radio, BBC radio, NPR affiliate stations in the United States and around the world.
Paul is a devoted teacher at has given masterclasses at the Royal Northern College of Music (UK), the Royal Scottish Academy (UK) and the Royal Academy of Music (UK), at the University of Belgrade in Europe, at Lawrence, Michigan, Laurier, McGill, Alberta and Western universities and the Glenn Gould School in North America, and at the Busan (Korea), Xian, Beijing Central, Hangzhou, Jinan and Shen Yang (China) conservatories in Asia. He also offers tuition and masterclasses each summer at the Domaine Forget International Festival in Quebec. From 1997 to 2004, Paul served as Professor of Cello and Head of Strings at the University of Manitoba in Canada, and since 2004 has held the same positions at the University of Ottawa, where he now mentors an award-winning studio of young cellists.
Paul has a special interest in new music, having been a frequent guest of the prestigious German group Ensemble Modern, and at the Winnipeg Centara, Almeida, Lviv Contrasts and Donaueshinger new music festivals. He has commissioned new works by Bramwell Tovey, Kevin Volans, Jocelyn Morlock, Michael Matthews, David Raphael Scott, Glenn Buhr, Jim Hiscott and Rodion Schedrin.
As an orchestral principal player, he held the position of Principal Cellist of the European Community Youth Orchestra from 1986-8. He was also principal cellist of the Royal Liverpool Philharmonic Orchestra from 1993-7, and has appeared as guest principal cellist of the Royal Philharmonic Orchestra and National Arts Centre Orchestra.
Paul was raised in London, England, where he studied privately with Robert Norris. He is a graduate the Royal Academy of Music where he studied with David Strange, and of the New England Conservatory in Boston (U.S.), where he worked with Colin Carr and Laurence Lesser to gain a Master's Degree and Artist Diploma. He completed his studies at Yale University with Aldo Parisot. In 1994, Paul was elected Associate of the Royal Academy of Music, and in that same year was honoured to perform as soloist for the Queen.
A laureate of the Royal Overseas League International Competition in London, he is the recipient of several national and international awards, including a Fulbright Scholarship and grants from the Canada Council, the Manitoba Arts Council and the Royal Society of Arts. Paul plays on a 1770 Pietro Landolfi cello made in Milan, Italy, known as "Il Cappuccino."