What an afternoon of musical magic! Wilfrid Laurier University's Faculty of Music hosted a fabulous event that saw the crowd spellbound. The legendary Steven Page and his trio, in partnership with the Laurier student/faculty orchestra were masterful.
The Penderecki String Quartet with special guest James Campbell, clarinet performing Carl Maria von Weber's Quintet, Opus 34 set the stage for enchantment.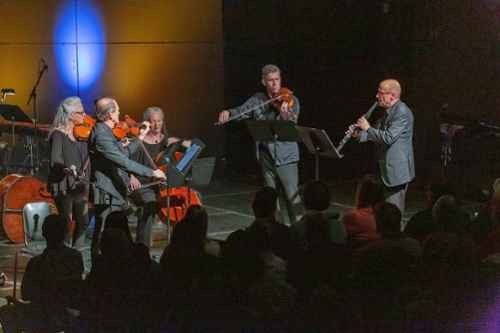 As the day progressed, the Steven Page Trio took the stage. Led by the singer, Steven Page, and accompanied by the incomparable Craig Northey on electric guitar and Kevin Fox on cello, their performance was a tour de force of musicality and showmanship.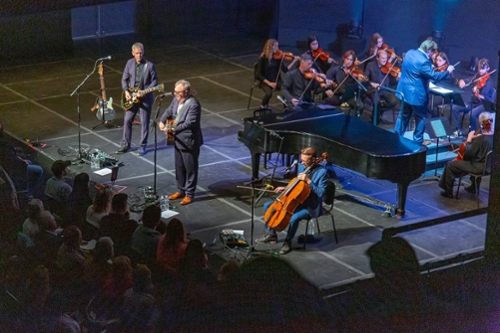 The afternnon's repertoire featured a selection of Steven Page's timeless classics, including "Brian Wilson," "The Old Apartment," and "Here's What it Takes," all accompanied by the faculty/student orchestra. Each note, each lyric, was delivered with precision and passion, leaving the audience captivated.
Isaac Page (BMus '18) conducted with grace, guiding the orchestra beautifully. His personal connection to the university, not to mention he was performing with his dad, added a special touch to the performance and highlighted the depth of talent nurtured within Laurier Music's esteemed halls.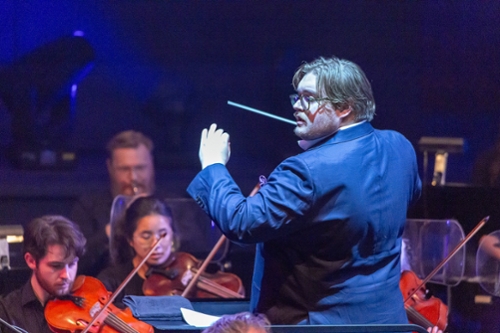 Cynthia Johnston Turner, Dean of the Faculty of Music, expressed her admiration for the afternoon's performance. She stated, "Steven is a masterful singer, artist, and entertainer. The Trio was just outstanding in every way. The student/faculty orchestra was brilliant and the kind of collaborative learning we have been doing more and more of. The sold-out audience was electrified. A fantastic display of community, fun, and great music!"
The event, which saw a full house, was a testament to the enduring legacy of Steven Page and the exceptional talent nurtured by Laurier's Faculty of Music. However, the journey doesn't end here. The Faculty of Music continues to seek support for its mission to transform the music building into a space that welcomes all, enriching the musical experiences of the community at large.
As the afternoon ended, the echoes of the performance lingered in the hearts of all who attended, a testament to the lasting power of music and the indelible mark left by Laurier's musical luminaries.