We were honored to host Penelope Walcott, an esteemed Black Canadian sound designer and foley artist, for a special guest presentation. Her outstanding contributions to the film and television industry, as well as her expertise in field recording and its associated technologies, left an indelible mark on our audience.
During the session, Penelope shared invaluable insights into the diverse and rewarding career avenues within sound design. The event was open not only to Composition students but also to any Laurier students aspiring to excel in this dynamic and creative industry.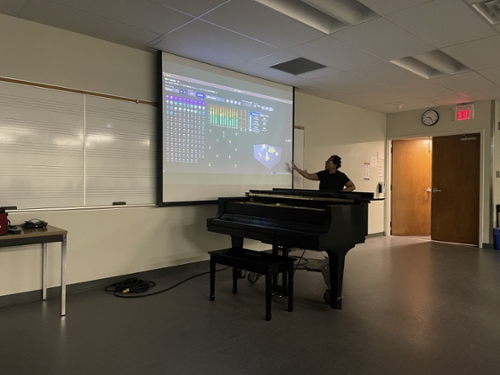 Penelope's impressive credentials, including a PhD in Music Composition from the University of York (UK) and a Diploma in Sound Design from the Vancouver Film School, reflect her commitment to excellence. Her extensive portfolio spans on-location film projects, field recording ventures, and her role as a teacher and mentor in VR projects at the Biennale College Cinema VR. Additionally, Penelope's selection as one of six production creatives in the inaugural WOMEN IN POST program at the Canadian Academy of Cinema and Television in 2021-22 further highlights her impact on the industry.
We extend our heartfelt gratitude to Penelope for graciously sharing her expertise and experiences with us. The event would not have been possible without her valuable contributions.
To our students, your enthusiastic participation made this event truly special. We hope you left feeling inspired and empowered to pursue your passions in sound design.
Scroll through these snapshots to relive the moments! 📸
Thank you once again, Penelope Walcott, for your exceptional session. We eagerly anticipate witnessing your continued success in the world of sound design!