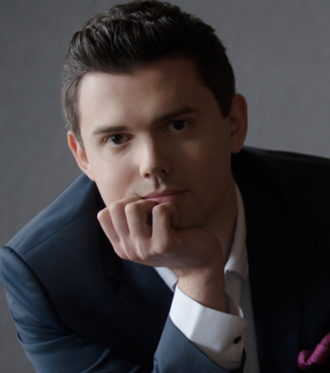 Jarred Dunn
won first prize and concerto award at the 7th Lithuanian International Chopin Competition (Vilnius) and was a finalist and prizewinner at the 1st Jan Hoffman International Competition (Kraków). He also won piano and chamber music prizes at the D. Vitti, Verona Zinetti, and Rome Premio International Competitions. Mr. Dunn has been praised by critics as "a piano sound-colour magician" (Muzikos Barai, Vilnius), "evocative and mystical" (New York Classical Music), "a brave interpreter of Mozart with fresh ideas," (OperaProms), and "technically perfect" (Belarus First Radio). His playing has been heard on CBC/Radio-Canada, New Classical 96.3FM, WWFM, WQXR New York, Belarusian First Radio, and Madison Freethought Radio/Television. His albums include Chopin and Debussy and Brahms in Solitude; in 2023-24 season he will record and perform the complete Chopin Mazurkas.
Mr. Dunn's performances of Chopin have been heard at Yamaha Performance Centre, Isabel Bader Centre (Kingston), Young Talents Series in Warsaw (NIFC), NOSPR Katowice, Dvorana Hall (Bratislava), Klavierhaus Göttingen (Germany), Juilliard School, Vilnius Town Hall, and F. Liszt Hall (Budapest). His playing of Chopin is critically acclaimed for its "Polishness is audible in every note…elegance and noble - not excessive - sensitivity, passion - without being pathetic - beautiful piano and powerful forte, melodious - but not sugary - cantilena, broad phrasing and very rich, nuanced range of sounds" (Warsaw Arts Review). In his repertoire are over 40 concertos, the major solo and chamber works of Chopin, Bach, Beethoven, Brahms, Liszt, Mozart, Schubert, Ives, Ravel, Debussy, Scriabin, and complete Górecki piano and chamber music works.
He serves as a juror in national and international piano competitions, recently the Global Musical Arts Competition (Jury Co-Chair), Lithuanian International Chopin Competition, Classicalia International Competition, and CFMTA National Piano Competition, numerous provincial competitions (CFMTA), and competitive festivals in Canada and the USA. In 2022, he hosted Competition Studio TV at the 12th International Paderewski Piano Competition in Bydgoszcz following a tour of master classes, recitals, and concerto appearances in Lithuania.
Noted as a "revered pedagogue" (Tonebase Piano), Mr. Dunn has taught master classes, lectures, and research at the Academies of Bydgoszcz and Katowice, Vilnius Academy Pre-College, Szymanowski Secondary Music School, Frances Clark Center for Keyboard Pedagogy, and the universities of Toronto, Carleton, McGill, Ottawa, Queen's, and Puget Sound (Seattle). He is published in Clavier Companion, Canadian Music Teacher, and CMEA Journal. Based in Montréal, he was invited to teach piano at McGill University Schulich School of Music while pursuing his Doctorate. He is the recipient of awards, grants, and scholarships from Canada Arts Council, FRQSC, Aspen Music Festival, McGill, and CFMTA for his pianistic, scholarly, and pedagogical achievements.
He is a graduate of Feliks Nowowiejski Academy of Music where he studied with Prof. Katarzyna Popowa-Zydroń. He completed his Master's degree and Performance Diploma with Distinction at the Karol Szymanowski Academy of Music in Katowice, where he studied piano with Prof. Anna Górecka (later becoming her assistant) and chamber music Prof. Urszula Stańczyk. He took Professional Studies at The Juilliard School with Jacob Lateiner and Yoheved Kaplinsky. He continued his studies with Maria João-Pires, Andrei Gavrilov, Andrzej Jasiński, Robert Levin, Dorothy Taubman, and David Dubal. He is a Yamaha Artist.