Bruce Gremo is offering a variety of technology-based programs that explore listening, composing, improvising, arranging, orchestration and ensemble activity. Check them out below!
*Timings of all classes are flexible based on enrollment. Feel free to inquire!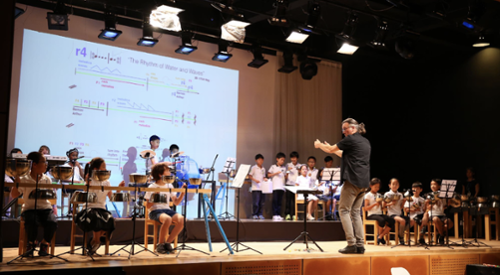 FoundSound Ensemble
Upcycled Musical Instrument Group
The FoundSound Ensemble is a listening-based musical training focused on immediate musical production. It emphasizes listening, composing, improvising, and ensemble skills. Learn as a group and develop collective problem-solving skills! There is no cost in renting an instrument since all the instruments are upcycled. Students will have the opportunity to upcycle their own instrument from home! There will also be performance opportunities. 
This program is a 'sound based' music curriculum for students with or without musical background. It introduces students to the broader world of music making of which traditional western music making is only a part. Critical thinking is an important part of our method!

Upcycled instruments and repurposed objects are provided for students. They start producing sound immediately.
Location: 190 Lester Street, Waterloo
Dates: Tuesdays starting Jan. 10, 2024 (10 weeks)
Time: 5:30-6:30 p.m.
Cost: $320
Ages: 9-14 (flexible)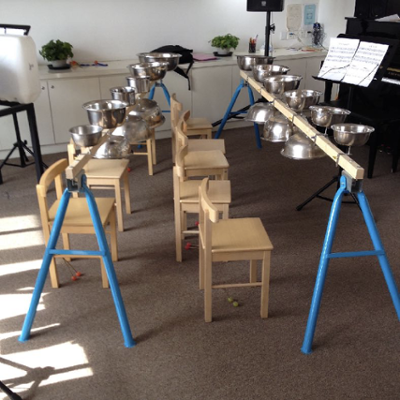 Digital Groove Collective
Laptop Ensemble
This is a listening-based musical training focusing on immediate musical production! There is an emphasis on composing, improvising, arranging, orchestration, and ensemble activity; in which your laptop is the instrument!
Mac laptops are highly recommended for the free softwares that are available on the Mac operating system: GarageBand, VMPK, Audacity, and VLC. Linux and PC computers can still be used up to a certain level. 
This is a fun group activity in which students make music together from the start. This is a great program for students interested in video game music, DJ music, and contemporary pop.  There will also be performance opportunities. 
Laptops are not provided, but all other equipment will be. 
Location: 190 Lester Street, Waterloo
Dates: Wednesdays starting Jan. 10, 2024 (10 weeks)
Time: 5:30-6:30 p.m.
Cost: $320
Ages: 12+ (adults welcome!)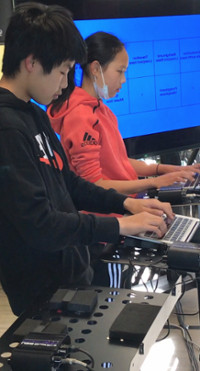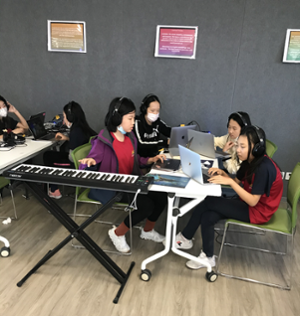 Flute Classes
Group learning and performing
Three or four music students together at the same time. This is an optimal music teaching environment; students learn together and from one another, it is in chamber music that musicians learn their most important listening skills, they learn to solve problems collectively and through their socializing, and it is less expensive. Less expense, higher educational yield. All ages participate; classes are organized in age appropriate ways.

In my flute classes, students learn to become independent learners and critical thinkers. In the end, it is more important that they learn to teach themselves, correct themselves, adapt themselves. These are all skills that successful professional musicians need. When students demonstrate this skill, my task changes from that of teacher to coach. Students may not have the objective of becoming a professional, but of becoming a better listener with a greater appreciation of what music can do…. All the better. These classes are oriented to topics; such as, harmonics and tuning, how to musically negotiate tempo with other musicians, how to hear the other player harmonically in order to voice lead, what is timbre on the flute? These classes culminate in performances. We use recording as a regular classroom technique, and directed listening assignments - exposure to what the rest of the international flute community is doing - is additional take home work.

Students will be put on a waiting list until 3 or 4 students have applied for classes. Individual students will be considered upon request.
Register today by contacting LAMA@wlu.ca. 
Composition Lessons
Musical composition is one side of a coin, the other side is improvisation. Composition uses old technology (conventional orchestra and other non-digital instruments) and new technology (computers, recording, systems design). Composition is rooted in the voice but from that point of origin, it covers countless auditory resources. Composition is greatly aided by literacy, but there are in fact many different forms of literacy (staff notation is but one).

All of the above means that a class with Bruce Gremo can take many forms. It is not only traditional tonal theory, nor is it preparation for exams. These classes are project orientated. The person taking these sessions may well already have a composition project in mind. At whatever level of skill and development, this is best first recommendation for taking this course; come with ideas, preferences, a beginning point. Of course, you will be assisted in figuring out what that is if you are completely new! The second best recommendation is to come with open ears. Composing is about listening, and being able to practically express through your skill in listening. Only then can you anticipate what the audience - on whom you will be dependent - will hear. Opening your ears may mean unlearning what you think you already know.

Pre-requisites; some level of competency on an instrument. Literacy on and possession of a computer or tablet. Age is open as long as the above prerequisites are met. The composition project will culminate in performance(s) in a medium appropriate to the composition problems posed in the project. Composition sessions include; instruction, coaching, critiquing, exposure to existing musical contexts and enabling performance. 
Contact LAMA@wlu.ca to register. 
Read about Bruce Gremo here.