Hometown – Toronto, Ontario
Current location – Berlin, Germany
Graduation year - Bachelor of Music 2012, Chamber Diploma 2013
Instrument - Voice, Soprano
Job Title – Freelance Classical Singer and Teacher, Co-Founder: Project Lieder
Tell me a bit about your current career:
After completing my education at Laurier, I enrolled at the Queensland Conservatorium of Music in Brisbane, Australia, where I received my Masters in Voice Performance.

My move to Australia propelled me into Young Artists Programs, including the opportunity to sing alongside the Queensland Symphony Orchestra, Opera Queensland, Opera Australia, and many other ensembles and organizations. I toured Australasia presenting concerts and Children's Opera, and I was also able to form my own ensemble with other musicians I met along the way.

I moved to Germany in 2019, landing exciting projects that would stretch me as a musician amongst Europe's finest singers. Sadly, because of COVID-19, these opportunities were paused and I pivoted to virtual opportunities. After participating in online concert and opera performances early in the pandemic, I decided to co-found Project Lieder, an online Art Song and story-based ensemble. We focus on presenting unique, accessible concerts for virtual audiences.
Where can we learn more about Project Lieder and your upcoming events?
You can connect with Project Lieder on Facebook or Instagram and follow my upcoming engagements on my website, Facebook or Instagram. 
Project Lieder Co-Founders Ollie (left) and Rachel (right) pictured.
Why did you choose your program at Laurier and what did you enjoy most about it?
I began my post-secondary experience as a trombonist and did not actually begin classical singing until I was 19 years old. Laurier saw potential in my singing and offered a nurturing environment to improve my skills.
What choices did you make at Laurier that contributed to your career success / journey?
Pursuing the Diploma in Chamber Music opened my eyes to a different genre of music and allowed me to learn different ways to collaborate. Those skills have spilled into my career both in the types of music I like to work with but also in how to successfully work with others.
Do you have any favourite memories from Laurier?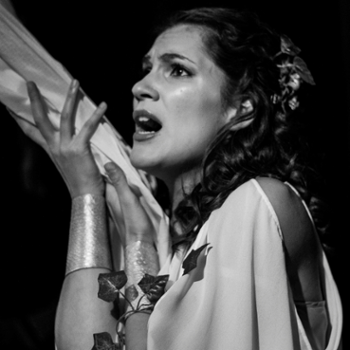 Laurier's opera course was so special and an experience I don't think most students receive. Undergraduate students are centre stage, involved in the entire process. I wasn't just singing but working with professionals discovering costuming, set design and producing. There was no separation between the singers and other staff. It was hands-on and we built the opera together as a team.
What advice would you give to current Laurier Faculty of Music students?
Make sure you are studying what you love but look for opportunities to develop your skills in areas outside of your discipline. Multiple abilities will make you more adaptable and ready for the unknowns of your future career.
What is your favourite?
Place on Laurier's Campus - The Quad on a Sunny Day / Dining Hall
Laurier Class - Laurier Singers with Lee Willingham
Food - Mac & Cheese
Book - The Time Traveller's Wife by Audrey Niffenegger, Becoming by Michelle Obama
Musical Artist(s) - Christine & the Queen's / Karina Gauvin
TV Show and/or Movie - The Russian Doll / Ru Paul's Drag Race / About Time