"Water and Inspiration"
Joseph Ferretti, piano
Dedicated to my great grandfather, Edouard Kaloust/Kaloustian, whose life and paintings inspired this program.
Troubled Water by Margaret Bonds (1913 – 1972)  
Jeux d'eau  by Maurice Ravel (1875-1937) 
Ondine, from Gaspard de la Nuit: 3 Poèmes pour piano d'après Aloyisius Bertrand  by Maurice Ravel (1875-1937) 
Waves  by Artur  Akshelyan  (b. 1984)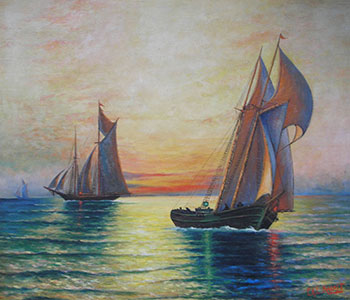 ---
Program Notes/Lyrics
Chorus lyrics for the spiritual "Wade in the Water" (Roud 5439) 
 
Wade in the water 
Wade in the water, children 
Wade in the water 
God's gonna trouble the water [1]
 
Some cited biographical information about Margaret Bonds: 
 
"Margaret Jeanette Allison Majors was born on March 3, 1913, in Chicago, Illinois.  Her father, Monroe Majors, was a physician, lecturer, and author who also was politically active.  Her mother, Estella Bonds, was a trained musician who taught piano and served as church choral director and organist. 
 
When her parents' troubled marriage ended in 1917, the young Margaret's last name was changed to Bonds.  She grew up in her mother's household, a place regularly the hangout for African American students and many of the leading artistic and literary figures that either lived in or visited the Chicago area. 
 
Margaret Bonds began studying piano with her mother at a very early age.  By the time she reached age eight, she had progressed to studying at the Coleridge-Taylor Music School.  Eventually, she studied composition with Florence Price and William Dawson.  In 1929, she was admitted to Northwestern University, where she was allowed to study but not to live or use their facilities.  Her years there represented her first direct exposure to racism.  Bonds described her experience and how she learned to cope: 'I was in this prejudiced university, this terribly prejudiced place . . ." . . .Three years into her studies, her song, "Sea Ghost," won the prestigious Wanamaker award.  She received her master's degree in music from Northwestern in 1934.  That same year, she became the first African American to perform with the Chicago Symphony Orchestra, and she was the featured pianist for the Woman's Symphony Orchestra of Chicago's performance of Price's Piano Concerto in D Minor." [2]   
 
Cited notes on Ravel's Jeux d'eau:
"The piece was inspired by Franz Liszt's piece Les jeux d'eau à la Villa d'Este (from the 3ème année of his Années de pèlerinage), and Ravel explained its origins in this way:
Jeux d'eau, appearing in 1901, is at the origin of the pianistic novelties which one would notice in my work. This piece, inspired by the noise of water and by the musical sounds which make one hear the sprays of water, the cascades, and the brooks, is based on two motives in the manner of the movement of a sonata —without, however, subjecting itself to the classical tonal plan.
Written on the manuscript by Ravel, and often included on published editions, is the text 'Dieu fluvial riant de l'eau qui le chatouille...' a quote from Henri de Régnier's Cité des eaux, which in English editions is sometimes translated to 'River god laughing as the water tickles him ...'. " [3]
Translation of Ondine, by Aloysius Bertrand (from Gaspard de la Nuit [1842]):
. . . I thought I heard a vague harmony enchanting my 
Slumber and, near me, spreading, a murmur like the 
Interrupted songs of a sad, tender voice.
C. Brugnot.  – The Two Genii
"Listen!  Listen!  It is I, it is Undine brushing with these drops of water the resonant diamond-panes of your window illuminated by the dull moonbeams; and here, in a dress of moire, is the lady of the castle on her balcony gazing at the beautiful starry night and the beautiful slumbering lake." 
"Each wave is a water sprite swimming in the current each current is a path winding toward my palace, and my palace is of fluid construction, at the bottom of the lake, within the triangle formed by fire, earth and air." 
"Listen!  Listen!  My father is beating the croaking water with a branch of green alder, and my sisters are caressing the cool islands of grasses, water lilies and gladioli with their arms of foam, or are laughing at the tottering, beaded willow that is angling." 
After murmuring her song, she besought me to accept her ring on my finger, to be the husband of an undine, and to visit her palace with her, to be the king of the lakes. 
And when I replied that I was in love with a mortal woman, she was sulky and vexed; she wept a few tears, burst out laughing and vanished in the showers that formed white trickles down my blue windowpanes. [4]
Artur Avanesov writes about Arthur Akshelyan and "Waves:"   
Arthur Akshelyan was born in 1984 in Yerevan, later moving with this family to Greece, where he spent his teenage years.  Returning to Yerevan, he was admitted to Yerevan State Conservatory in the class of Vartan Atchemyan, from where he graduated with honors in 2007.  Thereafter he went to Geneva and continued his education with the world-renowned composer Michael Jarrell.  Akshelyan is a prize-winner in many national and international competitions, one of them in Paris named after Sayat-Nova (2007), as well as the Jurgenson Competition in Moscow (2008), where he earned top honors.   
"Waves" (2004) is a very dynamic work, one of Akshelyan's first serious creations, which immediately garnered attention to this young composer.  This is one of the singular attempts in Armenian music to make use of models and textures borrowed from American minimalism, developing and redefining them in a novel interpretative manner.  In the composer's acute individual style there can at times be heard echoes of the music of Maurice Ravel, John Adams, and Komitas, all seemingly blending in a delight replete with Mediterranean impressions. [5]
Endnotes:
[1] Frederick J. and John Wesley Work, New Jubilee Songs as sung by the Fisk Jubilee Singers (Nashville, TN, Fisk University, 1901)
[2] Randye Jones, "Margaret Bonds (1913-1972)," Afrocentric Voices in 'Classical' Music 9 Feb. 2016, https://afrovoices.com/margaret-bonds-biography/
[3] "Jeux d'eau (Ravel)." Wikipedia, 28 July 2021, https://en.wikipedia.org/wiki/Jeux_d%27eau_(Ravel)
[4] Maurice Ravel, Ondine (Mineola, NY, Dover Publications, Inc., 1986), 88.
[5] Artur Avenesov, Anthology of Piano Pieces by Modern Armenian Composers (Glendale, CA, Drazark Publishing, 2010), 8.