Aryan Arvandi
Grade 1/2 Teacher, St. Thomas Aquinas Catholic Elementary School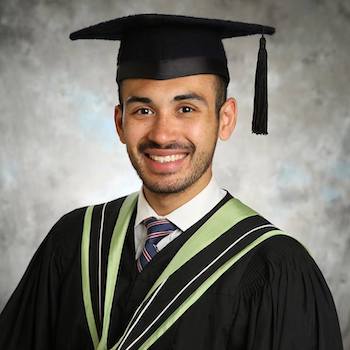 "The English Program at Laurier Brantford provided me with a great deal of variety and in-depth analysis of writers of the past and present, while emphasizing literature's role in the contemporary world. The small class sizes and personable professors make the program unique, empowering students to examine literature in ways that align with their own interests. I organized the "Laurier for Library" campaign, for an English course titled The Politics of Transgression and Desire. This "silent protest" promoted the idea of a University Library dedicated to students at Laurier's Brantford campus, using yoga, journal writing, and public "read-ins" to publicize our work. The campaign kick-started a movement that led to the creation of the Digital Library and Learning Commons – a success achieved only due to assistance and support of English faculty.
My love for social justice and education developed at Laurier Brantford, and I went on to complete my Master's at the Ontario Institute for Studies in Education of the University of Toronto in 2018. I am currently a teacher with the York Catholic District School Board with aspirations to do my PhD in Fall 2020, focusing on mass migration and education. Without the diligence and counsel from the English professors at Laurier Brantford, I would not have become the academic I am today."
Victoria Hudson-Muir
Public Relations Assistant
"This program really teaches you how to write well and construct an argument, which are two transferable skills that will serve me well in any endeavour I undertake. Literary Theory was my favourite course as it provided a critical lens to look at literature. I really appreciated that most professors encouraged students to ask questions and think critically, even about the most established literary works."
Asia McKay
French-Immersion Teacher

"The English BA Program at Laurier Brantford offers students the opportunity to engage critically with content in meaningful and authentic ways that broadens understanding and use of language in all its contexts. Through this program, I strengthened and refined my communication and collaboration skills, alongside my analytical abilities, as I took an active approach in finding a sense of meaning and community in this program and the larger school community. These transferrable skills enable me today to critically engage and thrive in our fast-paced contemporary society.
Simply put - Laurier's English BA is an intensive, rewarding, and highly acclaimed program for any individual wishing to pursue an inspiring life. The classes are small in size and facilitated by hands-on, expert professors who care about success for each student.
Laurier Brantford through this program truly embodied so much that I emphasize in my own classroom and work as a teacher. Students are cared about, included, and they are reflected in the work and initiatives that take place on this campus.
I would highly recommend it!"
Anonymous
"I really enjoyed the English program at the Brantford campus. The campus is small and professors know your name and take the time to acknowledge you when crossing campus.
Faculty members are very approachable and care about each student's success — they make time to help you succeed. English classes are small, so you're not lost in a sea of faces and you can easily voice your opinion or ask a question."