Rich Janzen
Rich Janzen has worked at the Centre for Community Based Research (CCBR) since 1996, becoming co-executive director in 2017. Rich sees research and evaluation as a tool for social innovation and change – to find new ways of bringing people who are on the edge of society to live within community as full and equal members. He has an academic background in community psychology and religious studies. He is an adjunct assistant professor at Renison University College at the University of Waterloo and has been involved in 130-plus community-based research and evaluation projects, many focused on issues related to immigrants and refugees, mental health, disabilities, or faith and society. His approach to evaluation is highly collaborative and utilization-focused.
Maritt Kirst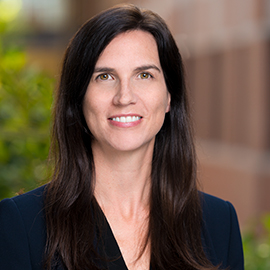 Maritt Kirst, PhD is an assistant professor in the Department of Psychology and co-director of the Centre for Community Research, Learning and Action (CCRLA) at Wilfrid Laurier University. She is also an assistant professor in the Dalla Lana School of Public Health and Institute of Health Policy, Management and Evaluation at the University of Toronto. Kirst has extensive experience conducting evaluation research, and community-based health research with socio-economically marginalized populations. She has evaluated complex health interventions including integrated health and social care programs for individuals with complex healthcare needs, Housing First programs for individuals experiencing homelessness and serious mental health issues, mental health services, and tobacco control programs. Her research interests also pertain to social contextual effects on substance use and mental health problems and health equity.
Sharmalene Mendis-Millard
Sharmalene Mendis-Millard is the new associate director for the Centre for Community Research, Learning and Action (CCRLA) at Wilfrid Laurier University. She has received both academic and community recognition for her work as a community-based researcher who has worked with a variety of stakeholders across Canada in UNESCO Biosphere Reserves over 17 years and served on the Canadian Commission for UNESCO's Man and Biosphere Committee. With a background in Geography and having worked for several research centres, she has also worked with environmental non-profits such as REEP Green Solutions, where she was part of the team that took a community-based social marketing approach to develop and help evaluate a pilot program in Kitchener and Waterloo. She continues to volunteer in her community and work with others elsewhere.
Mark Pancer
Mark Pancer is professor emeritus in the Department of Psychology at Laurier, where he taught program evaluation to MA and PhD students for over 30 years. Prior to joining Laurier in 1983, Pancer was director of research and evaluation at the Dellcrest Children's Centre, a large mental health centre serving the needs of children, youth and their families in the north-west area of Toronto. He has published his evaluation work in several journals, including the Evaluation Review and the Canadian Journal of Program Evaluation. He served as a founding editorial board member of the Canadian Journal of Program Evaluation, and chaired the evaluation section of the Canadian Psychological Association.
Elin Moorlag Silk
Elin is an accomplished researcher and analyst with expertise in Equity and Inclusion, Health Care Policy/Delivery, and LGBTQ Health and Wellness, with a strong theoretical background in conflict theory, anti-racist feminist perspectives and queer theory. Elin has over 15 years of experience working with grassroots, not-for-profit, local, provincial and national organizations on collaborative, participatory-action oriented projects focused on community empowerment, strategic planning, organizational needs assessment, program evaluation, and policy development/review.
Elin holds significant expertise in project design, survey and tool development, data collection strategies, data analysis, and reporting. A mixed-methods researcher, she is a skilled analyst with both qualitative and quantitative data. Over the past 15 years, Elin has taught the following courses at the undergraduate level: Social Statistics, Research Methods, Classic and Contemporary Sociological Theory, and Sociology of Community.
She holds an MA and is currently a senior research and evaluation consultant with the Sustainable Societies Consulting Group.
Karla Stroud
Karla is a Senior Research and Evaluation Consultant at Taylor Newberry Consulting (TNC), a company based in Guelph that specialized in helping non-profit groups make better use of research evidence. Karla completed her PhD in Applied Social Psychology at the University of Guelph, and has over five years of experience working with diverse groups across Canada on projects related to anti-poverty work, youth engagement, and mental health. Karla's approach to evaluation employs a participatory approach that focuses on generating practical, useful information that can inform action.