A Truly Unique Student Experience
What is it about Laurier that inspires over 19,500 students to live, learn and work hard on our campuses each and every day?
Plain and simple: it's our community.
It's the spirit among us all that's difficult to put into words. But we're going to try.
It's tight-knit. It's academically driven, yet socially thriving. It's a simple smile in the hallway, recognizing the similar thread that ties us all together: we're Golden Hawks. It's how when you see someone donning our purple and gold anywhere but campus, you spark up a conversation and beam with pride. We're connected. We're community.
Why We're No. 1
Our community is being recognized. Laurier is Canada's No. 1 university for student satisfaction in the comprehensive category of the Macleans Rankings for Canadian Universities. For the fourth year in a row.
Laurier's overall No. 1 in student satisfaction reflects high rankings several sub-categories. Here we explore some of them.
Student Life Staff
"Every student at Laurier has a story about someone who made them feel supported and made a difference in their university experience," says Adam Lawrence, dean of students at Laurier's Brantford campus.
From the Dean of Students Office and the Student Wellness Centres to Food Services and Indigenous Student Centres, Laurier is a student-centred university where every faculty and staff member is invested in giving students an exceptional quality of life.
"Together, the entire Laurier community ensures students feel safe and supported," says Lawrence. "The right people are dedicated to the right resources. Every person a student interacts with on campus has students' best interests at heart – they care. And they will do everything to ensure students' needs are addressed."
Academic Advising Staff
Whether a student is excelling in their courses or facing challenges, they have access to a team of dedicated academic advisors at the department level (program specific) or at the faculty level. The advising team is always available to help students navigate program and course requirements through drop-in hours or bookable appointments.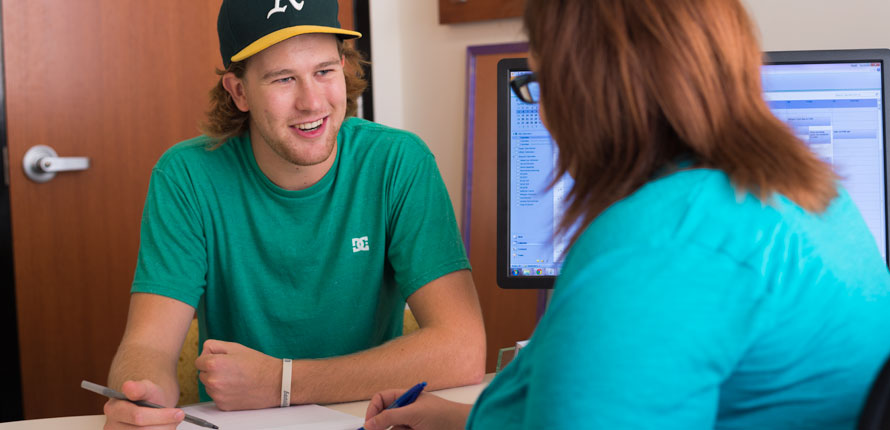 Advisors help students create, refine and realize an academic path and take full advantage of the opportunities available, such as completing undergraduate research, pursuing a specialization or enrolling in a double major. Students can also get set up for success using MyDegree, an easy and convenient self-progression tool to help with course planning and to ensure degree requirements are being met.
"We value a holistic approach when it comes to supporting students in their academic journey. We take that very seriously in order to ensure students have a positive experience," says Amy Chesworth, manager of educational advising at the Brantford campus.
Extracurricular Activities
Laurier students aren't content with simply earning a university degree. To them, education is a springboard to something greater: it's the key to shaping a life, building a community and making a difference.
By giving students valuable opportunities to test their knowledge outside of the classroom, Laurier enriches community partnerships and creates new relationships while inspiring lives of leadership and purpose.
Laurier has more than 250 student-led clubs and groups, in addition to faculty associations, student unions and student publications. Our students have long track records of getting involved – it's a pillar of the Golden Hawk experience.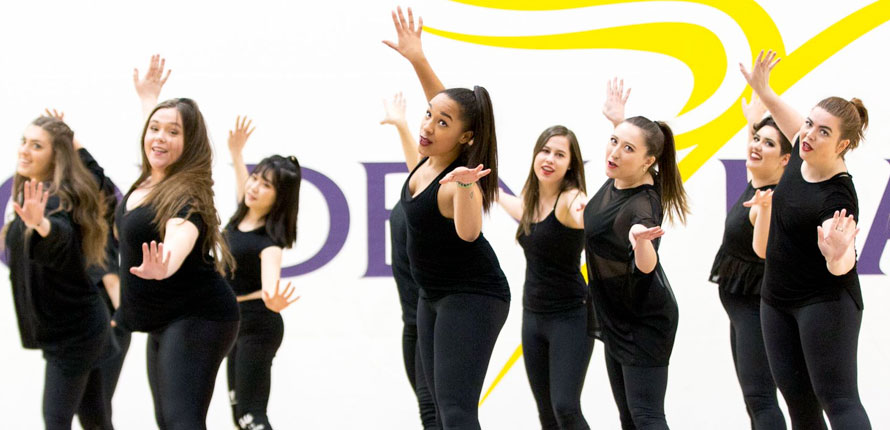 Getting involved also means getting active — Laurier students don't sit still. Every week, there's a wide variety of competitive and recreational sports and activities available. In Brantford, students enjoy access to the brand new Laurier-YMCA facility, including recreation leagues and over 40 fitness classes per week. In Waterloo, students can take their pick from 29 intramural leagues and 50 instructional fitness and dance classes offered each week.
Students have endless opportunities abroad to expand their perspective, be inspired, and think creatively and globally. From international internships and exchange programs to international field courses, seeing the world from a different perspective is always encouraged.
After continuous involvement and engagement on campus, Laurier students leave Laurier ready for the real world, with a Laurier Experience Record (LER) in hand — official record of participation in curricular and co-curricular activities, jobs and learning experiences at Laurier.
Residence Living
The feeling of community at Laurier starts to percolate on day one — move-in day. Chanting and cheering student volunteers surround vehicles ready to drop off a first-year student and their belongings. Every Laurier student can recall this moment all too well. This is the start of a truly remarkable community, where each student finds their fit.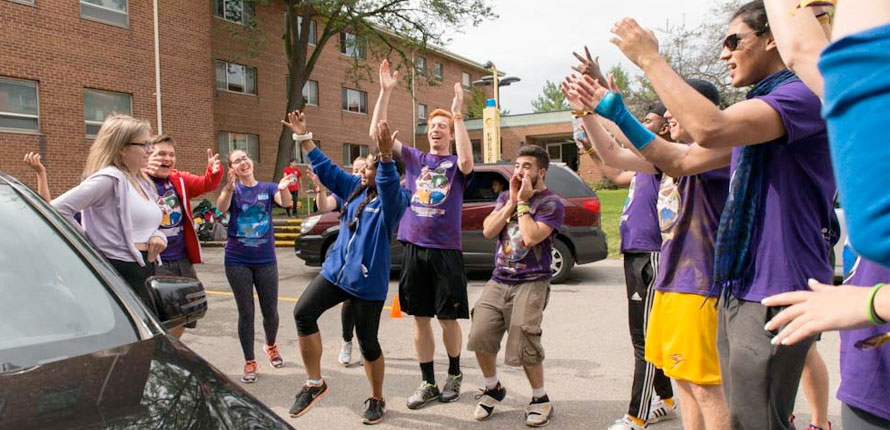 "Residence at Laurier is very focused on community," says Chris Dodd, director of residence. "If students prefer an active, social setting, they can create that for themselves. Or if a quiet, more academically focused environment is preferred, that's available too.
"From everyday interactions with a don to student-run social events, students can easily access the supports they need, right from their residence room."
Laurier offers gender-inclusive housing and dormitory- and apartment-style accommodations that are either single or double. Students can also apply to live in a Residence Learning Community or Cluster, which is a themed residence community where students share a common interest, major or coursework.
Getting involved starts in first year for many through First-Year Leadership Programs (FYLPs). With over 300 volunteer leadership positions in Laurier's residence program, from athletics to sustainability, there's something for everyone.
Administrative Staff
Staff on our tight-knit campuses have one thing in mind: ensuring all students have the best experience and highest quality education possible.
Marjana Bilandzic, in Laurier's Department of Languages and Literatures, is one of many administrative staff who are dedicated to the student experience.
"Marjana is a wonderful, smiling face always willing to help staff and students in the Languages program. She made my time at Laurier more enjoyable and any transitions more smooth," says Andrea Hadland, who graduated with a Bachelor of Arts in Languages in 2016.
"I think higher education shouldn't be seen as just a degree, but also the development of a well-rounded person. Therefore, I encourage students to get involved with clubs within the department or university. I provide students information about jobs or volunteering opportunities. Being proficient and providing proper information to students that they can prosper makes me extremely happy," says Bilandzic.
Staff and faculty take pride in making meaningful relationships. The culture we've built — where student success is our number one priority — was recognized when Laurier was named as a Waterloo Area Top Employer.
Course Instructors
Laurier faculty members and instructors are known for their expertise, knowledge and most importantly, their commitment to students. Laurier students know this best; here's what they have to say about faculty:
"The professors really care about how you do as student. Not only grade wise, but how you're excelling – really taking what you learn in the classroom and applying it to your community, getting involved and everyday activities."
"The best part of my Laurier experience is the individual attention I get from a lot of my professors and teachers. I really feel like they care about our success here."
"Getting to work with students IAs and TAs helped me feel more comfortable integrating into university."
Community-Minded University
The Maclean's No. 1 ranking is recognition that Laurier provides students with the education and experience they need to succeed in all aspects of life, while keeping community at the heart of it all.
For each Laurier student, our community means something different, but it's the common thread that ties us all together. Whether it's a residence community, a campus club, or simply a sense of belonging, one thing is for sure: Laurier campuses are hives of activity, full of highly engaged students who make a meaningful difference on the world around them, expanding and evolving every day.