Quantification of Hydrological Mass Balances of Rivers Supplying Hydroelectricity
Researcher: Jennifer Hickman, MSc (2012-15); research associate, water quality, Yellowknife Office (2017-present)
Supervisor: Jason Venkiteswaran (Laurier)
The Snare River watershed supplies hydroelectric power to over half the population of the NWT. Drought in the last two decades, most recently in 2014/15, has made it increasingly difficult and sometimes impossible to generate power. This work aims to quantify the hydrological mass balance of an unregulated sub-watershed in the upper portion of the Snare basin. By doing so, patterns in basin conditions can be evaluated and the recovery time of the basin after a drought can be analyzed.
I am also working on the Sub-Arctic Metal Mobility Study (SAMMS) project, with support from the Tłįchǫ and Yellowknives Dene First Nations. SAMMS is a GWF-funded project based near Yellowknife, focused on arsenic deposition on the landscape from the operation of Giant Mine. My role has been to support research initiatives, including designing experiments, installing field instrumentation, collecting water samples, and supporting the development of Master of Science student projects.
Learn More
Near-Surface Ground Ice of Boreal Forests in Discontinuous Permafrost
Researcher: Jason Paul, MSc (2016-18)
Supervisors: Jennifer Baltzer (Laurier) and Steve Kokelj (NWT Geographic Survey)
This study examined how ground ice content differs between the two most common forest types in the Yellowknife area – black spruce and white spruce/birch. The vertical structure of ice and its variability within forest stands was characterized within a 30 km radius of Yellowknife, which helps us understand how these systems will respond to thawing. Sites with deeper permafrost showed signs that the continued vertical thaw and eventual disappearance of permafrost is already beginning in some white spruce/birch stands in the Yellowknife area. This work will help predict the potential for landscape change as a result of permafrost thaw in this area as climate warming continues. In addition, a better understanding of the variability of ground ice content in these two main forest types will help assist in infrastructure development planning to avoid building on land with ice-rich permafrost that would be at risk of thaw and subsequent damage to infrastructure due to human disturbance.
Learn More
Changes to the Spacial and Temporal Fall and Winter Foraging Areas of Bathurst Caribou Herd Between 1996 and 2016 and How that Relates to Changes in Snowpack Water Equivalent
Researcher: Nick Wilson, MSc (2015-present)
Supervisor: Michael English (Laurier)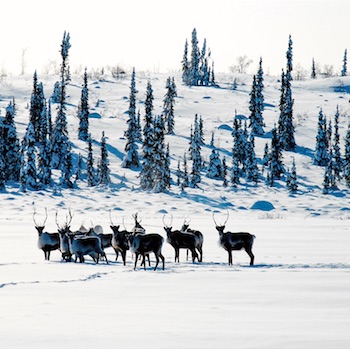 My research focuses on quantifying the Bathurst caribou herd fall and winter home range and monitoring caribou migration since 1986 using data from ENR of the GNWT. Over the last 20 years, the Bathurst caribou herd's population has declined significantly, from approximately 400,000 individuals in 1996 to (according to an ENR survey) an estimated 15,000 individuals in 2015. The cause of this decline is not well understood as it is a complicated issue involving food availability, predation, overharvesting and changes in climate. The amount and density of snow on the ground can impact caribou movements and the energy they expend to gather food. Using collared caribou data, it is possible to determine the specific location of individuals at a given time and relate these spatial patterns over time to changes in snowpack water equivalent (SWE) as determined using satellite imagery data.
Daily records of SWE from 25 km resolution pixels are available from the SSM/I satellite series dating back to 1979. Fieldwork conducted in the Wekweeti region during the winter months helps verify the satellite data. Relating caribou location to SWE in this way will allow us to discern how snow may play a role in their migratory patterns. Preliminary findings indicate that after 2005, the Bathurst herd caribou were establishing winter foraging grounds near and above the tree line when previously their winter foraging grounds were located well to the south in the boreal forest. These findings will contribute to understanding how SWE may play a role in determining the winter foraging areas of the Bathurst Caribou herd.
Learn More