Artist: Lana Filippone
Exhibition dates: Oct. 14 – Nov. 22, 2019
Opening reception: Wednesday, Nov. 6 at 7-9 p.m.
Artist Statement
Plants are imbued with meaning, lore and medicine. We've bloomed and evolved alongside these ancestors from our maternal oceans, preserving their teachings within our DNA, our observations, and carrying them out in our observances. The herbalist has marvelled equally at the potency of their banes, as their blessings, meandering along the Poison Path of mithridates, magick, countermagick and remedies. As we continue to preserve and pass on a legacy of plant knowledge, we co-create a mythological and ritual imprint of herblore with the natural world. From advanced medicine, talismanic and venefic herbs, to wildcrafting and hedgework, commonplace cures and pleasure for the everyday; there exists in every plant, an individual animating spirit and archetype with an invitation to verdant congress.
While some have a lengthy rapport of cultivation and interventions; others creep happily along liminal spaces of human disturbance. Some exist in complex ways we have yet to fathom, concealing teachings and relationships that we have yet to surmise.
Within the microcosms of these green allies, elders and messengers we may learn about ourselves, our cycles, mortality, myth and beauty reflected. One's toxin is another's sustenance, one's poison is another's antidote, while one's dosage falls squarely on a spectrum of effect (the seven gates of poison). Written Upon Leaves follows mythological, spiritual and ecological narratives set off by a single leaf or petal and its complex tale; whereby we find meaning and create relationships with their symbols and archetypes. May we be reminded of deep interconnection of organisms and adaptations through darkness and light, seasonal and planetary rhythms, one another and of the proliferation and decrement of life.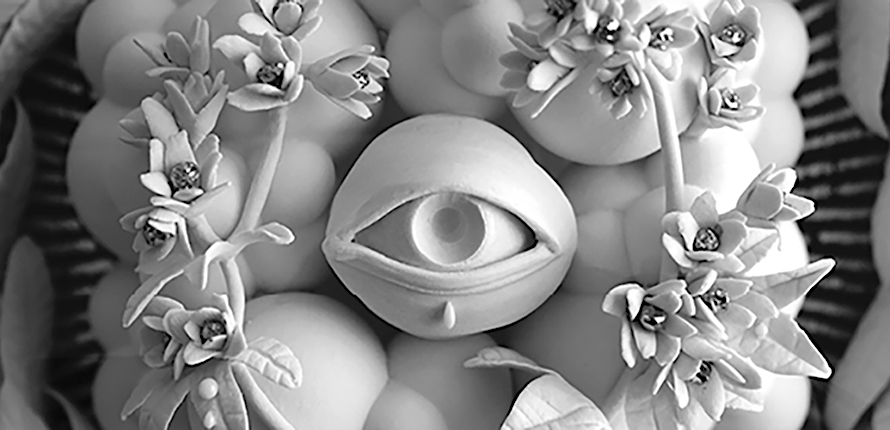 Artist Biography
Lana Filippone is a sculpture artist living and working in Toronto. She grew up on the historic shores of Georgian Bay. A passion for story-telling and a firm relationship with its natural history and folklore have found their way into the narratives that she creates. Lana received an honours degree from Queen's University and a diploma in Ceramics, Craft and Design from Sheridan College. She exhibits her work internationally and is a medalist of the Société Académique Arts-Sciences-Lettres, Paris.
She strives to access an archetypal language that allows magic to exist in our everyday lives through mythology and mysticism. This language harkens back to places that are familiar yet subversive of her material. She approaches themes of transience in shared human-experience; ephemeral states solidified in delicate porcelain. Her material, once malleable and mineral, is symbolically transformed by the elements, then crystallized in time.
Lana is a lifelong naturalist and has worked as a natural heritage educator and wilderness guide. Being dazzled by nature, mysticism and the supernatural has been a constant motivation to be their advocate. Her adventures and tests of will in the Canadian wilderness, highlight the junction of wonder, that is the indifference of the elements to survival, crossed by the persistence and perpetuity of life. Her work is forever exploring a fascination with the kinship between life and death; their consanguinity relating directly to the beauty of experience.
Although she has a background steeped in scientific pursuits, she is also a trained astrologer and intuitive practitioner. Her work strives to sew the etheric thread connecting consciousness and cosmos.
She is continually exploring the concept of psycho-spiritual phases of alchemical transmutation and quinta essentia; the fifth element thought to be the alchemical philosopher's stone. She is intrigued by the corresponding concept of its "threefold" nature of gold (material, spiritual and etherical gold) hidden within alchemical teachings about transmutation in nature and how it relates to the human psyche and experience.