Artist: Susan Dobson
Exhibition dates: Oct. 15 – Nov. 23, 2018
Opening reception: Wednesday, October 17, 7–9 p.m.
Exhibition Statement
Over the past few years I have photographed a number of university slide libraries that were in the process of being dismantled. As these collections were being replaced with digital archives, they had not been updated or even maintained in a long time. The slides thus become markers of evolving times; their out-dated labels generate awareness of how language, world geography and politics have changed over time, and their system of classification underscores an emphasis on Western content and European colonial history. For example, a single tray of slides may contain up to six non-Western countries, while six trays of slides are devoted to a single white male artist.
For this series of works I chose to photograph with film and make physical prints, eschewing digital photography, which would have been a much more efficient process. I did so in order to highlight my role in the seemingly endless cycle of material reproduction (a photographer using film to photograph slides of photographic reproductions). For this reason, I occasionally include references to my working process in the images: my electronic flash lighting reflects in the windows, and I chose to preserve and forefront the rebate and processing marks on my large format film.
The slide library used to be a meeting place for researchers, a place where slides were physically handled. Every fingerprint, smudge, and stain on the slides therefore become physical indexes of everyone who looked at, worked with, and learned from the collection. The slides and the colour-coded paper ephemera that separate them are now fading, damaged, or yellowed with age.
The aging of this physical resource is a poignant reminder of philosopher Roland Barthes' melancholy musing on the photograph, in which he points out that the photograph, like a human being, has a limited life: "Like a living organism, it is born on the level of the sprouting silver grain, it flourishes a moment, then ages… Attacked by light, by humidity, it fades, weakens, vanishes; there is nothing left to do but throw it away."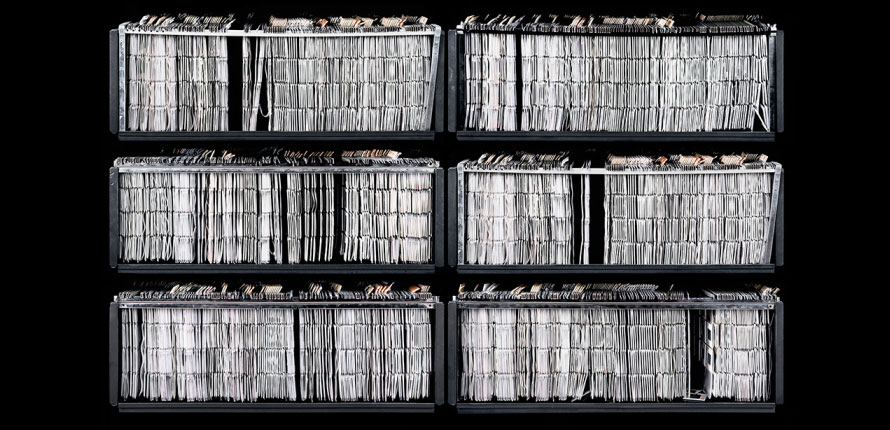 Photographers A – Z, 2018, C-print from digital file. Photo courtesy of the Artist.
Artist Biography
Susan Dobson's photographs and lens-based works have been exhibited in public galleries across Canada and internationally, and in photography festivals such as:
CONTACT (Toronto, Canada)
Fotoseptiembre (Mexico City, Mexico)
Le Mois de la Photo (Montreal, Canada)
Bitume/Bitumen (Brussels, Belgium)
She was a contributing artist to the Vancouver 2010 Cultural Olympiad, and her photographs can be found in private, corporate and public collections, including the National Gallery of Canada.
Her recent exhibitions include:
The 2017 Art Gallery of Windsor Triennial of Contemporary Art.
A solo exhibition at Fotonoviembre 2017 (Tenerife, Spain).
A solo exhibition at Images Festival (Vevey, Switzerland).
A solo exhibition at Michael Gibson Gallery.
A group exhibition titled "City Landscape at In Focus Gallery" (Cologne, Germany).
Dobson is an associate professor at the University of Guelph.