Artist: Xiaojing Yan
Exhibition dates: Jan. 7 – Feb. 8, 2019
Opening reception: Wednesday, January 16, 4–6 p.m.
Exhibition Statement
My art practice focuses on intricate sculptural installations that explore the intersection of cultural and natural worlds. Classical Chinese mythology, folklore and symbolism act as the catalyst for my re-examination and reinterpretation of these century old references. By integrating Eastern and Western elements, I attempt to create a synthesized fluidly, which parallels my own cultural fusion as a Chinese-Canadian.
For this exhibition, I collected thousands of pine needles to create a mountain realm imbedded in silk organza. The reflected shadows created by the pine needles offer an additional dimension to the work allowing for an optical visual extension of the landscape. Using this approach provides an alternative and dynamic take on traditional Chinese landscape painting.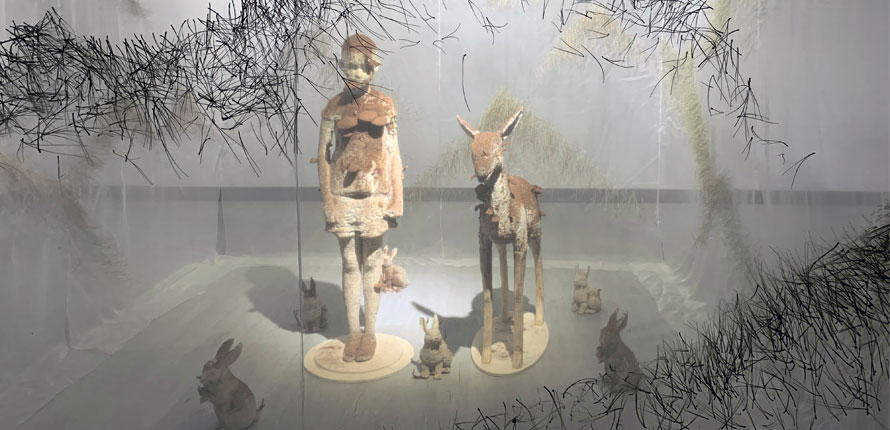 Heaven and Earth, Robert Langen Art Gallery installation view. Photo credit: Huang Yanqian.
Artist Biography
Xiaojing Yan is a Chinese-Canadian artist working and living in Markham, Ontario. She received a BFA from Nanjing University of the Arts, China in 2000 and an MFA from Indiana University of Pennsylvania, USA in 2007.
She has been included in solo and group exhibitions internationally, including the Royal Ontario Museum, Canada and the Suzhou Museum, China. Her work has been collected by many museums, institutions and private collectors. She has created many public art projects in Canada and China.
She is also a recipient of numerous grants and awards, including the 2014 Outstanding Young Alumni Award from Indiana University of Pennsylvania, Project Grant from the Canadian Council for the Arts, the Chalmers Arts Fellowship, and Mid-career Grant from Ontario Arts Council.