Artist: Douglas R. Ewart
Exhibition dates: Aug. 27 – Oct. 5, 2018
Opening reception: Wednesday, Sept. 19, 5–8 p.m.
Exhibition Statement
Crepuscule events are large-scale, organized community improvisations that build connections across boundaries of culture, class, gender, and ethnicity. Through sound and story, a crepuscule provides space for all people to participate in multiple forms of art-making, building a sense of community cohesion and creative energy.
Each event is a massive, coordinated improvisation that brings together diverse people from all walks of life. I use artistic interaction and performance to help us realize how interdependent the individual and the community are, that the dynamism of one fosters the vitality of the other. I think of Crepuscule as a microcosm of society where many disciplines can converge: through active participation and performance, we experience the spiritual, emotional and intellectual beauty of our communities and individual selves. I want the work to sustain open dialogue between people and to deepen community interactions over days, weeks, months, and years.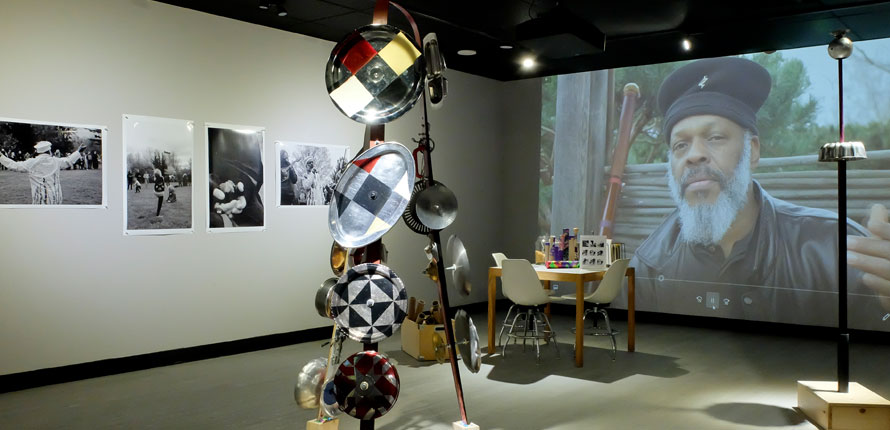 Crepuscule, Robert Langen Art Gallery installation view. Photo credit: Richelle Forsey.
Artist Biography
Douglas R. Ewart is a versatile composer, improviser, sculptor, and maker of masks and instruments. He is also an inspiring and enthusiastic educator and lecturer. Throughout his acclaimed 40-year career, Ewart has led projects in diverse media, weaving his many talents into a single sensibility that encourages and celebrates the wholeness of individuals in culturally active communities.
Born in Kingston, Jamaica, Ewart began experimenting with making toys and instruments from found materials at an early age. After immigrating to the US, he learned to be a tailor, developing skills now crucial to his costume-making. He also studied saxophone and clarinet at the Association for the Advancement of Creative Musicians (AACM).
In the years since, he has since learned shakuhachi flute construction, performance, and history with Japanese masters, as well as the didjeridu with native Australian masters. Ewart is a renowned craftsman. His shakuhachi and bamboo flutes, rain sticks, and kinetic sound sculptures have been exhibited internationally. He is also a master saxophonist and wind player who has toured the world solo and with leading members of the sonic vanguard. In addition to recording his own compositions, he has appeared on albums with George Lewis, Anthony Braxton, Roscoe Mitchell, and Henry Threadgill, among others.
Ewart is the recipient of a prestigious Bush Foundation Fellowship in Music Composition and is the former chair of the Association for the Advancement of Creative Musicians (AACM).