Artist: Barry Ace
Exhibition dates: Feb. 25 – April 5, 2019
Opening reception: Public lecture in the Paul Martin Centre on Thursday, March 7 at 7–8 p.m. | Gallery reception to follow
Exhibition Statement
Coalesce is a fusion of distinct Anishinaabeg aesthetics of the Great Lakes' region with the refuse from western society's technological and digital age – to intentionally shift an object's materiality and its accepted paradigm within the physical world. It is through the integration and juxtaposition of recognizable materials used in the making of Anishinaabeg material culture, such as glass beads or porcupine quills, with new found materials, such as electronic components (capacitors and resistors) that this body of work rejects any notion of cultural status. Coalesce demonstrates the continuum of Anishinaabeg innovation and expression by making use of disparate materials that knowingly coalesce and segue seamlessly into contemporary Anishinaabeg artistic tradition and material culture.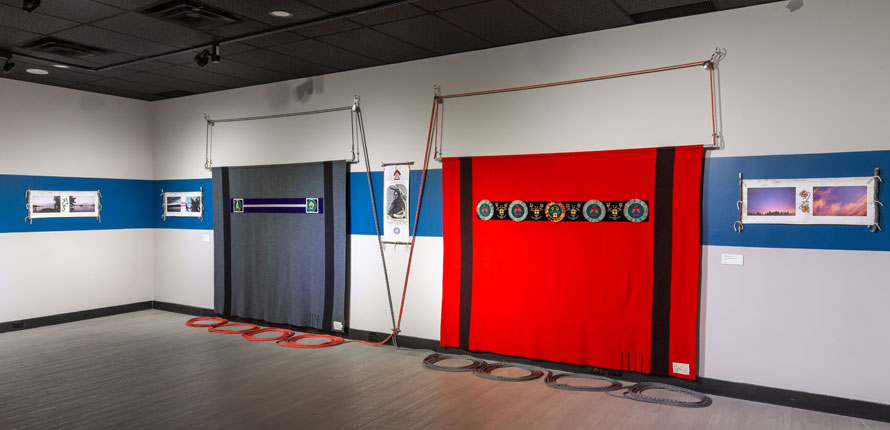 Coalesce, Robert Langen Art Gallery installation view. Photo credit: Scott Lee.
Artist Biography
Barry Ace is a band member of M'Chigeeng First Nation, Manitoulin Island, Ontario. His mixed media paintings and assemblage textile works explore various aspects of cultural continuity and the confluence of the historical and contemporary.
As a practicing visual artist, his work has been included in numerous group and solo exhibitions, including:
Public Disturbance: Politics and Protest in Contemporary Indigenous Art from Canada, Supermarket 2018 (2018: Stockholm, Sweden)
URL : IRL, Dunlop Art Gallery (2018: Regina)
We'll All Become Stories, Ottawa Art Gallery (2018: Ottawa)
2017 Canadian Biennial, National Gallery of Canada (2017: Ottawa)
Every. Now. Then. Reframing Nationhood, Art Gallery of Ontario (2017: Toronto)
Anishinaabeg Art and Power, Royal Ontario Museum (2017: Toronto)
Native Fashion Now: North American Native Style, Peabody Essex Museum (2016 – 2017: Massachusetts)
Changing Hands 3 – Art Without Reservations, Museum of Art and Design (2012 – 2014: New York)
m∂ntu'c – little spirits, little powers, Nordamerika Native Museum (2010: Zurich)
Meditations on Memory – A Metaphysical Dance, Alcove Gallery (2010: Ottawa International Airport)
Home/land and Security, Render Art Gallery (2009: Waterloo)
Playing Tricks, American Indian Community House Gallery (2006: New York)
50 Years of Powwow, Castle Gallery (2006: New York)
Super Phat Nish, Art Gallery of Southwestern Manitoba (2006: Brandon)
The Dress Show, Leonard and Ellen Bina Art Gallery (2003: Montréal)
Urban Myths: Aboriginal Artists in the City, Karsh-Masson Gallery (2000: Ottawa)
Emergence from the Shadows: First Peoples Photographic Perspectives, Canadian Museum of Civilization (1999: Ottawa)
His work can be found in numerous public and private collections in Canada and abroad, including:
National Gallery of Canada (Ottawa, Ontario)
Canadian Museum of History (Gatineau, Québec)
Art Gallery of Ontario (Toronto, Ontario)
Royal Ontario Museum (Toronto, Ontario)
Government of Ontario Art Collection (Toronto, Ontario)
City of Ottawa
Ottawa Art Gallery
Woodland Cultural Centre (Brantford, Ontario)
Canada Council Art Bank (Ottawa)
North American Native Museum (Zurich, Switzerland)
Ojibwe Cultural Foundation (M'Chigeeng, Ontario)
Global Affairs Canada (Ottawa, Ontario)
Indigenous and Northern Affairs Canada (Gatineau, Québec)
Barry was the recipient of the KM Hunter Visual Artist Award for 2015, an award administered by the Ontario Arts Foundation. He currently resides in Ottawa.


We acknowledge the support of the Canada Council for the Arts.
Nous remercions le Conseil des arts du Canada de son soutien.