On behalf of the entire faculty, staff, and administration of the Lazaridis School of Business and Economics at Wilfrid Laurier University, I am thrilled to extend my heartfelt congratulations to each and every one of you on your remarkable achievement: the successful completion of your academic journey. 
We look forward to celebrating this significant milestone in your lives—a moment that encapsulates years of dedication, perseverance, and hard work here at the Lazaridis School. As the Dean, it is my pleasure to recognize the culmination of your efforts and witness the growth and transformation you have undergone during your time at Laurier. 
Throughout your time at the Lazaridis School, you have exemplified the qualities of a true Golden Hawk—tenacity, leadership, and a commitment to excellence. You have embraced the rigorous curriculum, the experiential learning opportunities, and the collaborative atmosphere that defines our school, and your achievements have brought immense pride to our institution. 
Your time at the Lazaridis School has not only been defined by academic excellence but also by the strong bonds you have formed within the Golden Hawk community. The friendships forged, the countless hours spent collaborating on projects, and the memories created will forever hold a special place in your hearts. Your involvement in student organizations, case competitions, and industry networking events has not only enriched your learning experience but has also prepared you for the challenges that lie ahead. 
As you embark on the next chapter of your lives, I encourage you to reflect on the invaluable lessons and experiences you have gained during your time at the Lazaridis School of Business and Economics. Cherish the knowledge imparted by our esteemed faculty, the mentorship you received, and the moments of inspiration that have shaped your intellectual and personal growth. 
Remember that the Golden Hawk spirit encompasses not only academic excellence but also a commitment to making a positive impact in the world. As you step into the business world, I challenge you to embrace ethical leadership, innovation, and social responsibility. Your unique skills and perspectives, honed at the Lazaridis School, will empower you to be agents of change and contribute to the betterment of society. Businesses around the world are looking for leaders like you to help them continue to evolve and meet the challenges of the future.  
I would like to express my deepest gratitude to your families, friends, and loved ones who have supported and encouraged you throughout your academic journey and are celebrating with you now. Their unwavering belief in your abilities and the sacrifices they have made deserve recognition and appreciation. 
Once again, congratulations on this tremendous accomplishment. You have demonstrated the dedication, resilience, and business acumen required to succeed. As you spread your wings and soar as proud alumni of the Lazaridis School of Business and Economics, I encourage you to stay connected, support one another, and remain active members of our thriving Golden Hawk community. 
As you embark on this new adventure, may you find fulfillment, happiness, and success in all your future endeavors. The world eagerly awaits the contributions of the Golden Hawk Class of 2023, and I have no doubt that you will make us proud. 
Congratulations, Golden Hawks! 
Sincerely,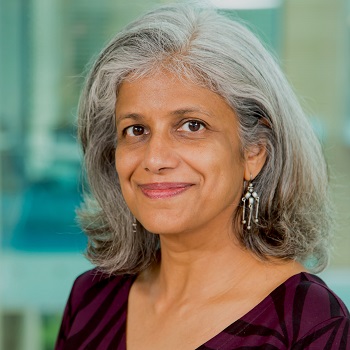 Kalyani Menon 
Interim Dean, Lazaridis School of Business and Economics