During this year's fall reading week, the Lazaridis International Case Competition (LazICC) united 15 prestigious universities from around the world. The event, hosted at the Lazaridis School of Business and Economics at Wilfrid Laurier University in Waterloo, Ontario, offered a platform for teams to delve into the ramifications of AI and technology for industries, companies, and consumers. 
The week-long event featured an engaging agenda, with a combination of local activities, networking opportunities and the main attraction - resolving two intricate company cases.
Representing their respective institutions, teams from the following universities converged for LazICC: American University of Beirut's Olayan School of Business; Bishop's University; Budapest Business School; Chinese University of Hong Kong; Copenhagen Business School; Rotterdam School of Applied Science; Simon Fraser University's Beedie School of Business; Technological University Dublin; University of Belgrade; University of California's Berkeley Haas School of Business; University of Hong Kong; Universidad Panamericana; University of Southern California's, Marshall School of Business; University of Technology Sydney; and the University of Vermont's Grossman School of Business.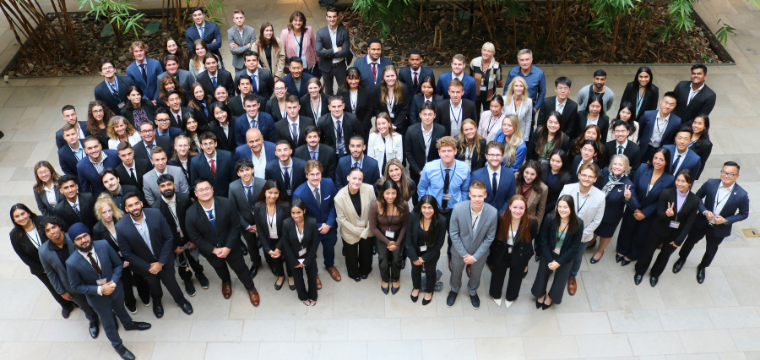 LazICC 2023 participants. 
A Week Packed with Learning and Challenges
The LazICC 2023 schedule was brimming with activities, starting October 8. The week's highlights included a visit to Niagara Falls, informative Tech Talks, social events including pumpkin carving and an Oktoberfest night, in addition to the two rigorous case-solving challenges.
Eoghan O'Grady, faculty advisor from Technological University Dublin, praised the unique blend of cultural events, networking, Tech Talks, and challenging cases that set LazICC apart. "LAZICC is unique among international case competitions," said O'Grady. "The competition's success in attracting so many of the top business schools is a testament to its reputation and the exceptional learning opportunities it provides to delegates and faculty advisors."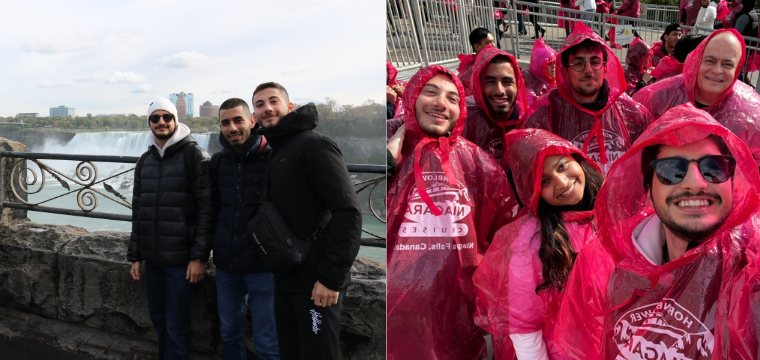 LazICC visitors in Niagara Falls, ON. 
Tech Talks Insights
The Tech Talks featured an exciting lineup of speakers, including Milena Kras-Claydon, vice-president, Technical Product Manager, Policy Searching AI, Marsh McLennan; Srin Sridharan,  Laurier Alumni (BBA/BMath (UW) '14), managing partner, Thought; Kambiz Vatan-Abadi, chief innovation officer and president, CI Financial and Direct Investing; Leigh-Anne Graham, vice-president, Higher Education, Pearson Canada; and Jeff Chan, senior manager, Enterprise Innovation, TD Canada Trust. These Tech Talks provided a valuable opportunity for students to gain insights into the influence of technology on decision-making, business innovation, and the financial sector.
Intense Case Challenges
The heart of the competition consisted of two grueling case-solving sessions. The first, a five-hour case on October 11, tested the teams' ability to devise solutions on the spot. The intensity continued with a 24-hour case on October 12, pushing the participants to their limits as they worked tirelessly to present well-considered strategies.
One finalist team from each of the divisions went on to present to the final judges, representing outstanding achievement amongst their groups and competing for the top spot in the competition. The final results were:
First Place: University of Technology Sydney (Panel B)
Second Place: University of Hong Kong (Panel C)
Third Place: Technological University Dublin (Panel A)
Finalist: SFU Beedie Business School (Panel D)
The winning team included Evie Butler, Hannah Cerezo, Cassandra Parker, and Emma Thornthwaite, from the University of Technology Sydney. They emphasized the importance of breaking barriers and forming connections, making the LazICC a standout experience in their academic journey.
"Our team was exposed to lessons that far surpassed the classroom and pushed us to innovate around limitations, identifying the most valuable opportunity areas and prioritise our strategies to achieve our goals," said the members of the winning team. "To win was a validation of our analysis, risk-taking and perseverance, but it's the connection, collaboration and lessons that will stay with us for a much longer time to come!"
The grand finale of the LazICC event took place at the gala. Laurier alumna and Chancellor Eileen Mercier delivered the opening remarks, setting the stage for a night of celebration. Emmanuel Ronchin (BBA '99), AVP Enterprise Project (Cyber Security) Integration Lead at TD, spoke on behalf of the title sponsor, TD.
The gala recognized outstanding speakers, coaches and ambassadors. Alice McNabb from the Technological University Dublin and Joaquin Zapata from the Beedie School of Business at Simon Fraser University were awarded the title of Best Speaker. The Best Coaches award went to Janie Ella Tange from Copenhagen Business School and John Hon Weng Lai from the Chinese University of Hong Kong. Vivek Bhardwaj from the Lazaridis School was named Best Ambassador for his support of the Copenhagen Team.
Zapata expressed gratitude for the unforgettable experience and the opportunity to connect with bright minds from around the world. "I am grateful to the entire LazICC organizing committee and especially to our school's ambassador Ashmeet Sandhu for showing us the best time around Waterloo and Niagara Falls all while putting together a world-class competition filled with the most intelligent minds from prestigious schools all over the world," he/she said. 
"From making meaningful connections with students all around the globe to meeting and learning from brilliant industry professionals during the Tech Talk to finally being able to compete and figure out a solution for the two case sponsors, LazICC was the most memorable week for my team. The level and caliber at which LazICC operated with was truly second-to-none and the entire experience is truly something I'll never forget."
McNabb spoke of her transformative experience and the valuable lessons in collaboration and cross-cultural communication that she gained.
"Participating in the LazICC 2023 competition was such a transformative experience that left an indelible mark on my personal and professional development," she said. "The competition emphasised the value of collaboration and allowed me to recognise new ideas from a diverse group of peers with varying backgrounds, cultures, and academic disciplines. Winning Best Speaker for 2023 was a proud achievement, boosting my self-confidence, validating my expertise, and fueling my drive for future career opportunities."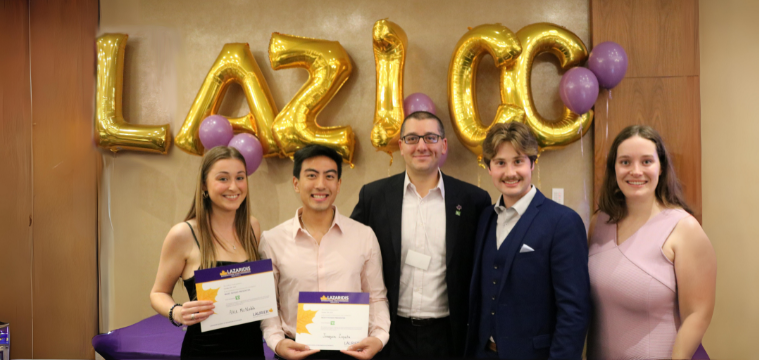 Best Speakers, Alice McNabb and Joaquin Zapata with Emmanuel Ronchin from TD and LazICC co-presidents, Cameron Raeside and Maren Muntwyler.
The Sponsors
LazICC 2023 was made possible through the generous support of numerous sponsors. Including, Title Sponsor TD, along with primary sponsors including the Lazaridis School of Business and Economics, Marsh McLelland, Symcor, CI Direct Investing, Pearson, and Definity. Product sponsors included the Lazaridis School's Prism Resources, Awake Chocolate, Hackworks, and Google. All sponsors played a vital role in the success of the event.
Sponsor Kambiz Vatan-Abadi from CI Financial and Michelle Snow from TD Insurance lauded the event for its ability to nurture the next generation of leaders and provide innovative solutions to real-world problems.
"TD has been a sponsor of the Lazaridis International Case Competition since it was created," said TD sponsor Snow, vice-president Strategy, Customer and Colleague Experience at TD Insurance.  "We want to support the growth and development of the next generation of leaders and are constantly amazed by the quality of the solutions to real world problems."
Vatan-Abadi, chief innovation officer and president of event sponsor CI Financial and Direct Investing said: "I was fortunate enough to have the opportunity to deliver a Tech Talk and sit on the Judging panel while students were competing over the CI Financial defined case. The event was a remarkable experience, and I was thoroughly impressed by the talented students - witnessing the level of collaboration and innovation amongst them, it was evident that they were highly motivated to make a positive impact and were determined to win. I highly recommend participating in such events to anyone looking to augment their professional growth, network with like-minded individuals, and explore fresh ideas for their business expansion. Kudos to the organizers for putting together a successful and rewarding conference!"
Reflections from LazICC Co-president
Maren Muntwyler, co-presidents of LazICC alongside Cameron Raeside, expressed her pride in planning and executing the competition. She acknowledged the balance between competition and social events, showcasing Canadian traditions and emphasizing networking.
"What an absolutely incredible experience," said Muntwyler. "We always like to pride ourselves on having a great balance of competition and social opportunities. Getting to see the teams' passion and ambition when it comes to the cases is truly incredible. And the teams are not just here for the competition, but to make friends. At the end of the competition, it's always an emotional experience to say goodbye to the teams, but that's how you know it was a success. And getting to see our team members already making plans to visit each other is incredible. You really do make worldwide connections!"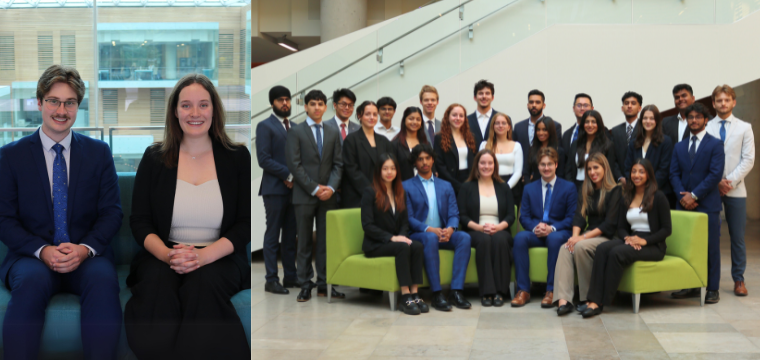 LazICC 2023 co-presidents; LazICC 2023 Organizing Team. 
In conclusion, the sixth annual Lazaridis International Case Competition was a resounding success, offering a unique blend of learning, competition, and cultural exchange. It not only provided a platform for bright young minds to shine but also fostered collaboration, innovation, and lasting friendships across the globe. As LazICC continues to grow, it remains a symbol of excellence and opportunity for the next generation of leaders.