Students who want to walk the line between business and technology previously had to choose one subject and then try to strengthen the one they left behind with elective courses, to become a business specialist with a passable knowledge of tech or vice versa. Now, with the Lazaridis School of Business and Economics' Bachelor of Business Technology Management (BTM) degree, students can straddle these specialities with confidence, emerging at the other end more employable. With case study competitions and a close-knit cohort, they also emerge having had some fun in the process.
Pery Au, a student in her fourth year, knows the results of her dual training has set her up for success in either field. Throwing herself into the program, Au says she was initially attracted because of the dual mix, and the guaranteed co-op. More structured than the average program, the BTM degree requires students to rigorously train in subjects such as financial accounting, economics, information technology, as well as electives such as user experience (UX) strategy and leadership. Students also have the option to minor in areas such as law, leadership, or UX. Because the program includes a year of co-op placements (broken into eight months for a first placement in third year and a four-month placement in fourth year) it condenses five years into four creating an intensive educational experience. This approach aims to produce graduates who are highly attractive to employers in the job market.
Foundational to that job-readiness is the early co-op, which not only helps students test their preference for technology versus business, but also provides the working experience that they need to get serious.
"It's their first time working for credit, so we want to do things right to start their journey into the workplace. They gain a lot of other skills, in addition to transferring their learning from the classroom," says professor and program director, Oliver Makasure, adding that professors see a distinct shift in the classroom after co-op. "The level of engagement in class changes, because they know now what they need to do in the workplace."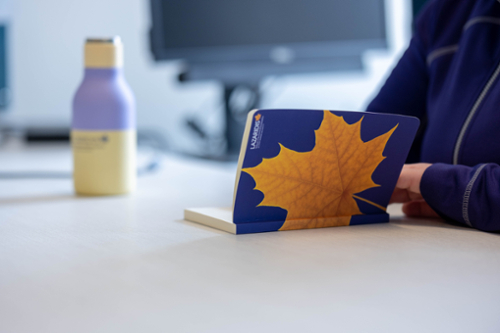 Au spent her first co-op as a project control officer at CGI Canada, a global IT and business consulting services company. Working on a client-facing team that served the sports brand Puma, her tasks included onboarding and offboarding team members, resource management and financial management. She says she put hard skills such as Excel knowledge into play, as well as detail orientation and time management. "There were lots of communications, you really needed to be on top of your game. I learned a lot," she says.
Au's second co-op is with Yamaha Motors, where she is concentrating on a sustainability. While the pathway wasn't previously on her radar, the experience has really opened her eyes to this particular employment sector. "This job helps me to see how different sustainability initiatives can be put into action, and that there's a lot of solutions available. I'm hoping there are more positions like mine when I graduate."
As a professor in the program, Josephine McMurray has seen many students graduate to take up interesting roles in both business and technology. "These students come out being able to talk business and tech and computer science. That breadth gives them a broad perspective and understanding and that's a really important outcome," she says. Former students she keeps in touch with have found employment with Deloitte, Goldman Sachs, Konrad Consulting, among many other places.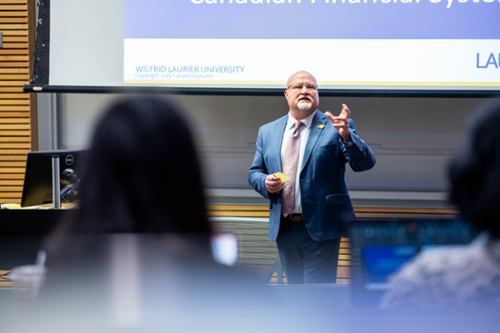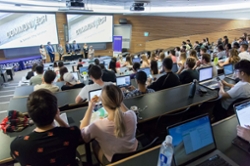 McMurray also sees the benefit of the co-op element. "The co-op gives them confidence. If they get one that appeals and matches their skills, many of them will continue to work part-time for their co-op afterward, and many will be hired directly out of school," she says. "Our rates of hire post graduation into program-relevant careers is really high," she says, adding that employers have also started returning to the program for more students as the program's reputation grows, and more students are asking for the program directly. "As the years progress, more people are choosing us first." Grads find work as business analysts, information security analysts, project managers, and more.
McMurray points to the opportunities for student involvement as another reason for the program's success. One of the more popular and engaging activities is the case competition which all first and second-year students participate in. McMurray is the faculty lead for the case competition program; she also trains a team of students on weekends, who compete in an annual international case competition. Next year the competition takes place in Vancouver; Au is excited to be a member of the team this year. Outside of case competitions,  case analysis is an important component of all students' classroom experience.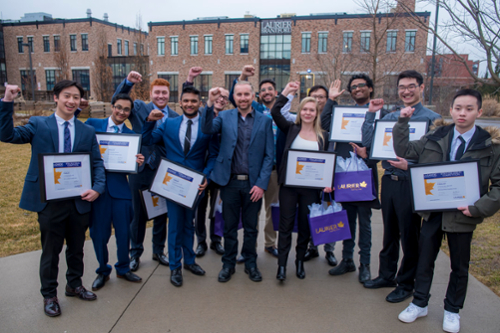 But alongside pushing students to succeed, the BTM program also supports students in times of stress. Au experienced that last year when she was thinking about her co-op preparation. "I was late when I reached out for help, so it's a situation where I'm already stressed, and prof. Makas
ure was so helpful to sit down and discuss different options," she says. He also connected her with other program resources, so she was able to get help with time management and note-taking, which also helped her to level up her organizational skills. Peer support, academic advising and accessible learning services are also in place to help support students towards success.
Besides the official academic services, students connect with their peers through the BTM student association, where Au has stepped into a role as president this year, to help plan activities that keep the cohort motivated and feel a sense of community. Students also have the opportunity to connect with professors in their upper years through research assistantships and as lab instructors helping to mentor first-year students through their favourite courses.
Being in her final year of the program, Au says that it just keeps getting better and better. "People always emphasize small class size as being important and I never really understood how important that was until fourth year, because as you learn more complex ideas sometimes you have to ask your professors who have work experience. BTM provides a rare opportunity to get a one-on-one time with your professors to learn on a much higher level with more clarity."
Explore how the Bachelor of Technology Management program at Wilfrid Laurier University can set you up for a successful career across many fields.