2016 Award Recipients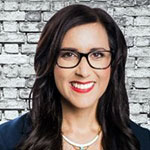 Carinne Chambers (BBA '01)
CEO, Diva International Inc.
Carinne Chambers has always been inspired by her mother's decision to opt for natural products and holistic approaches. After graduating from an Honours Bachelor of Business Administration degree with a concentration in Marketing from Wilfrid Laurier University in 2001, Carinne worked in marketing at both IBM and Microsoft. However, she knew she wanted to do something that could really make a difference in the lives of women around the world.
In 2003, Carinne joined forces with her mother to develop The DivaCup, a modern re-design of the age-old reusable menstrual cup to provide a more reliable and environmentally-friendly approach to feminine hygiene. This was an exciting venture for both women, as Carinne had watched her mother sell and promote these products worldwide for ten years.
Carinne's devotion to empowering women combined with her entrepreneurial spirit and matched with her mother's many years of experience in the feminine hygiene products industry, has created a recipe for success. The DivaCup has been awarded many accolades including being voted Best Women's Product by Canadian retailers for six consecutive years by the Alive Awards and is the only menstrual cup manufacturer in the world to achieve the rigorous ISO 13485:2003 quality certification. The product has also appeared in dozens of magazines including People, Shape, Glamour, In Style, Cosmopolitan, Teen Vogue, and Seventeen.
Carinne lives in Kitchener, Ontario with her husband Rick, their two young children, Maliya and Jovan, and two German Shepherds, Hazel and Tasha.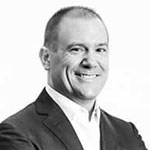 Paul Weber (BA '90, DBA '91, MBA '95)
President and CEO, Perimeter Medical Imaging Inc.
Paul Weber is a seasoned business leader with more than 20 years of experience in start-up, growth stage and large multinational medical and technology companies. Currently, Paul is the president and CEO of Perimeter Medical Imaging, Inc., a Toronto-based start-up which develops, patents and commercializes advanced surgical imaging tools to allow surgeons, radiologists and pathologists to better assess microscopic tissue structures during surgical procedures. He has led the company from formation in 2013 through its development phase, receipt of FDA regulatory clearance in early 2016 and the establishment of partnerships with top surgical centers in North America.
Prior to co-founding Perimeter Medical, he managed business development and marketing for Covalon Technologies, transitioning the company from a technology- to a commercially-focused organization, building out OEM, domestic and international distribution channels. At Sentinelle Medical, he oversaw business development and marketing, growing the company from start-up revenues to greater than $18 million in sales in two and a half years before being acquired by Hologic Inc. for $105 million. Paul then directed Hologic's integration of marketing as well as OEM and international distribution.
Paul has also held leadership roles in business development and product management capacities with Johnson and Johnson and Christie Digital. As part of the founding team at Communitech, he served as a consultant for numerous technology startups on their growth strategies. In addition to Perimeter Medical, Paul has extensive entrepreneurial startup experience. In 2004, he founded and was interim CEO of Nothing But Nature Inc., an organic juice company whose KIJU brand has become the market leader in the organic, 100% juice segment.
Paul has a long history with Wilfrid Laurier University: he earned his Bachelor of Arts degree in Psychology in 1990, a Management Studies Diploma in 1991 and a Master of Business Administration in 1995. In addition, he acted as the first Entrepreneur-in-Residence at the Schlegel Centre, sat on the board of the Wilfrid Laurier University Alumni Association, and developed and taught an MBA course in marketing and commercialization of technology.
Past Recipients
Alex Hoff, MBA '10 (2015)
Marc Morin, MBA '94 (2015)
David Yach, MBA '88 (2015)
Sanjeev Sharma, MBA '02 (2014)
Rick Endrulat, MBA '01 (2013)