Opened in 2016, Lazaridis Hall is the newest building on Laurier's Waterloo Campus. The $103.7 million building is LEED Gold Certified and has earned numerous awards and international recognition. Thanks to the atrium's tremendous glass dome roof, the interior spaces of Lazaridis Hall are filled with natural light that bounces off the beautiful wooden features to create a warm and inviting space to learn and study in.
An Enhanced Learning Experience
Lazaridis Hall offers classroom sizes for all types of learning – from the 1,000-seat auditorium, a 300-seat lecture hall, 150-seat classrooms and many smaller spaces including active-learning classrooms.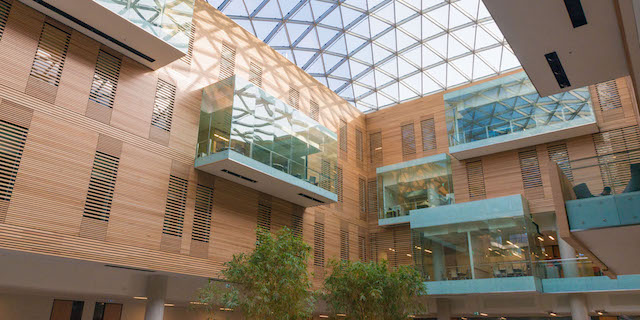 Whether you are looking for individual or group study space, Lazaridis Hall is equipped to accommodate your study style with over 400 seats and 60 tables throughout its four floors, including LH3104 and the atrium.
Perk: Lazaridis Hall has an on-site café to fuel your study session; take a break and have a Byte.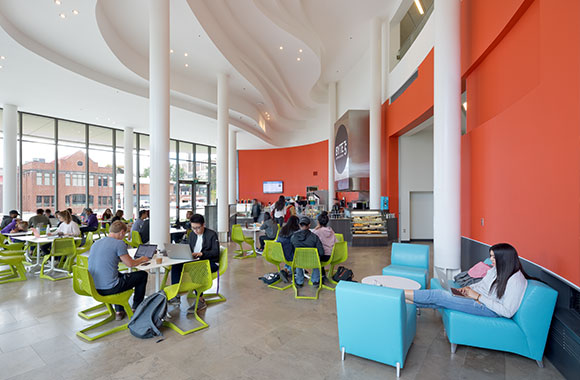 A Space to Build Real-World Skills
The CI Financial Finance Lab features a virtual real-time trading floor with trading stations, Reuters BridgeStation software, 50 computers and 20 Bloomberg terminals. Through Prism Resources, students can earn certifications in using specialty programs used in industry that give them a leg up on job applications.
From the atrium of Lazaridis Hall, you will find the Lazaridis Students Society's dedicated student club space. Laurier currently has 26 business and economics clubs on campus with more than 2,300 business students participating in their many activities. These clubs provide outstanding opportunities for students to test their skills against other students on campus, across the country and around the world.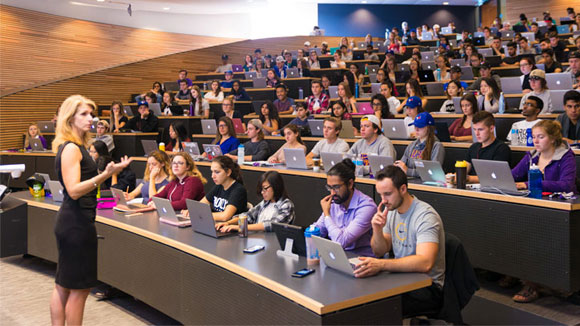 Award-Winning Design
Lazaridis Hall was the only Canadian building in 2018 to be recognized with the Civic Trust Award, an international recognition that aims to encourage the very best in architecture and environmental design; improve the built environment through design, sustainability, inclusiveness and accessibility; and reward projects that offer a positive cultural, social, economic or environmental benefit to their local communities.
Sustainability
Sustainability was top of mind for Lazaridis Hall from its beginnings.
The building uses rooftop solar panels to generate electricity; a green roof with grasses and shrubs to absorb excess stormwater and provide insulation; a greywater system that collects and filters rainwater for use in toilets and landscaping; and an efficient heating and cooling system. Vents under auditorium and classroom seats keep guests and students comfortable without unnecessarily heating or cooling the air above. In other parts of the building, a chilled-beam system adjusts the temperature by recirculating and redistributing cooled air.
The building was constructed with Forestry Stewardship Certified products, when possible, and the tile flooring is made from limestone from a local quarry.
The building also boasts an electric vehicle charging station, designated car-sharing spots and an indoor bicycle storage room with showers.