Kathy Absolon, MSW, PhD
Director, Centre for Indigegogy: Indigenous Centred Wholistic Development
Associate Professor, Master of Social Work: Indigenous Field of Study*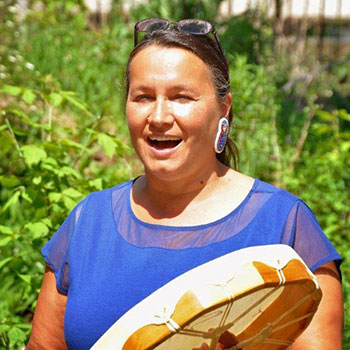 Aaniin! I'm pleased to be a part of Indigenizing Laurier and the growing Indigenous academic community here. I am Anishinaabe kwe from Flying Post First Nation. My academic journey has been a pathway of unlearning, healing, re-learning and finding who I am as an Indigenous woman and what my place is in the academy. My Anishinaabe name is Minogiizhigo kwe which translates to mean Shining Day Woman, the one who brings goodness and beauty to the day.
In 2008, I received my PhD from the Ontario Institute for Studies in Education at the University of Toronto. "Kaandossiwn, this is how we come to know: Indigenous research methodologies in the academy" was my dissertation title with a focus on Indigenous research. I have had my feet in two canoes of learning. Education, for me, has been a process of building dual knowledge bundles: one as an Anishinaabe kwe and my teachings and the other is a critical knowledge bundle fuelled by my mainstream education. I carry dual knowledge bundles that are informed by the land, spirit, decolonizing, indigenizing and anti-colonialism.  
In 2007 I came to the Aboriginal Field of Study in the Faculty of Social Work (now Indigenous Field of Study) at Laurier with a blending of teaching, practice and community work. Since I have been at Laurier, I have taught in the Indigenous Field of Study and provided leadership to our Program during much of my tenure. I am looking forward to my new role as Director of the Centre for Indigegogy in forging pathways for ongoing professional training for educators and practitioners across an array of settings.
Giselle Dias, MA, RP, MSW
Program Coordinator, Centre for Indigegogy: Indigenous Centred Wholistic Development
I am so grateful to be working at the Centre for Indigegogy! It has been an opportunity for such wholistic growth.
I am queer, mixed race, Metis community organizer, activist, and scholar. I often say that my ancestors travelled the globe to ensure my presence in the world. My grandparents traveled from India, Seychelle Islands, England, Ireland and across Turtle Island. I am in the third year of the PhD program at Laurier in the Faculty of Social Work, Indigenous Field of Study (IFS).
I have been fortunate enough to have completed the Decolonizing Education Certificate and the Indigenous Peoples Certificate and am a facilitator in our Wholistic Healing Practices and Colonial Trauma Certificate. I have been working in the field of prisoners' rights, penal abolition, and transformative justice for 25 years. I am excited to be a part of the continued development of the centre and to have the opportunity to share this experience with other educators, practitioners, and helpers.
Raven Morand
Administrative Assistant


Raven Morand is an Anishinaabe/Metis Kwe from Thunder Bay. She grew up spending summers in her home community of Migisi Sahgaigan (Eagle Lake First Nation) and moved to Kitchener, Ontario with her family when she was 4. Raven is a dedicated pow wow dancer and has been dancing Fancy Shawl since she was a young girl. Raven has been the head female dancer at many pow wow's and enjoys her culture through dance and beadwork. Raven actively engages with her community through sitting on pow wow committees attending community events. Raven is an activist and organizer and a strong advocate for Indigenous sovereignty and land defence.
*Formerly Aboriginal Field of Study. Name change subject to Senate approval.