Two Steps, Triple Wins and Bus Stops
Welcome! This project seeks to contrast three geographically and policy distinct nurse migration pathways that have been identified by Dr. Walton-Roberts as an outcome of previous research: India-Canada (two-step), Vietnam-Germany (triple win) and Philippines-Singapore (bus stop). It highlights the skills assessment, language, training and integration pathways employed in each, and how they meet the spirit of the Global Compact on responsible migration and the Sustainable Development Goals.
This project offers a comparative analysis of different nursing migration models, which contributes to debates on policy convergence in selective immigration, fair migration, the increasing complexity of migration pathways, regimes of skill, and the transnationalization of health and elder care.
This project is funded by the Social Sciences and Humanities Research Council of Canada (Insight Grant).
About the Project
International skilled migration is a key feature of the global economy and a major contributor to socio-economic development, yet skilled workers faces barriers in the non-recognition of credentials. This is particularly relevant in nursing, an occupation increasingly important under current conditions of feminized global migration and the crisis of elder care in developed nations. The international migration pathways that nurses engage in are heterogeneous in terms of their spatiality, costs, the range of state and non-state actors involved, and the degree of residence and citizenship rights offered. Furthermore, there is evidence of policy convergence occurring in the 'regime of skill', or types of credential and language assessments required by receiving nations, which can be interpreted as a form of racialized or spatial exclusion. Under such conditions skilled migration appears increasingly unsustainable. This is a major problem addressed by the UN through the Sustainable Development Goals and the Global Compact on Migration. In the case of nursing, structural gendered issues in the devaluing of care labour, how skills and competencies are assessed, and how workers are integrated into workplaces must also be taken into account. This project addresses these issues through explicitly comparative gendered analysis.
Potential Outputs
The three country pairs analyzed are differently positioned in terms of gender regimes, nurse training export and migrant integration policy models. Using data mining activities, policy scans, qualitative key informant interviews, surveys and story maps to illustrate the cumulative complexities of migrant nurses' journeys, this project contrasts three nurse migration pathways:
two-step or study-work pathways that allow for visa change from student to permanent status (India-Canada)
bi-lateral 'triple win' or fair migration agreements (Vietnam-Germany)
'bus stop', temporary worker migration models that are a prelude to onward step migration (Philippines-Singapore)
Over the next four years, this research will examine how these cases are differentiated in terms of initial financial investment (states, markets, households), how nurses move (states, markets, networks), how they are spliced into destination labour markets (intersectionality, skills, credentials and workplace regulation) and differential migrant inclusion (temporary or permanent status, residency and citizenship rights and how these may be gendered). The research will reveal the complex processes that feed nurse migrants into global circulation, the losses and gains associated with such mobility and examples of good practices, where migrants, sending and destination communities experience the best possible outcomes.
Broader Potential Benefit of the Research
The findings of the research project will be of interest to academics, policy practitioners, and the public, whose understanding of the enormous complexity faced by migrant nurses may be underdeveloped. The story maps will provide an innovative and richly layered communication of the final research findings, collaboratively developed in a process that reflects migrant agency, and enhances the skills of the student researchers. Research will communicate good practices that make efficient use of migrant skills in a safe and sustainable ways for all concerned, and will provide policy and practical lessons to advance fair migration that is conscious of gendered processes and outcomes.
Researchers
Lead Researcher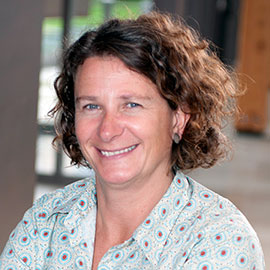 Margaret Walton-Roberts is a human geographer trained in the UK and Canada, who focuses on international migration. She is a professor at Wilfrid Laurier University and the Balsillie School of International Affairs (BSIA), Waterloo Canada. | Read More
Balsillie School of International Affairs' Policy Team