Megan Blair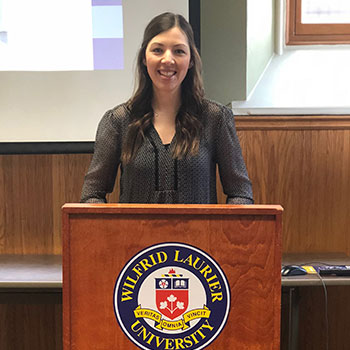 "The Research Apprenticeship Program was an amazing opportunity that helped me to confirm my desire to attend graduate school, as well as prepare me for undertaking higher levels of research. It allowed me to work one-on-one with a professor and compile an original piece of research using archival material, which I was able to present to faculty and students and will continue to work on to present at an academic conference. My research on the Miss Canadian University pageant and protest re-affirmed my interest in Canadian women and gender history and has encouraged me to continue my studies and research in this area."
Lauren Holmes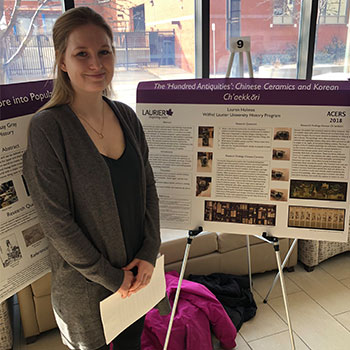 "My research apprenticeship entailed detailed research of two collections of postcards donated to the Royal Ontario Museum. The postcards were donated on the behalf of two former Canadian missionaries to Korea, Frances Bonwick and Elda Daniels Struthers. The literature and independent research was eye-opening and concluded that the Japanese government tried to show the outside world that Korea was backwards and ensured that under their control Korea could evolve into a modern dominion within Japan. The project truly showed me what it would be like to take on in-depth research in the future. I believe this opportunity has helped to prepare me for the master's degree I will pursue in September. For students looking to continue their studies at the graduate level, I highly recommended looking into participating in a research apprenticeship."
Dalton Rawcliffe
"I graduated from Laurier Brantford's History and Concurrent Education Program in 2016. My time as an undergraduate at Laurier was an amazing opportunity that has not only helped me create and foster long-lasting friendships, but also prepared me for a career in academia. Thanks to the Faculty of Liberal Arts' undergraduate research initiatives, I was able to attend and present my fourth-year research paper on Hong Kong's industrialization in the 1950s at a major international Asian history conference."
Shreya Shah
"I graduated from Laurier's Health Administration program in 2018. During my final year, I had the opportunity to conduct research that was funded through the Research Apprenticeship Program. With the guidance of my mentor and the support from the program, I was able to further my understanding of the research process, network with people in my field of research, gain valuable and transferable skills, and further my education. I was able to present my research at an academic conference in London, UK, and it was an experience that I will never forget."
Sharyne Williams
"I am a third-year student doing a double major in Criminology and Human Rights and Human Diversity with an option in international development. During the winter semester of my third year, I joined the Research Apprenticeship Program as the managing editor for Bridges: An Undergraduate Journal of Contemporary Connections. Being the managing editor was such an amazing experience, as I was able to see the process of how an academic journal article is published, which prepares me to continue on to postgraduate studies."